Around $13Bn worth Smartphones shipped with 5G Capability in H1 2023
Samsung led both smartphone and 5G smartphone market in H1 2023
The super-premium Smartphone segment (INR >50,000) recorded 96% YoY growth.

New Delhi/Gurugram, 11th Aug 2023: According to CyberMedia Research (CMR)'s India Mobile Handset Market Review Report for H1 2023 released today, the 5G smartphone shipment share in India increased to 44% (vs 29% in H1 2022), with 5G smartphone shipments growing 30% YoY. Samsung dominated the 5G smartphone market in India, securing a 23% market share, followed by OnePlus with a 18% market share. India's smartphone market shipments experienced a 13% YoY decline, while the overall mobile market in India declined by 12% YoY.
Commenting on the overall market conditions in H1 2023, Shipra Sinha, Analyst- Industry Intelligence Group, CyberMedia Research (CMR), "The decline in the overall smartphone market in India can be attributed to the prevailing macroeconomic conditions over the past year, which have affected consumer purchasing power and led to an accumulation of smartphone inventory. Notably, amidst this overall decline, the 5G smartphone segment experienced substantial growth of 30% YoY. 31% of Value-for-money smartphones (INR 7000– INR 25,000) were shipped with 5G capability in H1 2023."
Smartphone Segment
While the Value-for-money smartphone segment (INR 7000– INR 25,000) was the largest contributor with 74% share, its shipments declined by 21% YoY owing to slow demand. The Affordable smartphone segment (< INR 7000) declined 2% YoY. The Premium segment (INR 25,000-50,000) also recorded 7% YoY decline.
The Super-premium smartphone segment (INR 50,000-INR 1,00,000) and the Uber premium segment (>INR 1,00,000) shipments saw remarkable growth of 104% YoY collectively, driven by iPhone 13 and 14 capturing 56% share.
In H1 2023, the top three smartphone models shipped in India were Apple iPhone 13, Apple iPhone 14, and OnePlus Nord CE3 Lite 5G.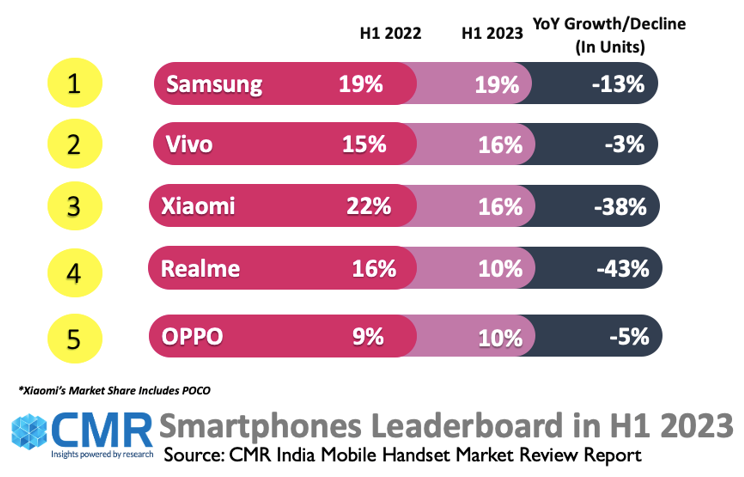 Key Smartphone Market Highlights in H1 2023
Samsung held the top spot in the smartphone market with a 19% market share. Furthermore, Samsung led the Premium smartphone segment (INR 25,000-INR 50,000) with a 26% share.
Vivo was at the second spot with a 16% market share. Its smartphone shipments recorded 3% YoY decline.
Xiaomi captured the third position in the smartphone leaderboard with a 16% share. Xiaomi's sub-brand, Poco, recorded a 7% YoY growth in its shipments.
Realme was at the fourth position with market share of 10%, its shipments saw a YoY decline of 43%.
OPPO was in the fifth position with a market share of 10%, its shipments saw a YoY decline of 5%.
OnePlus recorded a notable 85% YoY growth in its smartphone shipments.
Apple captured 6% market share in the smartphone market in H1 2023, recording a significant YoY increase of 68% in its shipments. Apple was the top contributor in the super-premium segment (INR 50,000 – INR 1,00,000) with 63% share.
Transsion Group brands (Tecno and Infinix) smartphone shipments recorded 13% and 26% YoY growth respectively.
Future Outlook
According to CMR's estimates, the market conditions are expected to improve in H2 2023, driven by the good monsoon, and the upcoming festive season. Overall 5G shipments for CY2023 will hover around 75-80Mn, with H2 shipments growing >75% vs H2 2022.
"The 5G smartphone market is set to grow in H2 2023. The resurgence in smartphone market can be attributed to a gradually improving macroeconomic landscape, coupled with exclusive offers and promotions slated for the festive season. The growth in 5G along with increasing base of foldable phones will make substantial contributions to the overall growth trajectory of the smartphone market," added Menka Kumari, Analyst-Industry Intelligence Group, CyberMedia Research (CMR).