• Carrier Infrastructure segment clocked a revenue growth of 5%
• Enterprise Communications segment grew by 6%
• Telecom Services saw a negative growth of 8%
• User Devices revenues jumped 26%
Gurugram/NCR/Bengaluru – December 24, 2019: Telecom specialty journal Voice&Data has released the preliminary findings of an ongoing study on India Telecom Market, commissioned to CMR and B&M Nxt. The findings, for the first time, indicate that the macro and long-term views of the telecom market comprising infrastructure, equipment, and user devices continues to remain positive, despite the short-term disruption that the industry has witnessed.
Thomas George, President, CMR, said, "Much of the growth in the carrier infrastructure and enterprise equipment segments has been driven by the need for network transformation from legacy voice-centric networks to data-oriented networks. This has better prepared telcos to tap into the next-generation opportunities of a digital services era."
Deepak Kumar, Principal Analyst for the study, added, "The unlocking of the potential will come from yet-to-be-mastered ability of telcos to orchestrate IT and network elements. Near-term opportunities include smart cities, digital homes, and connected devices. Internet of things (IoT). Along with the existing digital technologies such as cloud and big data, these will be the key enablers of new opportunities."
As per the revenue data aggregated for the latest full fiscal period of 2018–19, the total telecom market in India has posted an annual growth of 6%, with user devices (handsets, tablets, and data cards) clocking a strong growth of 26%.
The carrier infrastructure and carrier managed services segment registered a growth of 5% on the back of large-scale network build outs, while the enterprise communications market also saw 6pc growth, spurred by the need for communication requirements of a digital era.
The only segment to post a negative revenue growth was predictably the telecom services segment, which has been adjusting to new competitive dynamics in the aftermath of the mega disruption caused by the entry of Reliance Jio Info comm in 2016. However, early signs of regrowth are already visible for the segment, which saw degrowth of 8%. The sub-segment of broadcast services clocked a positive growth of 8%.
Detailed analyses of various sub-segments such as Voice Service, Data & OTT Services, Smartphones, Managed Carrier Services, Passive Infrastructure, Telecom Cables, and Enterprise Networking Infrastructure have been published in Volume 1 and Volume 2 of V&D 100.
CMR-B&M Nxt is of the view that the worst is now over for the industry, with the pricing power also slowly coming back to the telcos. As India continues to pursue her goal of transitioning to a digital economy, the government is also increasingly aware that a financially healthy telecom sector networks is critical to building the required enabling infrastructure.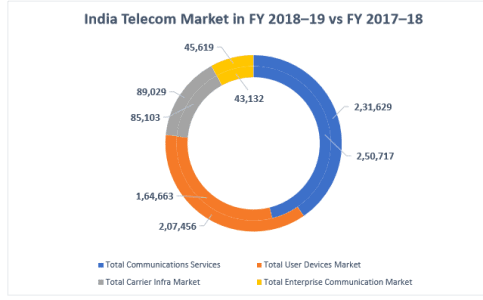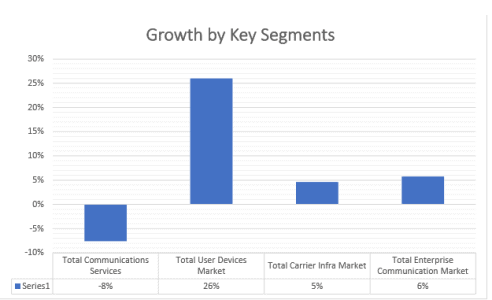 About V&D100 The annual "Telecom Industry Survey" includes market-sizing as well as analysis of various segments across industry. V&D100 is a much-awaited reference point for all the market stakeholders, including service providers, their suppliers, and customers. The coverage is spread across the following key market segments.
Telecom Services: Voice Services, Data Services, VAS, Enterprise Data Services, and Others.
User Devices: Mobile Phones, Tablets, and Data Cards.
Carrier Infrastructure: Core and Access, Telecom Towers, OSS/BSS, Test & Measurement, Power Solutions, Software, Solution &Consulting, Managed Services, Carrier Networking, and Telecom Cables.
Enterprise Communications: Active Networking (switches, routers, WLAN), Structured Cabling Systems, Desk Phones, IP and SIP phones, PBX Systems, and Audio and Video Conferencing, Software and Applications.
About CMR (https://cmrindia.com/) CyberMedia Research (CMR) has been a front runner in market research, consulting and advisory services since 1986. CMR offers research-based insights and consulting services – market intelligence, market sizing, stakeholder satisfaction, growth opportunity identification, incubation advisory, and go-to- market services – covering the Information Technology, Telecommunications, Semiconductor & Electronics, Government, Smart Infrastructure, Energy & Utilities and Healthcare & Life Sciences industry verticals, as well as the large enterprise, SMB and consumer user segments.
Cyber Media Research Ltd., an ISO 9001: 2008 company, is a member of the Market Research Society of India (www.mrsi.in) and senior CMR analysts are enrolled with the European Society for Market Research (www.ESOMAR.org).
CMR's core value proposition encompasses a rich portfolio of syndicated reports and custom research capabilities across multiple industries, markets, and geographies.
About B&M Nxt (https://www.bmnxt.com/) B&M Nxt addresses strategic communication and advisory needs of business decision makers and planners across IT and telecom vendor organizations, user organizations, and investment communities. It also caters to assumptions-and-forecasting needs of analysts at market research, advisory, and consulting organizations.
B&M Nxtalso helps develop market readiness assessment tools, models, and advisory products and services for decision makers and key influencers from marketing, strategy, sales, and HR functions across various industries.
Notes to Editors:
About CMR
Notes to Editors:
CyberMedia Research conducts the Budget Smartphones Channel Audit to capture the perspectives, preferences, challenges and dislikes of retailers around 'value for money' (INR <10,000) smartphone brands, capturing a compelling picture of smartphone brands in the market.
About CMR