Seagate and WDC together contributed 84% to the overall market.
5" External HDD maintained its popularity.
1TB and 2TB shipments together contributed 89% market share.
Gurugram/New Delhi, August 29, 2019: India External HDD (2.5" & 3.5") market stood at 0.4 Mn units in 2Q CY2019. When compared to 2Q CY2018, the market witnessed noticeable 20% decline, according to CMR's India Hard Drive Market Review for 2Q CY2019.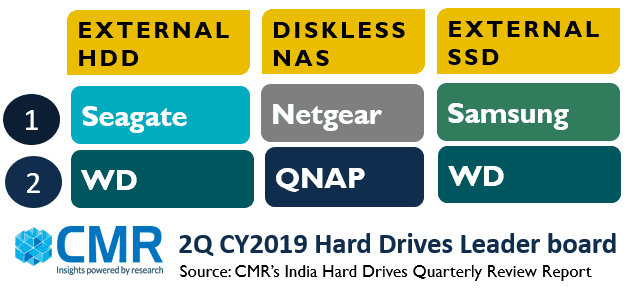 "Accumulation of stocks in 1Q CY2019 on account of the unpredictable policies by the newly formed government was one of the reasons for decline in 2Q CY2019. Smartphones with huge embedded storage has reduced the need for any external device. In addition, customers inclination towards compact lightweight storage devices also led to the downsizing of the market. Rise in the SSD adoption has also taken a toll on the traditional HDDs sales," observed Shipra Sinha, Lead Analyst, CyberMedia Research
External SSD, Wireless and NAS
External SSD recorded remarkable 54% sequential growth in its shipments. Samsung and WD together contributed around 91% share in the external SSD market. 500 GB capacity segment captured 70% market share in terms of unit shipments.
WDC was the only contributor in the wireless category.
QNAP was replaced by Netgear to dominate the diskless NAS market. Dual Bay NAS was the most popular category in terms of unit shipments.
Future Trends
According to Shipra, "Rise in the social media content, ecommerce websites, entertainment and gaming apps along with growing need of surveillance has created the need of more and more storage. Field workforce requirement for a robust storage device for their crucial data will also drive the growth of the hard drives market in future. Brands should focus on manufacturing compact devices especially the NAS and 3.5" external drives. External HDD is a consumer driven segment, hence 3Q CY2019 will grow due to the lucrative deals offered by the ecommerce platforms during the upcoming festival season."
"We anticipate external HDD to record a single digit growth by the end of CY2019. External SSD market is anticipated to record double-digit growth during the same period." added Shipra.