Sea gate and WDC together contributed 85% to the overall market.
5" External HDD market grew by 26%.
1TB and 2TB shipments collectively contributed 86% market share.
Gurugram/New Delhi,Nov28, 2019:India External HDD(2.5"&3.5") market reached 0.5Mn Units in 3Q CY2019. When compared to 3Q CY2018,the market witnessed 18% decline,according to CMR's India External Hard Drive Market Review for 3Q CY2019.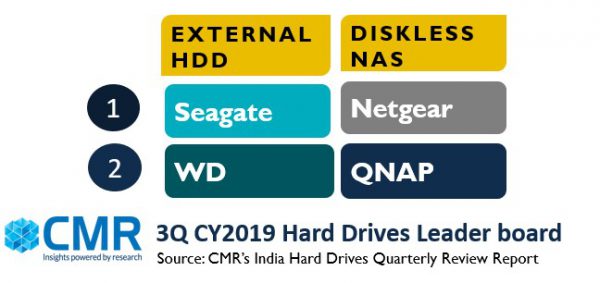 "External hard drive is a consumer driven product and with various options available at affordable price both online and offline gave that elevation in the market.Leading brands have also managed to attract consumers with their super stylish and low weight hard drives.2.5" hard drives being major growth driver of the market recorded 27% growth in 3Q CY2019.1TB captured 54% market share in the 2.5" category," observed Shipra Sinha, Lead Analyst, CyberMedia Research
"3.5" hard drives market saw significant advancement.This category grew by 68% when compared to 3Q CY2018. Durability, shock tolerance, and long-term reliability with enormous data storage capacity starting right from 4TB,3.5" hard drive shave the ability to suffice the consumers data reservation needs.Consumers don't mind spending some more to get a fully secured data storage package,"added Shipra Sinha
NAS
Overall NAS market recorded 9% growth when compared to 2Q 2019. Net gear continued to dominate the disk less NAS market. Dual Bay and Four Bay NAS contributed equally and captured 44% market share. Disk less NAS was most favored as it gives consumers the freedom to choose from various NAS hard drives available.
Heavy video generation due to surveillance needs an appropriate device with secure storage on cloud. This is where NAS comes in to picture.
Future Trends
According to Shipra, "Traditional HDDs are being replaced by the SSDs due to lot of overpowering features.However,huge data generation and processing across Information Technology, Education,Public and Banking sectors will create a rise in demand for secure portable storage backup making it one of the external HDD growth drivers. SMBs dependency for their digital content on cloud will energize the NAS market. Its ease of access, high capacity will also be an attraction.Growth in the number of personal and professional gamers and gaming options requires massive storage medium and NAS will be the perfect choice"
"4Q CY2019 will slow down on account of end of major festivals and calendar year.We anticipate external HDD to end with 1.8 Mn units and witness around 6% decline by the end of CY2019. NAS market is also anticipated to slow down during the same period."added Shipra.
Notes to Editors:
About CMR
Notes to Editors:
CyberMedia Research conducts the Budget Smartphones Channel Audit to capture the perspectives, preferences, challenges and dislikes of retailers around 'value for money' (INR <10,000) smartphone brands, capturing a compelling picture of smartphone brands in the market.
About CMR