WDC continued to dominate Internal SSD Market.
PCIe SSD shipments grew 176% YoY.
External SSD shipments decline 15% QoQ.
Gurugram/New Delhi,June1, 2020:According to CMR's India Hard Drive Market Review for Q1 CY2020, the India Internal SSD market (SATA & PCIe) shipments dropped down by 30%QoQ. However,the market recorded 215% growth YoY.
"PC and Desktop components like SSDs have strong reliance on China.Supply lines in China were disrupted due to Chinese New Year holidays and COVID-19 pandemic. China was nearly shut down for the whole of February impacting the overall manufacturing.By endof March, the disruptions started in India followed by complete lockdown resulting in almost no logistics or transport," observed Shipra Sinha, Lead Analyst, CyberMedia Research.
"Demand for an External SSD is still at a nascent stage owing to lack of awareness.The market was largely affected by decline in Seagate and Samsung shipments. However, WDC shipments grew by 9%QoQ. High ASP when compared to traditional drives also contributed in this decline," added Shipra Sinha.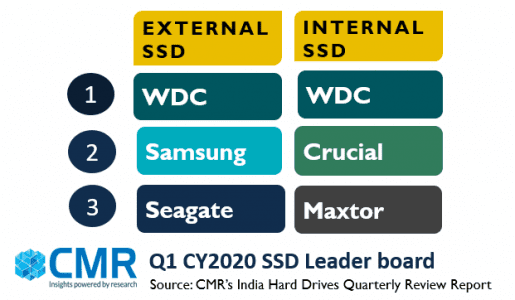 Market Leadership
In the overall India Consumer Internal SSD market, WDC topped the leader board followed by Crucial (Micron's Brand)capturing 15% market share. Maxtor (Seagate's Brand) captured the third spot with 11% market share.Crucial and Maxtor shipments recorded significant 30% and 98% respective growth QoQ.
In the external SSD market,WDC replaced Samsung to be the top contributor with 50% market share. Samsung captured 40% market share;its shipments declined by 16% QoQ. Seagate stood at third position with 7% market share. Q1 saw new entrants like LaCie and PNY.
Interface and CapacityTrends:
Conventional SATA (2.5" and M.2) SSDs captured 94% of the market. Its shipments increased by 195% YoY.PCIe/NVMe SSDs grew 206% when compared with 1Q CY2019.
240GB Internal SSDs were most favored capturing 43% market share followed by 120GB at 29%.
500GB External SSD shipments captured 65% market share followed by 1TB at 21% and 2TB capturing 8%.
Future Trends
According to Shipra"Severe supply and demand constraints during first two months of Q2 will result in decline in Internal SSD shipments by 10-15% QoQ. However, H2 2020 will improve by 8% YoY as we enter the new normal, and enabled by online sales."
With the extended work from home option, consumers are expected to upgrade their PCs and desktops with feature rich SSDs. PCIe SSDs will continue to grow due to smoother operation at a less price gap. Also,SSDs will suffice the need of uninterrupted online educational classes going forward.
Notes for Editors
CyberMedia Research (CMR) is a pioneering market intelligence and consulting firm that runs a comprehensive quarterly market update on the India Consumer Storage market. CMR's India Quarterly Consumer SSD Market Review covers Internal SSD and External SSD sold via distributors and retail outlets. The report accounts for 'legal' shipments but does not include bundled or 'grey' market shipments or units brought from abroad by individuals as a part of personal baggage.
CMR uses the term "shipments" to describe the number of Internal SSD devices leaving the factory premises for OEM sales or stocking by distributors and retailers. For the convenience of media, the term 'shipment' is sometimes replaced by "sales" in the press release, but this reflects the market size in terms of units of hard drive devices and not their absolute value.