PCIe/NVMe SSD shipments registered 418% YoY growth on a small base.
240GB Internal SSD capacity captured 39% market share.
External SSD shipments increased by 222% YoY on a small base.
Gurugram/New Delhi, Dec 8, 2020: According to CMR's India Hard Drive Market Review for Q3 CY2020, the India Consumer Internal SSD market (SATA & PCIe) shipments recorded 197% QoQ growth in Q3 2020.
"A smooth, uninterrupted and superfast PC requirement during WFH and e-learning encouraged consumers to upgrade their existing device. Usage of devices for long hours needed a reliable and robust solution and internal SSDs were the perfect fit. Logistics and supply chain issues in Q2 generated huge demand thereby increasing the sales in Q3. Moreover, Q3 also observed good amount of shipments by many fewer known brands, further elevating the overall market," observed Shipra Sinha, Lead Analyst, CyberMedia Research.
"While External HDDs hold a major share in the portable drives market, External SSD market is also expanding. Q3 recorded the highest ever External SSD shipments in last three years. The market grew by 705% QoQ on a small base. Crucial made its debut in the Indian market with its first ever X8 portable SSD in Q3," added Shipra Sinha.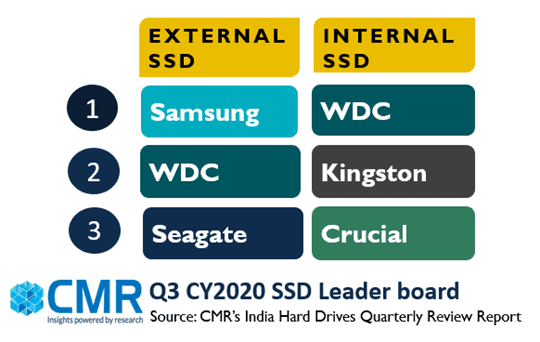 Market Leadership
In the overall India Consumer Internal SSD market, WDC was the top contributor with 39% market share followed by Kingston capturing 19% and Crucial at third position with 15% share. Kingston and Crucial shipments recorded substantial YoY growth of 126% and 205% respectively owing to their competitive price, aggressive marketing strategy and expansion into PCIe/NVMe interface SSDs category. In the PCIe NVMe interface, WDC (30%) led the market followed by Samsung (17%) at second and Kingston (14%) at the third spot.
In the External SSD market, Samsung replaced WDC to be at the top spot with 50% market share followed by WDC at 41%. Seagate stood at the third position with 7% market share.
Interface and Capacity Trends:
SATA (2.5" and M.2) SSDs captured 85% of the overall market. SATA SSD shipments increased by 169% and PCIe NVMe SSDs grew remarkably by 676% when compared with Q2 CY2020.
240GB Internal SSD was most favored capturing 39% market share followed by 120GB at 24%.500GB and 1TB capacity shipments recorded significant 156% and 266% YoY increase.
500GB External SSD shipments captured 62% market share followed by 1TB at 30% and 2TB capturing 6%.1TB and 2TB capacity shipments also increased by 231% and 523% YoY.
Future Trends
CMR anticipates the Internal SSD market to grow by 10-15% YoY by the end of CY2020. Extended WFH has opened up the market for notebooks and desktops with more and more organizations providing proper infrastructure to their employees to ensure smooth business operation. The traditional hard drives that most of the old PCs have are slow and pose a substantial risk of crashing. Hence, consumers will look to upgrade to SSDs that are sturdy. SSDs also have a huge growth potential during extended LFH requiring uninterrupted PC experience. Similarly, External SSD segment is poised to grow YoY owing to its supreme features like faster operation, indestructibility and durability over portable HDDs.
According to Shipra "With the major festivals coming to an end, Internal SSD market is expected to decline by 15-20% QoQ in Q4. External SSD will also decline largely due to their high cost. However, PCIe NVMe SSD capturing 15% share in Q3 is expected to contribute significantly to the Internal SSD market in the upcoming quarters,"
Notes for Editors
CyberMedia Research (CMR) is a pioneering market intelligence and consulting firm that runs a comprehensive quarterly market update on the India Consumer Storage market. CMR's India Quarterly Consumer SSD Market Review covers Internal SSD and External SSD sold via distributors and retail outlets. The report accounts for 'legal' shipments but does not include bundled or 'grey' market shipments or units brought from abroad by individuals as a part of personal baggage.
CMR uses the term "shipments" to describe the number of Internal SSD devices leaving the factory premises for OEM sales or stocking by distributors and retailers. For the convenience of media, the term 'shipment' is sometimes replaced by "sales" in the press release, but this reflects the market size in terms of units of hard drive devices and not their absolute value.