PCIeNVMe SSD shipments grew 81% YoY in H1.
External SSD shipments increased by 120%YoY on a small base.
WD topped the leaderboard followed by Crucial.
Gurugram/New Delhi,Sep 2, 2020: According to CMR's India Hard Drive Market Review for H1 CY2020, the India Consumer Internal SSD market (SATA & PCIe) shipments recorded 6% YoY growth in H1 2020.However,the market declined by 45% in Q2 when compared to Q1 2020.
"While all the other storage product shipments dropped down in H1,Internal SSD market succeeded in growing its base. The rising SSD adoption and preference compared to the traditional HDDs was one of the growth factors.Brands were well prepared in Q1 itself and some of the known brands that do not depend on China were not affected much in Q2 also.However,the market came to a standstill in April but revival was positive in May and June," said Shipra Sinha, Lead Analyst, CyberMedia Research.
"External SSD still is a niche market but has great potential owing to its supreme features. WD and Samsung captured the major market share, other brands like Adata, G-Technology,LaCie, Seagate also contributed to this overall growth. WD shipments jumped 200% YoY in H1 on a small base. Similarly, Samsung shipments also grew by 43% during the same period," added Shipra.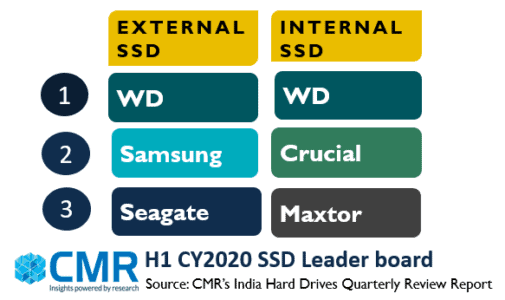 Market Leadership
In the overall India Consumer Internal SSD market, WD was the top contributor with 45% market share followed by Crucial (Micron's Brand) capturing 15% in H1. Crucial shipments
recorded substantial increase of 130% YoY. In the PCIe NVMe interface, WD (28%) led the market followed by Gigabyte (18%) at second and Samsung (16%) at the third spot.
In the External SSD market, WD was the leader with 55% market share followed by Samsung at 33%. Seagate stood at the third position with 8% market share.
Interface and Capacity Trends:
SATA (2.5" and M.2) SSDs captured 94% of the overall market. SATA SSD shipments increased by 3% YoY and PCIe NVMe SSDs grew remarkably by 81% when compared with H1 CY2019.
240GB Internal SSD was most favored capturing 45% market share followed by 120GB at 26%.480GB and 500GB capacity shipments increased by 67% and 55% YoY respectively.
500GB External SSD shipments captured 59% market share followed by 1TB at 28% and 2TB capturing 7%.1TB and 2TB capacity shipments increased by 226% and 673% YoY.
Future Trends
CMR anticipates the Internal SSD market to grow by 15-20% in H2 when compared to H1 2020. Extended WFH in the new normal requires smoother and faster PC performance. Rather than buying a new device, consumers will look to upgrade their existing laptop and desktop memory with no other better option than an internal SSD. The online educational classes will also need an uninterrupted session, hence Internal SSD market is definitely on the path of recovery in H2.
According to Shipra, "Q3 is expected to increase by more than 40% QoQ for internal SSD market owing to the festive season accompanied with early online deals. External SSD will also increase by 25-30%. While SATA internal SSD will drive the market, PCIe NVMe SSD will play a crucial role due to their super fast interface and read-write speed."
Notes for Editors
CyberMedia Research (CMR) is a pioneering market intelligence and consulting firm that runs a comprehensive quarterly market update on the India Consumer Storage market. CMR's India Quarterly Consumer SSD Market Review covers Internal SSD and External SSD sold via distributors and retail outlets. The report accounts for 'legal' shipments but does not include bundled or 'grey' market shipments or units brought from abroad by individuals as a part of personal baggage.
CMR uses the term "shipments" to describe the number of Internal SSD devices leaving the factory premises for OEM sales or stocking by distributors and retailers. For the convenience of media, the term 'shipment' is sometimes replaced by "sales" in the press release, but this reflects the market size in terms of units of hard drive devices and not their absolute value.