Record-breaking Q1 internal SSD shipments, the highest in the past five years.
The NVMe SSD market recorded 36% YoY growth in Q1 CY2023.
The external SSD shipments experienced a remarkable YoY growth of 111% in Q1 CY2023.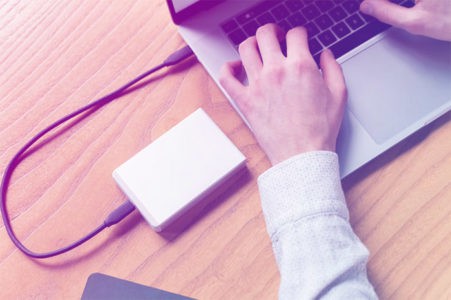 Gurugram/New Delhi, May 29, 2023: According to CMR's India Hard Drive Market Review for Q1 CY2023, The India consumer internal SSD market (SATA and NVMe) witnessed a substantial YoY growth of 43% in market shipments. Additionally, the overall market demonstrated a 5% QoQ growth.
According to Shipra Sinha, Senior Analyst – Industry Intelligence Group, Cyber Media Research, "The exponential growth in the lesser-known brands contribution (66%) and the increased shipments from renowned brands have been instrumental in driving the overall market expansion. Factors such as heightened awareness, widespread adoption, and the inherent advantages of SSD over HDD have played a pivotal role in fueling this growth. Furthermore, the external SSD market witnessed the entrance of new players this quarter, resulting in a remarkable 145% QoQ shipment increase, on a small base."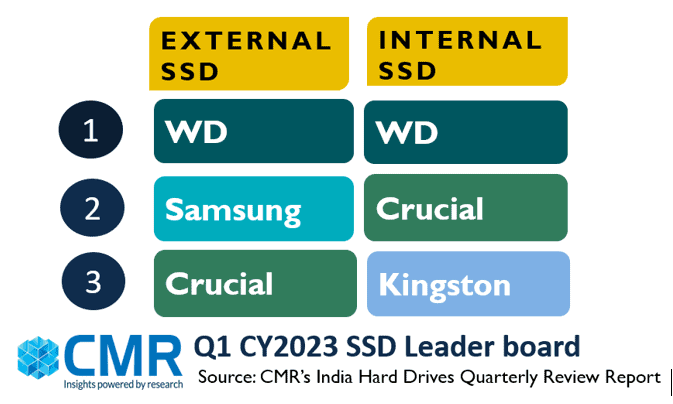 Q1 2023 Highlights
Market Leadership
In the overall India Consumer Internal SSD market, WD sustained its leadership with a significant market share of 14%, closely trailed by Crucial at 6% and Kingston securing the third position with a 3% market share.
Within the External SSD market, WD claimed the top position with an impressive market share of 55%. Samsung secured the second spot with a 24% market share. Notably, Crucial made a significant climb up the leaderboard, capturing the third position with a 9% market share.
Future Trends
Due to its increased affordability and growing consumer preference towards SSDs over traditional hard drives, the Internal SSD market is anticipated to witness a YoY growth of over 25% by the end of CY2023.
"As the new financial year begins, the Internal SSD market is expected to experience a further increase in shipments in Q2 2023. SATA SSDs will dominate the market, while the contribution of NVMe SSDs will continue to rise. The growing demand for mobile devices, digitization and the need for affordable large-scale data storage will be the key drivers for the future growth of SSDs. Additionally, the base of the External SSD market is set to expand as more brands enter this market segment." added Shipra.
For queries, please contact: releases@cmrindia.com