India Consumer Internal SSD shipments reach close to 10Mn in CY2022.
NVMe SSD market grew 84% YoY in CY2022.
External SSD market shipments remained flat YoY in CY2022.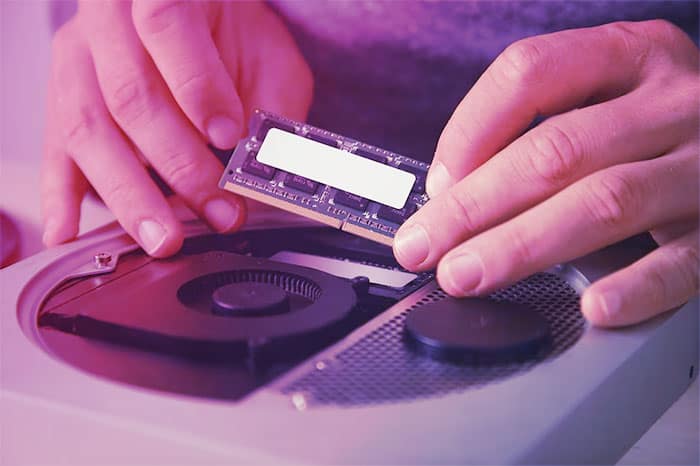 Gurugram/New Delhi, March 3, 2023: According to CMR's India Hard Drive Market Review for CY2022, the India Consumer Internal SSD market (SATA & NVMe) market shipments increased by 32% YoY in Q4 CY2022. The overall market also registered remarkable 80% YoY growth for the whole year CY2022.
According to Shipra Sinha, Senior Analyst – Industry Intelligence Group, Cyber Media Research, "The rapid surge in awareness of SSD over HDD contributed to this healthy market growth despite the macroeconomic factors in play. The top three market leaders registered a growth in their shipments."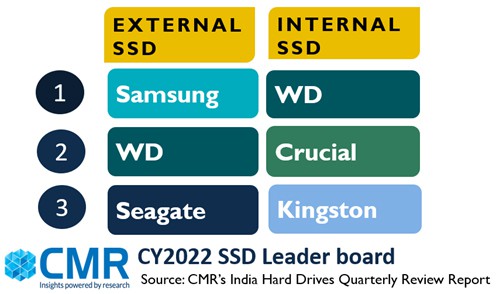 CY2022 Highlights
Market Leadership
In the overall India Consumer Internal SSD market, WD captured 9% market share followed by Crucial with 8% and Kingston at third position with 5% share.
In the External SSD market, Samsung captured the top spot with 45% market share. WD was at second position with 44% share. Seagate stood at third with 4% market share.
Future Trends
CMR anticipates the Internal SSD market to grow >25% YoY by the end of CY2023 owing to its advantages, growing adoption and affordability over conventional drives.
"In CY2023, we anticipate a further uptick in Internal SSD shipments owing to increased SSD applications due to high speed and quick data access. SATA SSDs will dominate and NVMe SSDs contribution will increase in the overall market. Brands focus on compactness coupled with large capacity and cost effectiveness will drive the future growth for External SSDs," added Shipra.
Notes for Editors
Cyber Media Research (CMR) is a pioneering market intelligence and consulting firm that runs a comprehensive quarterly market update on the India Consumer Storage market. CMR's India Quarterly Consumer SSD Market Review covers Internal SSD and External SSD sold via distributors and retail outlets. The report accounts for 'legal' shipments but does not include bundled or 'grey' market shipments or units brought from abroad by individuals as a part of personal baggage.
CMR uses the term "shipments" to describe the number of Internal SSD devices leaving the factory premises for OEM sales or stocking by distributors and retailers. For the convenience of media, the term 'shipment' is sometimes replaced by "sales" in the press release, but this reflects the market size in terms of units of hard drive devices and not their absolute value.