Internal SSD records 263% growth when compared to CY2018.
WDC topped the Internal SSD leader board with 42% market share.
240GB Internal SSDs were most popular.
Gurugram/New Delhi, March 27, 2020: According to CMR's India Hard Drive Market Review for CY2019, the India Internal SSD market (SATA & PCIe) jumped to 1.2Mn units at the end of CY2019. External SSD recorded 306% growth year-on-year (YoY).
"CY2019 has undoubtedly been the path breaking year for consumer SSDs. The three-fold growth in SSDs can be traced to it growing from a small base. CY2019 saw new entrants trying to set a foothold adding to the overall shipments. Brands were seen moving up in the leaderboard. SSDs reliability and supreme features has made it much popular substitute for HDDs. Brands like Adata, Crucial, Gigabyte shipments also recorded impressive growth. Majorly this growth was the result of the HDD replacement by SSDs.," observed Shipra Sinha, Lead Analyst, CyberMedia Research.
"Drop in the External SSD prices was one of the major growth drivers. Seagate entry with its beautifully designed product in the second half of CY2019 gave another boost. Samsung has been the all-time favorite in this category followed by WDC. Both the brands reduced their prices leading to the rise demand," added Shipra Sinha.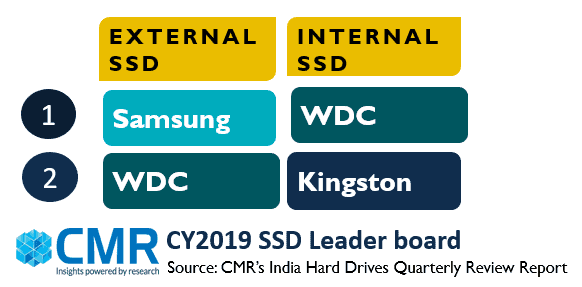 Market Leadership
In the overall India Consumer Internal SSD market, WDC was the clear winner followed by Kingston capturing 21% market share. Kingston shipments recorded huge 351% growth when compared to CY2018. Samsung and Crucial captured 7% market share. Seagate's brand Maxtor contribution was also noticeable in the second half of CY2019. Other major contributors were Team group, Hikvision and Transcend.
Interface and Capacity Trends:
SATA interface was the most favored SSD interface and recorded 267% growth YoY. Interestingly, PCIe interface also recorded significant 198% growth in terms of unit shipments. PCIe interface SSDs can have a link speed of up to 16Gb/s making it much faster than SATA at 6Gb/s.
In the external SSD market, the 500GB was the most favored capacity segment capturing 60% market share. SSDs with 1TB capacity captured 27% market share.
Future Trends
According to Shipra, "We anticipate the Internal SSD market to top 1.6Mn units in CY2020 and External SSD market to record double digit growth year-on-year. SSDs will continue to grow, owing to their features, such as security, portability, and, low latency. With HDDs being widely replaced by SSDs, this market has minimal chances of slowing down. SATA SSD will continue its leadership. PCIe Interface SSDs will increase on account of its smoother operation".
"Overall, we anticipate H1 2020 will remain muted owing to COVID-19 pandemic. There will be constraints in supply and demand through this period. We anticipate the market to pick-up in H2 2020," added Shipra.
Notes for Editors
CyberMedia Research (CMR) is a pioneering market intelligence and consulting firm that runs a comprehensive quarterly market update on the India Consumer Storage market. CMR's India Quarterly Internal SSD Market Review covers Internal SSD sold via distributors and retail outlets. The report accounts for 'legal' shipments but does not include bundled or 'grey' market shipments or units brought from abroad by individuals as a part of personal baggage.
CMR uses the term "shipments" to describe the number of Internal SSD devices leaving the factory premises for OEM sales or stocking by distributors and retailers. For the convenience of media, the term 'shipment' is sometimes replaced by "sales" in the press release, but this reflects the market size in terms of units of hard drive devices and not their absolute value.
CMR has taken into account the ongoing COVID-19 pandemic, and has addressed the same in our CY2020 forecast.