SanDisk maintained its leadership in all the three categories.
32GB capacity contributed 36% market share.
USB 2.0 SDC Z50 was the most popular pen drive model.
Gurugram/New Delhi,March 11, 2020: According to CMR's India Consumer Storage Flash Devices Market Review Report for CY2019 released today, the India Consumer Storage market dropped down by 18% as compared to CY2018. Micro SD cards witnessed significant 40% decline when compared to CY2018.
"The sluggishness in Micro SD card shipments caused the major hit.Around 143.9 Mn large capacity smartphones were launched in 2019.With minimum 2 to 3 cameras and enormous storage, these smartphones are a brilliant combination of superior picture quality and space. They are the prime reason for deceleration in Micro SD cards and SD cards market.While the festival season has always observed an up stick,2019 was the year when all the three product category shipments declined in Q3," observed Shipra Sinha, Lead Analyst, CyberMedia Research.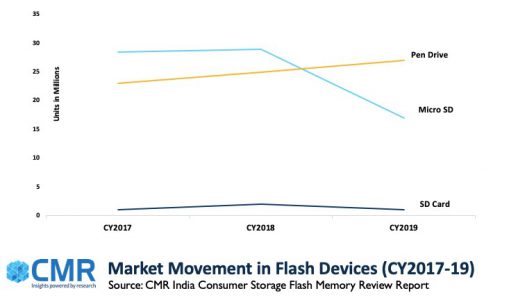 "On the contrary, pen drive market recorded 7% growth when compared to year 2018 and 19% growth when compared to year 2017.With SanDisk capturing 75% market share, HP and Kingston together contributing 21% market share, pen drive market did not see a downfall. OTG pen drives uniqueness has increased its demand contributing in this growth. Also, pen drives play an important role in accessing special format large files on a laptop or desktop" added Shipra.
Market Leadership
SanDisk was the undisputed leader with 68% market share in terms of units shipped in CY 2019.HP continued to be on the second spot with 6% market share followed by Kingston.HP shipments recorded huge 135% sequential growth when compared to CY2018.
After SanDisk, Samsung stood at the second position in the Micro SD category. Sony in SD cards and HPin Pen Drive categories maintained their second spot.
Capacity Trends
CY2019 observed a significant shift towards higher capacities despite the slowdown of the overall market. 16GB was the highest contributor followed by 32GB. However,shipments of 16GB witnessed 27% decline when compared to 2018.On the other hand, higher capacities like 32GB, 64GB and 128GB recorded remarkable growth of 23%,71% and 87% respectively on comparing with the year 2018.
Future Forecast
CMR anticipates an overall decline of shipments around 19-20% in CY2020, with a slower than expected Q1 2020, owing to Corona virus impact.
"As a consequence of Corona virus impact, we anticipate 1Q CY2020 to slow down further on the back of disruption in component supplies. Brands with manufacturing facilities in China will bear the brunt of the disruption. Going forward, we anticipate the overall market to continue moving towards higher capacities."added Shipra.