16GB remained the major contributor with 40% market share.
OTG Pen drives contributed 14% market share.
SanDisk's SDCZ50 was the most popular pen drive model.
USB 3.0 pen drives contributed 25% of the market.
Gurugram/New Delhi,Nov 26, 2019:According to CMR's India Consumer Storage Flash Devices Market Review Report for Q3 2019 released today, the India Consumer Storage market dropped down by 6%,Micro SD cards being the crucial reason for this downfall.When compared with 3Q CY2018 the market declined significantly by 22%.On YoY comparison, overall market declined by 11%.
"Flash cards,once the major contributor to the overall market has seen continuous decline since the start of year 2019.Premium smartphone brands with breathtaking features and gigantic inbuilt memory has taken over the memory devices market by storm creating a lacuna in their sales process.Micro SD cards witnessed 41% decline when compared to 3Q 2018. Similarly, SD cards sales didn't impress as well, it witnessed 14% decline when compared to 3Q 2018 in terms of unit shipments," observed Shipra Sinha, Lead Analyst, CyberMedia Research. 
"On the other hand, pen drive market was almost flat when compared to 2Q 2019.Pen drives market was the life savior for the overall market. SanDisk's contribution of 83% alongside HP moving up in the hierarchy has succeeded in maintaining the overall balance,despite Sony exiting the flash devices market.Third quarter has always seen an upward trend majorly due to the festivals, but times have changed and even lucrative online deals didn't add much this time.However,online sales saw an up turn in 3Q 2019 as compared to the offline medium" added Shipra Sinha.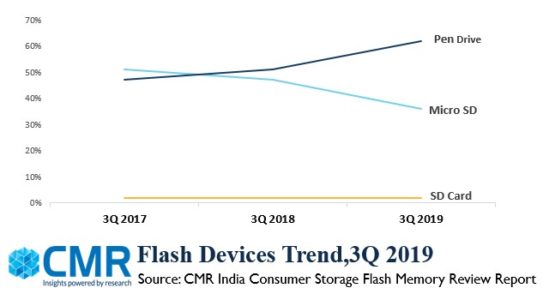 Market Leadership
In the overall India Consumer Storage Flash Memory market, SanDisk continued to dominate and contributed 73% market share in terms of units shipped.HP replaced Kingston to be at the second position with 5% market share. However,its shipments declined by 16%when compared to the last quarter. 3Q 2019 saw significant contribution by HP in the pen drive and micro SD space.
SanDisk stood at top in all the three categories.Samsung was at second spot with 7% market share in Micro SD category. Sony(12%) in SD cards and HP(9%) in Pen Drive category captured the second position.
Future Trends
"We anticipate CY2019 to end with 47 Mn units contributed by Micro SD,SD and Pen drives and witness more than 10% decline .4Q CY2019 will slow down further due to decrease in demand and end of the major festivals and calendar year.However, nominal growth in SD cards market is anticipated due to the forthcoming marriage season.Overall market will continue to shift towards higher capacities due to growing affordability"added Shipra.