SanDisk continued to dominate all the three categories.
32GB capacity was most popular with 38% market share.
OTG Pen Drives captured 13% of the overall pen drive market.
Gurugram/New Delhi, May26, 2020:According to CMR's India Consumer Storage Flash Devices Market Review Report for 1Q CY2020 released today, the India Consumer Storage market shipments grew 8% QoQ in Q1 2020.However, on the back of COVID-19,the market declined by21% YoY.
"Onset of Chinese New Year and calendar year backed with good consumer demand contributing to this overall growth. Brands were ready with ample stock in January and February to maintain smooth supply and demand process during this period.However,with the onset of COVID-19, the market was predictably disrupted with slowdown in both demand and supply," observed Shipra Sinha, Lead Analyst, CyberMedia Research. 
ThePen drive market grew by 16% QoQ and Micro SD market remained flat in Q1.
Market Leadership
Overall Market: SanDisk has been the undisputed leader for 24 consecutive quarters with its market share increasing YoY. SanDisk shipments recorded 27% growth QoQ. HP continued to be on the second spot with 4% market share followed by Samsung. Samsung shipments also recorded 44% growth QoQ.
Micro SD: SanDisk was the leader with 61% market share with Samsung on the second spot.
SD Card: SanDisk captured 95% market share followed by Sony contributing 3%.
Pen Drive: SanDisk topped the leaderboard with 88% market share followed by HP contributing 6% in terms of unit shipments.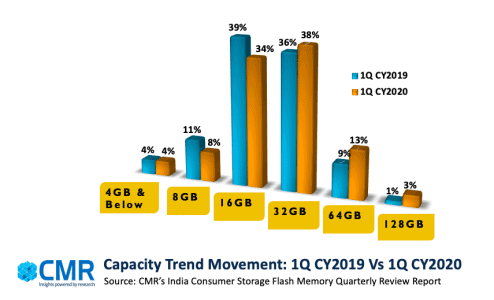 Capacity Trend:
Significant shift towards higher capacities like 32GB,64GB & 128GB was observed in Q1 in terms of unit shipments.With overall units increasing by 16% revenue grew by 18% QoQ. 32GB was the highest contributor capturing 38% market share with its shipments recording 23% growth QoQ. Similarly, 64GB and 128GB recorded 5% and 38% YoY growth respectively.
Future Trends
CMR anticipates 35-40% YoY decline in the Micro SD card shipments by the end of CY2020 owing to slowdown of smartphone market along with supply and demand.Extended work from home due to COVID-19, will generate large storage requirement encouraging the shift towards higher capacities.Revenue will rise due to this movement.
According to Shipra, "Q2 2020 will see the market face the brunt ofthe COVID-19 pandemic, with shipments anticipated to decline by 15-20% QoQ. However, from the short and long-term perspective, the demand is anticipated to claw back. This will be driven by feature rich smartphones requiring need for enhanced storage devices."
Notes for Editors
CyberMedia Research (CMR) is a pioneering market intelligence and consulting firm that runs a comprehensive quarterly market update on the India Consumer Storage market. CMR's India Quarterly Consumer Storage Flash Memory Market Review covers Micro SD cards, SD cards and Flash drives sold via distributors and retail outlets. The report accounts for 'legal' shipments, but does not include bundled or 'grey' market shipments or units brought from abroad by individuals as a part of personal baggage.
CMR uses the term "shipments" to describe the number of consumer storage flash memory devices leaving the factory premises for OEM sales or stocking by distributors and retailers. For the convenience of media, the term 'shipment' is sometimes replaced by "sales" in the press release, but this reflects the market size in terms of units of consumer storage flash memory devices and not their absolute value. In the case of flash memory devices imported into the country, it represents the number leaving the first warehouse to OEMs, distributors and retailers.