• Reliance Retail's JioFi devices contributed 85% market share
• Huawei contributed 7% in the overall data cards market in CY 2017 in terms of unit shipments.
• LTE/4G data cards market clocked 255% annual growth.
Gurugram/New Delhi, March 8, 2018: The Indian Data cards (USB & MiFi) market witnessed aggressive 151% growth in CY 2017 when compared to last year, according to CMR's India Data Cards Monthly Market Review for December 2017.
"Telecom service providers have been under extreme pressure after the entry of the Reliance Jio Infocomm. On the back of its continuous launch of affordable internet plans along with its MiFi devices at exceptionally competitive prices, Jio grew aggressively during the festive season in the second half of CY2017. The service provider market underwent consolidation, and witnessed exit of Uninor and Tata Indicom in CY2017," observed Shipra Sinha, Lead Analyst, CyberMedia Research.
"Home Router market witnessed downfall post launch of JioFi devices. Capitalizing on the limited coverage of WiFi routers and their continuous requirement of power, MiFi devices with their inbuilt battery alongwith portability feature captured the space," added Shipra Sinha.
In terms of technology, 4G/LTE data cards made 99% contribution with impressive 255% sequential growth in CY2017.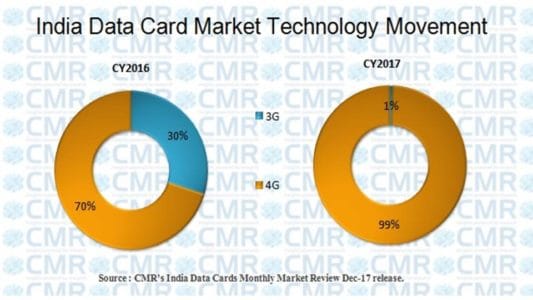 Reliance Retail continued to maintain its number one position in the overall data cards market. Its JioFi devices captured 85% market share in CY2017 as against 38% in CY2016. In terms of unit shipments, it recorded a five-fold sequential growth in CY2017. Huawei was at number two spot, with a 7% market share and 29% sequential decline in CY2017. Data card shipments from other vendors, including iBall, Intex, and Micromax registered continuous decline. As a result, they gradually moved out of market by the end of CY2017. Reliance Retail's fast moving JioFi models captured the top five spots.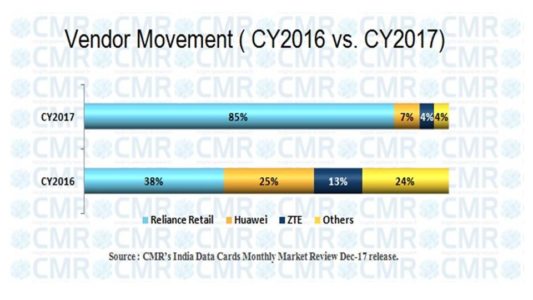 "LTE/4G based MiFi devices have potential to provide superfast internet at low cost with multiple user support will continue to contribute to its leadership position. The rising acceptance of Mi-Fi's, primarily driven by Reliance Retail in Tier II and Tier III cities will make way for this device category to continue to expand to major parts of India. 1Q 2018 is expected to witness good sales with the introduction of new Reliance Retail's JioFi models accompanied by its cost-effective internet plans." Shipra concluded.
xxx
Notes for Editors
About CMR India Data Cards Market Report
CMR runs a comprehensive monthly market update on the India Data Cards market. The report accounts for 'legal' shipments only, does not include 'grey' market shipments or units brought from abroad by individuals as part of personal baggage.
CMR uses the term 'shipments' to describe the number of data cards leaving the factory premises for OEM sales or stocking by distributors and retailers. For the convenience of media, the term 'shipment' is sometimes replaced by 'sales' in press releases, but this reflects the market size in terms of units of data cards and not their absolute value.
For more information on CMR's India Data Cards Market Report, please contact Shipra Sinha at +91 9740944550 or ssinha@cmrindia.com.
About CMR
CMR offers industry intelligence, consulting and marketing services, including but not limited to market tracking, market sizing, stakeholder satisfaction, analytics and opportunity assessment studies.
Its bouquet of consulting services includes incubation advisory, go-to-market services, market mapping and scenario assessment services. CMR is servicing domestic as well as international clientele in India and few global destinations. The clientele serviced represents SMBs, Large Enterprises, Associations and Government. CMR's core value proposition encompasses a rich portfolio of syndicated reports and custom research capabilities across multiple industries, markets and geographies.
A part of CyberMedia, South Asia's largest specialty media and media services group, CyberMedia Research (CMR) has been a front-runner in market research, consulting and advisory services since 1986. CMR is an institutional member of Market Research Society of India (MRSI).
###