Seagate and WDC together contributed 89% to the overall market.
1TB and 2TB capacities collectively contributed 79% market share.
Surveillance HDD market grew 34% QoQ.
Gurugram/New Delhi,June 4, 2020:According to CMR's India External Hard Drive Market Review for Q1 CY2020, the India External HDD(2.5"&3.5") market recorded 6% growth QoQ, with a 14% YoY decline owing to COVID-19. Revenue grew by 11% during the same period.
"Pre COVID-19 consumer demand and preparatory stocking by the major brands on the back of onset of new calendar and Chinese year contributed to this growth.Partial dependency on China also amped up the market. Both 2.5" and 3.5" drives grew at equal rate. Seagate shipments recorded 4% growth QoQ and 3% YoY. Similarly, WDC shipments also grew by 3% QoQ aiming to suffice consumers need.Under 3.5" category, Seagate's brand LaCie shipments increased by 17% adding up to the overall growth,"observed Shipra Sinha, Lead Analyst, CyberMedia Research.
"34% QoQ growth was recorded by the Surveillance HDD market.CCTV cameras were the need of the hour to keep a close watch and track movement during lockdown. Hence,surveillance hard drives played a crucial role for the government,"added Shipra Sinha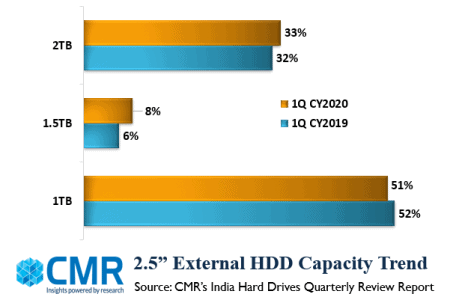 Market Leadership
Seagate topped the leader board with 51% market share followed by WDC at 39% in the overall external HDD category.
WDC was replaced by Seagate to be on the top in the surveillance HDD category capturing 56% market share and recording 77% QoQ and 91% YoY growth.
NAS
Overall, the NAS market declined by7% QoQ. Dual Bay NAS drive was most popular among consumers capturing 55% market share. Netgear continued its dominance in the disk less NAS market. WD was the only contributor in the single bay NAS category.
Future Trends
CMR anticipates External HDD(2.5" and 3.5")shipments to decline by 15-20% YoY by the end of CY2020. However, revenue will rise on account of growing need of higher capacities during COVID-19.2.5" hard drive will maintain its popularity. 3.5" hard drive shipments will grow owing to its huge storage capacity at less price gap feature.
According to Shipra,"With India on a standstill,Q2 will face the major heat and external HDD shipments will decline by 12-15% QoQ due to supply and demand constraints. H2 2020 is expected to revive but at a moderate rate driven by festive season and resuming of industry operations."
Notes to Editors:
About CMR
Notes to Editors:
CyberMedia Research conducts the Budget Smartphones Channel Audit to capture the perspectives, preferences, challenges and dislikes of retailers around 'value for money' (INR <10,000) smartphone brands, capturing a compelling picture of smartphone brands in the market.
About CMR