WDC and Kingston together contributed 69% to the overall market.
SATA 2.5"  Internal SSD was the major contributor.
240 GB was the most favored capacity segment.
Gurugram/New Delhi,September 2, 2019:India Internal SSD (SATA & PCIe) market shipments stood at 0.3 Mn and recorded a remarkable sequential growth in 2Q CY2019,according to CMR's India Hard Drive Market Review for 2Q CY2019.
"SSDs are the next big thing in the hard drive world. They are faster,quieter, susceptible to shock, low power consuming, less accessibility time with higher productivity and reliability.The most crucial feature being its sequential read and write speed making it much faster than the conventional HDDs. Such impressive features result in the extended battery life for PCs,tablets and laptops making it a popular option among consumers," observed Shipra Sinha, Lead Analyst, CyberMedia Research.
"SSDs also add up extra memory to the PCs and Laptops having low embedded storage thus speeding up their operating system. Cost effectiveness due to rise in demand has also added up to increased SSD adoption rate,"added Shipra Sinha
Market Leadership
In the overall India Consumer Internal SSD market, WDC ruled the market and contributed 36% market share in terms of units shipped.Remarkable growth was seen in Kingston shipments, it has replaced Samsung to be on the second spot. With its strong marketing strategy and extremely competitive price, Kingston plans to make it big in the internal SSD segment. Crucial and A data shipments also recorded extraordinary 336% and 105% of sequential growth respectively.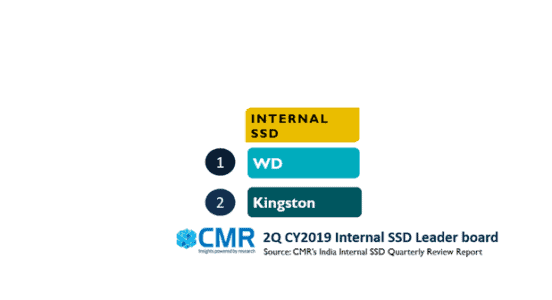 Interface and Capacity Trends:
SATA interface contributed 96% to the overall market followed by PCIe capturing 4% market share. Both the interfaces recorded significant 39% and 50% sequential growth in terms of unit shipments.
240 GB was the major contributor with 49% market share in the overall market followed by 120 GB contributing 31% in terms of unit shipments.
Future Trends
According to Shipra, "Internal SSD is poised to grow in the future owing to its outstanding features.Growing internet penetration, e-commerce, digitization creating large amount of data will contribute in the growth.Rise in the number of gamers requiring super fast and smooth access is also an added factor. Extensive adoption of desktop, laptop and tablet will create a rise in demand for this highly efficient affordable option."
"We anticipate CY2019 to record more than 95% growth when compared to CY 2018. 3Q CY2019 will grow further due to the forthcoming festive season and eye-catching online and offline deals during that period."added Shipra.