POS System shipments grew by 15% sequentially, Touch screen system shipments increased by 17% HY-on-HY
Epson maintained leadership in POS Printers, Posiflex led the POS Systems market
The India POS (Point of Sale) Printer market recorded a drop of 7% in unit shipments for 1H CY2013 (January-June 2013) compared to the previous half year, clouded by overall dull economic environment and low customer sentiments. This was revealed in the CyberMedia Research report CMR's India Half Yearly POS Market Review, 1H CY2013, November 2013 release.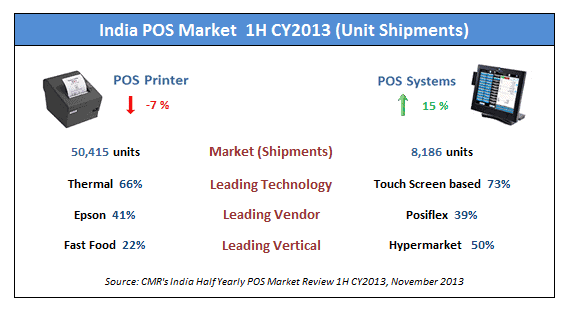 The India POS Printer market continued to show a shift towards thermal printers, which grew by 12% in terms of shipments when compared to previous half year, contributing 66% of overall POS printer shipments in 1H CY2013. This growth is largely attributed to expansion in the fast food and fine dining restaurant segments. Impact printers witnessed slow market movement, reflected in decreased shipments by major vendors Epson and WeP. Epson continued to be the top vendor in the space with a 41% market share by unit shipments followed by TVSe and WeP, respectively. Epson's thermal printer model TM-T81 with a 14% market share of shipments was the top-selling model in POS printer in 1H CY2013.
"Growing preference for convenience shopping, growing dual income, nuclear families, large percentage of youth population along with easy payment options like credit cards, EMI schemes etc. are factors that hold the potential to drive the organised retail market, and thus POS printers and systems", stated Narinder Kumar, Analyst, Infotech Research Practice, CyberMedia Research.
"Low end retail stores along with fast food restaurant segment are likely to be the key contributors for growth in POS printer shipments in the future, whereas the growth in POS systems market will be largely on account of hypermarkets, supermarkets and the fine dining segments", Narinder added.
The POS Systems market, which is a relatively small market in terms of shipments, but has a high revenue impact vis-à-vis the POS printers segment, grew sequentially by 15% in 1H CY2013 registering shipments of 8,186 units. Government deals won by Posiflex and Essae in this half-year provided this double-digit growth to the market. Posiflex continued its market supremacy with a 39% market share in terms of unit shipments followed by Wincor and NEC, respectively.
Over a period of time, the reducing price gap between touch screen based and non-touch screen based systems along with technological advancements such as ease of scalability and usability have worked in favour of touch screen based POS Systems, which witnessed 17% growth in shipments in 1H CY2013 as compared to the previous half year.
"In future, technology will play a crucial role in the expansion of organised retail businesses in the country, providing them with overall operational efficiencies. From procurement to post-sales, technology will facilitate all the important business processes. POS Systems and POS Printers will be a critical enabler at the stage of final sales, with the growing need of quick and comfortable printing", Narinder stated further.
"With increasing footfalls in supermarkets and 'Queue Management' requirements at sales, billing, teller and check-in counters expected to grow and become an important concern for sales managers, Mobile / Handheld POS systems are expected to emerge as a preferred solution."
Notes for Editors
CyberMedia Research (CMR) is pioneering market intelligence and consulting firm that runs a comprehensive half yearly market update on the India POS market. CMR's India Half Yearly POS Market Review consists of POS Printers and POS Systems. The numbers reported in this study do not include 'parallel' imports and 'grey market' sales for the above-mentioned form factors.
CMR uses the term "shipments" to describe the number of POS systems and printers leaving the factory premises for OEM sales or stocking by distributors and retailers. For the convenience of media, the term shipment is sometimes used interchangeably with 'sales' in the press release, but this reflects the market size in terms of units of POS systems and printers. In the case of POS systems and printers imported into the country, "shipments" refers to the numbers leaving the first warehouse to OEMs, distributors and retailers.
CMR tracks shipments of POS systems and printers on a half yearly basis.