Samsung was the leader in the overall mobile handset market in CY2020
realme, OnePlus and itel recorded strong YoY growth when compared to Q4 2019
In 2021, the smartphone market will potentially grow >10% YoY  
5G shipments are poised to grow 10x, and breach 30Mn in 2021
New Delhi/Gurugram, 12 Feb 2021: According to CMR Mobile Handset Market Review Report for Q4 2020, the India smartphone market grew 20% YoY in Q4 2020. Xiaomi captured 27% market share to be the No.1 Smartphone brand in Q4 2020. On the other hand, Samsung continued to gain strength, and led the overall mobile handset market in CY2020, capturing 19% market share.
The significant decline in the smartphone shipments in the H1 2020 encouraged the brands to come back strongly in H2 2020. As the economy gradually opened up and consumer demand spiked, smartphone brands debuted impressive smartphones, backed by aggressive marketing, and attractive offers or discounts during the festive season and beyond. All of this fueled the smartphone industry growth, with smartphone shipments exceeding 100Mn for the first time in H2 2020.
According to Anand Priya Singh, Analyst-Industry Intelligence Group (IIG), CMR, "For the Indian smartphone industry, the year 2020 was a remarkable story marked by response, recovery and resilience in the face of the persistent pandemic. As a consequence of the supply chain and geo-political challenges, the year saw a gradual realignment of smartphone supply chains. Enterprises seeking to de-risk themselves from China looked at emerging alternatives, including India. As we move forward, we believe India's smartphone manufacturing ecosystem will get a fillip, and gain strength in the post-pandemic future."
In 2020, 5G shipments continued to gain strength and we anticipate this momentum to continue in 2021. OnePlus was the highest contributor in the 5G smartphone segment capturing 58% market share followed by Apple at 20%.
According to Amit Sharma, Analyst-Industry Intelligence Group (IIG), CMR, "On the back of the growth momentum in Q3 2020, the smartphone market continued to gain strength in the run-up to the festive season and beyond in Q4 2020. Amidst the pandemic, the smartphone industry growth was positively impacted by the pent-up consumer demand driven by the persistent work-from-home, learn-from-home, and unwind-at-home conditions. Smartphone brands were able to turn around the story in H2 2020. As a consequence, the smartphone market saw a mere 3% decline for the full year."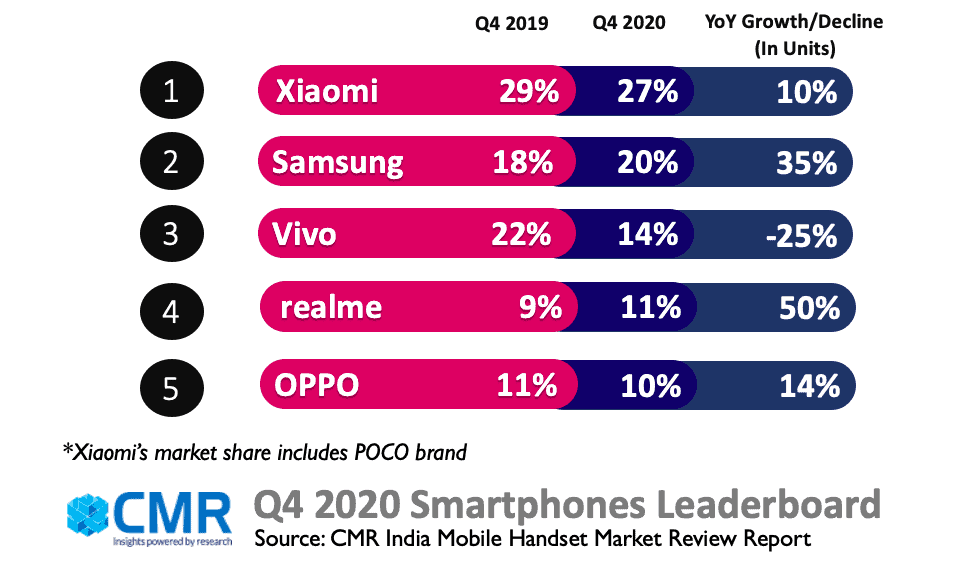 Feature Phone Segment
The overall feature phone shipments recorded marginal growth of 2% YoY. While Nokia and Samsung shipments grew by 7% and 47% YoY respectively, itel and Lava shipments witnessed minimal decline.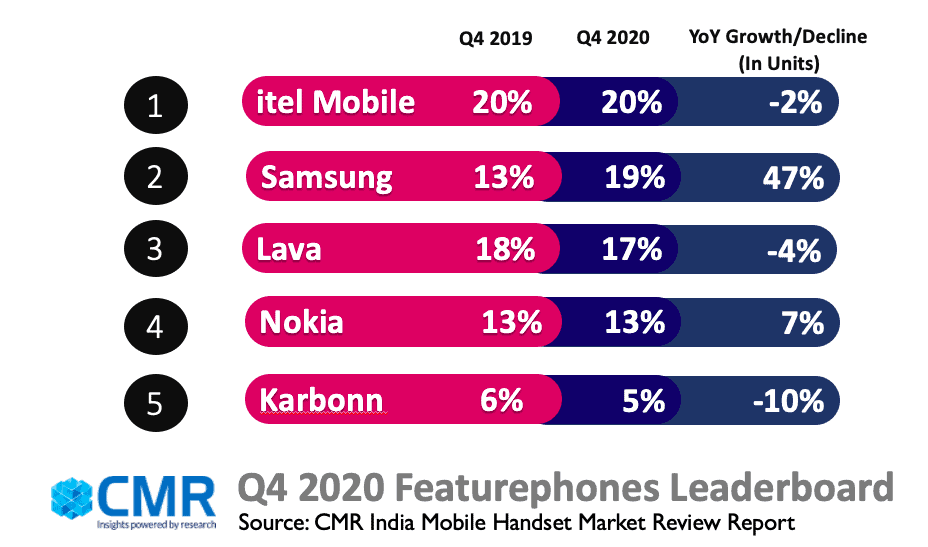 Q4 2020 Key Market Highlights
Xiaomi captured the top spot with 10% YoY growth in its smartphone shipments. Redmi 9 and 9A together captured 27% of its overall shipments. Its sub brand, Poco captured 6% market share in Q4 2020. Poco C3 and M2 models contributed 66% of its overall shipments.
Samsung recorded 35% YoY growth. Samsung's affordable model, Galaxy M01 Core  along with A21S and A51 models contributed more than 45% of its smartphone shipments. Samsung stood at the second spot in featurephone segment as well capturing 19% share.
Vivo declined by 25% YoY. The vivo Y20 series and Y1s contributed almost 40% of its overall shipments. It introduced a plethora of new phones by launching 8 models and its second 5G phone Vivo V20 Pro.
realme shipments recorded a remarkable 50% YoY growth, mostly driven by the realme C series, including the realme C11, realme C12 and Narzo 20 series. They contributed more than 50% of its shipments.
OPPO grew 14% YoY. Oppo A15, A52 and A53(2020) together contributed 40% to the overall shipments. OPPO overtook realme in the month of December.
OnePlus shipments recorded a significant growth of 177% YoY. The OnePlus 8 and OnePlus Nord accounted for 76% of its Q4 shipments. OnePlus contributed more than half of the overall 5G shipments in Q4 2020.
Apple continued its remarkable growth story and was placed sixth on the top ten smartphone leaderboard. Apple led the smartphone market accounting for 90% of all the eSIM-enabled smartphones in CY2020. Apple's remarkable growth in CY2020 will continue in the year ahead, on the back of its online store, offline retail forays, and aggressive marketing launches.
Transsion Group brands (Itel, Infinix and Tecno) combined featurephone and smartphone shipments grew 32% YoY. In particular, Tecno registered a remarkable 161% YoY growth, Infinix 81% while itel recorded a whopping 260% YoY growth in smartphone shipments. itel overtook Samsung to lead in the overall featurephone segment in CY 2020.
Among the niche brands, despite its uncertain future, LG shipments recorded an exceptional 210% YoY growth.
Micromax re-entered the smartphone market. It grew 75% YoY and is expected to increase its market share alongwith Lava in the smartphone market in 2021.
Future Outlook
As per CMR estimates, the smartphone market in 2021 will potentially grow >10% YoY.  5G shipments is expected to grow tenfold to >30Mn, even though the 5G network will not be available until late 2022 or early 2023.
"In 2021 and beyond, as India's nascent digital economy takes off, the smartphone industry would gain strength, driven by feature phone users transiting to entry-level smartphones, and new, powerful offerings across price tiers, including 5G-capable smartphone offerings at mid to lower price tiers, including in the <INR 20,000 price band," Anand added.