Premium smartphones (INR >25,000) shipments recorded 36% YoY growth.
4G feature phone shipments recorded 108% YoY growth.
Cumulative 5G smartphones shipments surpassed 100Mn units in Q2 2023
New Delhi/Gurugram, 4th Aug 2023: According to CyberMedia Research (CMR)'s India Mobile Handset Market Review Report for Q2 2023 released today, the 5G smartphone shipment share in India increased to 47%, with 5G smartphone shipments growing 45% YoY. Samsung dominated the 5G smartphone market in India, securing a 24% market share, followed by OnePlus with a 20% market share. India's smartphone market shipments experienced a 6% YoY decline, while the overall mobile market in India declined by 2% YoY.
Commenting on the overall market conditions in Q2 2023, Shipra Sinha, Analyst- Industry Intelligence Group, CyberMedia Research (CMR), "This single digit decline is attributed to the improved macroeconomic condition positively impacting consumer demand and OEMs strategic measures to clear their existing stocks in preparation for the upcoming festive season. Despite the overall decline in smartphone shipments, the 5G smartphone segment showed promising performance capturing 47% market share (up from 31% in Q2 2022). The overall feature phone segment grew 9% YoY."
Smartphone Segment
Samsung (18%), Vivo (15%) and Xiaomi (15%), captured the top three spots in the smartphone leaderboard in Q2 2023, followed by realme (12%) and OPPO (10%).
While the Value-for-money smartphone segment (INR 7000– INR 25,000) was the largest contributor with 72% share, its shipments declined by 16% YoY due to slow demand. The Affordable smartphone segment (< INR 7000) recorded significant growth of 51% YoY, driven by Redmi A2 and Infinix 7 HD.
The Premium segment (INR 25,000-50,000) recorded 9% YoY growth, the Super-premium smartphone segment (INR 50,000-INR 1,00,000) and the Uber-premium segment (>INR 1,00,000) shipments saw remarkable growth of 95% and 133% YoY respectively leading to the increase in overall smartphone ASP by 17% YoY.
Feature Phone Segment
Overall feature phone market shipments recorded 9% YoY growth. Although 2G feature phone shipments remained stable, 4G feature phone shipments recorded remarkable 108% YoY growth primarily driven by notable contributions from Nokia 8000 4G, Nokia 106 4G and itel Magic X Pro.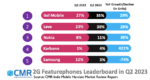 The 4G feature phone segment is expected to witness growth in CY2023, fueled by the introduction of phones such as JioBharat.
Key Smartphone Market Highlights in Q2 2023
Samsung held the top spot in the smartphone market with a 18% market share. Furthermore, Samsung led the Premium smartphone segment (INR 25,000-INR 50,000) with a 27% share.
Vivo continued to be at the second spot with a 15% market share. Its 5G smartphone shipments were largely driven by the vivo T1, vivo T1 Pro, vivo V23e and vivo Y75 5G models, accounting for 48% of its total 5G shipments.
Xiaomi stood at the third position in the smartphone leaderboard with a 15% share. Redmi 12C, Redmi A2 and Redmi A1+ were the top three models. Xiaomi's sub-brand, Poco, recorded a 19% YoY growth in its shipments.
Realme climbed the leaderboard to be at the fourth position with market share of 12%, its shipments saw a YoY decline of 30%. The top three models shipped by Realme were Realme C55, Realme N53, and Realme Narzo N55.
OPPO was at the fifth position with a market share of 10%. Its top three shipped models were the OPPO A16e, OPPO A16k and OPPO F21 Pro 5G.
OnePlus recorded a notable 125% YoY growth in its smartphone shipments. OnePlus Nord CE 3 Lite, Nord CE 2 Lite and Nord CE 2 accounted for 75% of its smartphone shipments.
Apple captured 5% market share in the smartphone market in Q2 2023, recording a significant YoY increase of 62% in its shipments. Apple was the top contributor in the Premium segment (>INR 25,000) with 25% share.
Transsion Group brands (Itel, Infinix and Tecno) overall (Smartphone + Feature Phone) shipments increased significantly by 41% YoY. Tecno and Infinix market shipments recorded 46% and 38% YoY growth respectively.
Future Market Outlook
According to CMR's estimates, the market conditions are expected to improve in H2 and the overall smartphone shipments for the entire year are projected to witness single-digit YoY growth. The smartphone shipments in Q3 are anticipated to grow in the run-up to the festive season.
According to Menka Kumari, Analyst-Industry Intelligence Group, CyberMedia Research (CMR), "The smartphone market is set to bounce back in the second half of 2023, thanks to the festive season and increased consumer spending. The rise of 5G and foldable phones will also boost the market's recovery."