New Delhi/Gurugram, 7 May 2020:  According to CMR's India Mobile Handset Market Review Report for Q1 2020 released today, total smartphone shipments in India in the three months ending March grew 4% YoY. The first wave of 5G smartphones hit the market, accounting for 2% of the overall smartphone shipments in Q1 2020. The smartphone market grew modestly on the back of good consumer demand before the onset of COVID-19 hit the market.
According to Prabhu Ram, Head-Industry Intelligence Group, CMR, "At the beginning of the year, COVID-19 was merely a supply-side challenge confined to China. Smartphone brands in India were able to tide over the initial wave of the crisis with enough inventory supplies. However, as COVID-19 cases in India crossed the 500 mark in late March, India went into a complete lockdown. For smartphone brands, this has put both supply as well as demand in a state of uncertainty. Q2 2020 will be where the industry will face the brunt of the pandemic and test the resilience of smartphone brands."
Xiaomi (30%), vivo (17%) and Samsung (16%) rounded off the top three spots in the smartphone leaderboard for Q1 2020. realme and IQOO debuted their 5G smartphones, with the realme X50 Pro accounting for bulk of the 5G shipments.
"Faced with personal and economic uncertainties, consumer spending will remain muted for the better part of the year. Unless absolutely necessary, such as replacing a mobile phone, consumers may choose to conserve. However, we expect the market to recover lost ground in the run-up to the festive season," added Anand Priya Singh, Analyst- Industry Intelligence Group, CMR. 
The feature phone segment declined 20% YoY. This is primarily due to migration of consumers from feature phones to smartphone segment. The 2G feature phone segment grew 6% YoY, with itel (22%), Samsung (21%) and Lava (18%) accounting for the top three spots in feature phone shipments.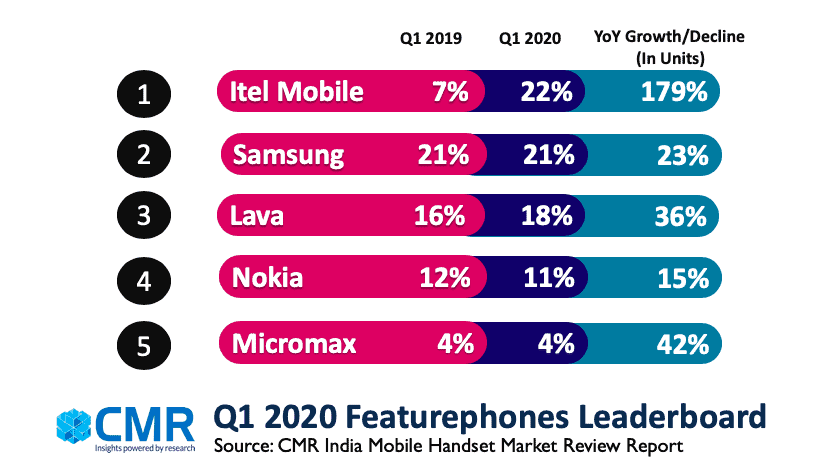 Q1 2020 – Key Market Highlights
Xiaomi continued to be the market leader in the India smartphone market, increasing its market share by 3% YoY. The Redmi Note 8 series performed exceptionally well and contributed to a majority of the shipments. Xiaomi continued to attract consumers with its affordable offerings and strong offline push.
Vivo grew 45% YoY, with the Y91i and Y series accounting for the majority of the shipments in Q1. With good control of the inventory situation, vivo will seek to grow in the post-lockdown scenario with its upcoming flagship V series.
Samsung continued to see a sharp decline of 41% YoY as it seceded space in the affordable smartphones segment (< INR 10,000) to the likes of Xiaomi and realme. In Q1 2020, Samsung's shipments were driven by the likes of A51, A20s, and M30s series. Samsung will potentially seek to use India as an exports hub in the post-pandemic scenario.
realme continued its strong performance, growing by 149% YoY. Realme has been able to offer more value proposition for consumers with interesting product mix, aggressive marketing and offline forays. During Q1, realme accounted for 98% of all 5G shipments with the realme X50 Pro.  realme 5i, C2 and C3 accounted for the majority of realme shipments.
OPPO grew by 82% YoY, on the back of the strong performance of its A series (including the A5s, A31 and A9 2020). The Reno 3 Pro series also did well, with OPPO making a strong mark in the premium smartphone segment.
Transsion Group (itel, Infinix and Tecno brands) increased their market share by 125% in smartphone segment, mainly in the sub- INR 7000 price band. Itel was able to attract consumers in Tier II and III cities with its entry-level smartphones offering attractive specs.
Apple increased its market share in India, growing by 71% YoY. The iPhone XR and 11 accounted for 70% of iPhone sales in India with its prudent pricing, attractive discounts and strong shipments getting consumer acceptance.
"Going forward, we remain cautious about the speed of recovery in India's smartphone market this year. We are keeping a close tab on the macroeconomic factors and how it plays out from here on. Our best-case scenario suggests a potential decline of 11-12% in overall smartphone shipments for 2020," added Prabhu.
****
About CMR India Mobile Handset Review Report
The CMR Mobile Handset Review Report is based on CMR's research methodology and proprietary tools, covering >100 unique datasets, and delivered to CMR clientele. The report is available in monthly, quarterly and half-yearly formats. The report deliverables include top-line findings and summary snapshot for India market in powerpoint, and in a user-friendly excel format. For more information on CMR's Mobile Handset Report, please contact Amit Sharma at +91 9650453646 or asharma@cmrindia.com