Samsung ended Xiaomi's uninterrupted reign as the No. 1 Smartphone Brand, aided with a mix of strong product launches and aggressive marketing across price bands.
Across price tiers – from affordable to mid-tier to premium segment, Samsung posted a strong YoY growth.
Realme, Vivo, OnePlus & itel were the fastest growing smartphone brands shipping record volumes.
Niche brands, such as LG in smartphones and Nokia in featurephones grew handsomely.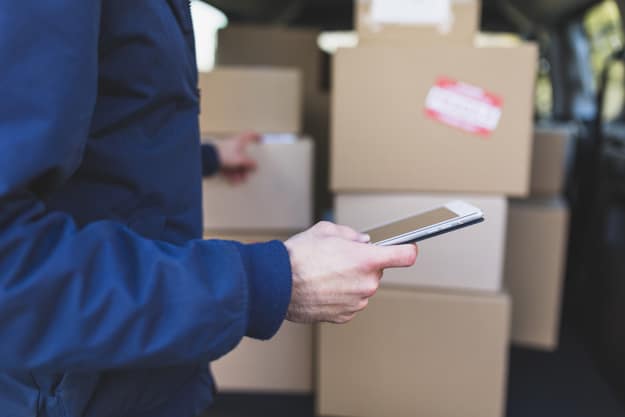 New Delhi/Gurugram, 05 Nov 2020: The India smartphone shipments rebounded, and reached highest-ever levels with 14% YoY in Q3 2020, according to the latest research from CMR Mobile Handset Market Review Report for Q3 2020. Samsung dethroned Xiaomi and emerged as the No.1 Smartphone brand, and No. 1 Mobile Brand.
The smartphone market grew on the back of attractive pre-festive season launches, aggressive marketing, and attractive promotions and discounts by all the leading smartphone brands in the run-up to the all-important festive season.
According to Amit Sharma, Analyst-Industry Intelligence Group (IIG), CMR, said,
"As India looks at emerging from the pandemic, the smartphone continues to be key to human lives, whether it be work from home and learning from home. In Q3 2020, the smartphone market offset the ongoing pandemic-related challenges in H1 2020 and grew handsomely.  Across price bands, smartphone brands unveiled competitively priced strong offerings. We estimate the smartphone demand to outstrip other product categories during the festive climate, despite cautious discretionary spending being low."
"During Q3 2020, the eCommerce Platforms increased their reach across India, by tying up with local stores. Consumers from Aspirational India, including Tier-II and Tier-III cities and towns, including first-time ecommerce shoppers, looked at shopping online, aided by the option to shop in vernacular languages. We anticipate online to drive >70% of the overall sales this festive season,"
added Shipra Sinha, Analyst-Industry Intelligence Group (IIG), CMR.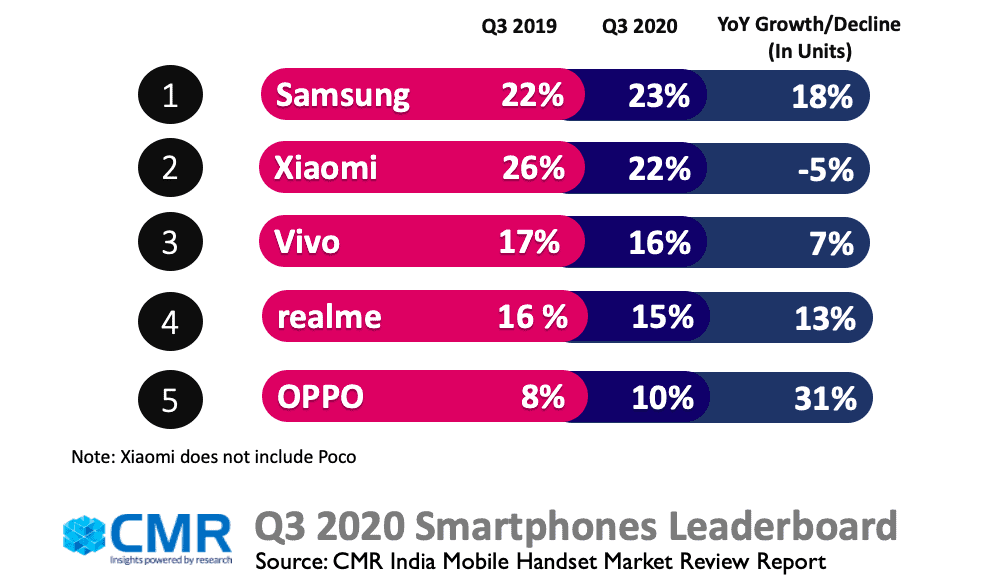 The 5G smartphone segment grew significantly, from a small base, by almost 500% QoQ with the launch of OnePlus Nord.
Feature Phone Segment
While the smartphone market registered double-digit growth YoY, the overall feature phone grew marginally by 2% YoY. This is primarily because consumers at the bottom of the pyramid continue to be sharply affected by the pandemic.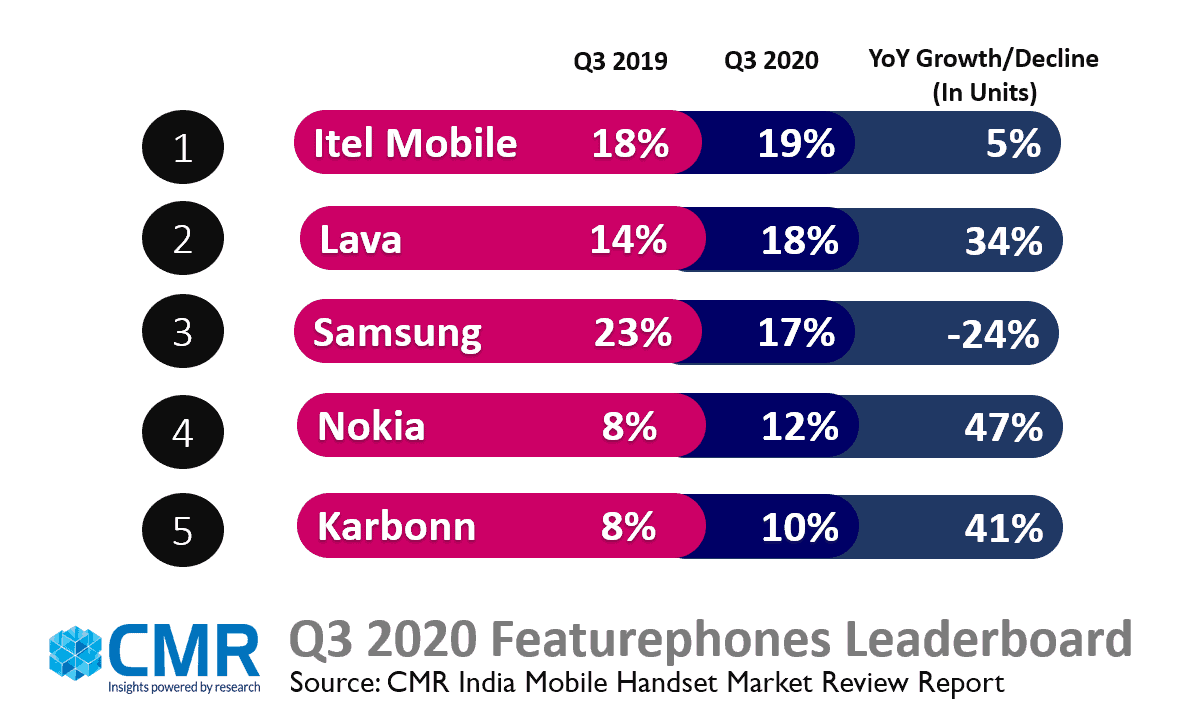 Q3 2020 Key Market Highlights
Samsung dethroned Xiaomi capturing the top spot with 18% YoY growth in its smartphone shipments. Samsung's affordable smartphone shipments grew by 38% YoY, including significant shipments for Galaxy M01 Core and M31. Samsung Galaxy M01, A21S and M30s models contributed almost 60% of its overall shipments.
Xiaomi dropped down to second position with its shipments declining by 5% YoY on account of COVID-19 restrictions and supply chain issues. Many new models including Redmi 9i, 9A, 9 Prime. Redmi 8A Dual, Redmi 8 and Redmi Note 9 were launched which contributed to almost half of its overall shipments.
Poco launched Poco M2, Poco M2 Pro and X3. With the launch of its budget phone, Poco C3 in Q4, Poco will aim to capture a significant market share.
Vivo stood at the 3rd position, its shipments grew by 7% YoY driven by its V and Y series. However, its QoQ share was flat at 16%. The vivo Y91i, Y30 along with newly released vivo Y20 series contributed to more 50% of its overall shipments.
realme shipments grew by 13% YoY mostly driven by the realme C series, including the realme C11, realme C6, realme 5i and realme C3, along with newly launched Realme 7 contributing 50% of its sales. It also launched a plethora of new budget offerings Narzo 20 series and 7 series.
OPPO grew 31% YoY. It launched A52 targeted for Value for Money segments alongside its budget models A11K and A12. In the premium segment, OPPO achieved a YoY growth of 135% on the back of Reno series.
OnePlus grew at 104% YoY. During Q3, it introduced its affordable 5G smartphones in Q3, with the OnePlus Nord series doing phenomenally well. Alongside, the OnePlus 8 and OnePlus 8 Pro accounted 16% of its Q3 shipments. OnePlus contributed three fourths of all 5G shipments in Q3 2020.
Apple shipments grew remarkably by 67% YoY. It saw its highest quarterly shipments and captured 7th position in the top ten leaderboard on the back of the good demand for iPhone SE 2020 and iPhone 11. Both the models together contributed 91% of its shipments in Q3 2020. On the heels of the iPhone 12 launch, Apple is on track to have its best year yet.
Transsion Group brands (Itel, Infinix and Tecno) grew 34% YoY with Infinix registering 354% YoY growth with successful launch of its new models, namely, Smart 4 Plus and Hot 10. Tecno grew 95% YoY with new model launches like Spark Go 2020, catering to affordable segment. Transsion made a lot of inroads in Tier II and Tier III cities. itel grew 143% in Smartphone segment and 5% in feature phone. itel ranked No1 in Feature Phone segment.
Among niche brands, LG shipments recorded a significant 81% YoY growth. In the 2G feature phone segment, Nokia grew by 47% and Lava recorded a 34% YoY growth. Cellecor feature phone shipments recorded a significant 384% YoY growth, growing from a small base.
Future Outlook
As per CMR estimates, the smartphone market in H2 2020 will potentially grow at 15% YoY, with Q4 2020 witnessing a 14% YoY growth.
"As the economy opens up further, we believe offline sales will pick up steam in the coming quarters. That said, online will continue to drive smartphone sale volumes. The nascent digital economy in India would continue to grow further in the post-pandemic era.  For the smartphone industry, this posits a greater opportunity to grow into new pockets of growth. If a smartphone brand is able to offer good value proposition and brand trust, it will be potentially positioned for growth," Amit Sharma added.
– ENDS –
About CyberMedia Research and Services Ltd
CMR offers industry intelligence, consulting and marketing services, including but not limited to market tracking, market sizing, stakeholder satisfaction, analytics and opportunity assessment studies.
A part of CyberMedia, South Asia's largest specialty media and media services group, CyberMedia Research (CMR) has been a front-runner in market research, consulting and advisory services since 1986. CMR is an institutional member of Market Research Society of India (MRSI).
For queries, please contact asharma@cmrindia.com