87% of respondents reported a preference for Android OS-based Tablets, with only 10% preferring the Apple iPad
Samsung enjoys highest recall both among users as well as non-users of Tablets
43% of Tablet users live in households earning Rs. 20,000 to 40,000 per month, indicating a potential for mass adoption
CyberMedia Research (CMR) announced the results of its "India Tablets Consumer Usage and Adoption Trends 2013" study, in which it asked 3,600 respondents (including 1200 non-users) across the country how they prefer to use their Tablets and what they want most from their Tablet usage experience.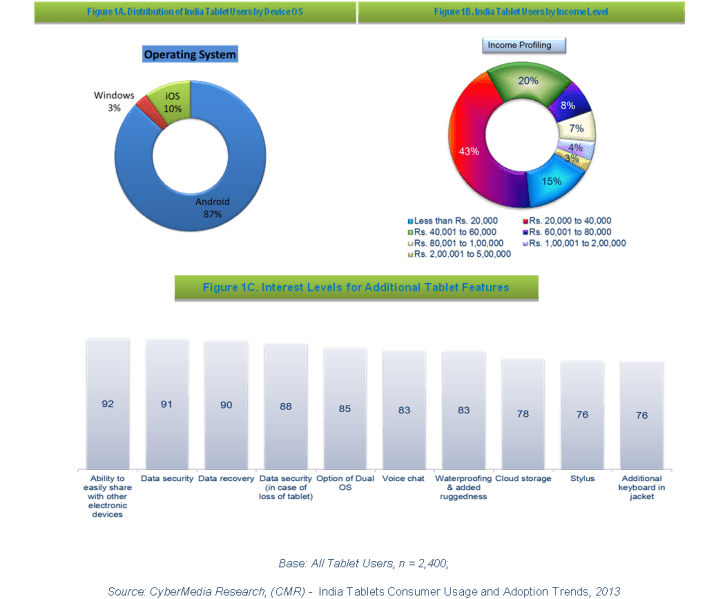 Key Study Findings
3 out of every 4 users claim portability / mobility as the major trigger to purchase a Tablet, accessing social networking sites and entertainment 'on the go' being their preferred activities

51% of Tablet users spend more than two hours a day on their device; a positive trend, which is expected to increase in the near future

Around 40% consumers use their Tablets for chatting, messaging and email several times a day; indicating the emergence of Tablets as a preferred form factor for communication
From gaming, music to social networking, the India apps market is evolving on various fronts – an  encouraging 18% of Tablet users have paid for the apps that they use – a positive signal to the developer community to create more India-specific apps for the country
No, Tablets won't replace PCs anytime soon! 78% of the respondents surveyed were of the opinion that there is a still some way to go before the Tablet becomes the primary computing device
The trends from CMR's study indicate favourable times ahead for the India Tablets market as nearly 10% of non-users indicated a strong interest to own a Tablet in the coming year
Commenting on the findings Satya Sundar Mohanty, Senior Manager, Demand-side Research, CMR stated, "Indian consumers' increasing preference for Tablets and the country's younger demographics have added to the adoption of mobile internet access devices. With changing consumer lifestyles, the India market presents a favourable opportunity for vendors."
Sumanta Mukherjee, Lead Analyst, InfoTech and Channnels Practices added, "Consumers are driving segmentation of the market away from one-size-fits-all models toward different devices available at distinct price points. Interestingly, satisfaction seems to peak for tablets in 5000 to 10000 price range as well as 20,000 and above price bracket."
Apalak Ghosh, Lead Analyst, Emerging Technologies Research, CMR remarked "A growing desire for choice in functionality, price and device ecosystem supported by attractive combinations of size and other features are what customers are looking while deciding on their choice of devices."
About the Study
CMR's "India Tablets Consumer Usage and Adoption Trends 2013" study was conducted across 20 cities covering a sample of 3,600 respondents including both users (2,400) and non-users (1,200) of Tablets during the months of September, October and November 2013. Face-to-face interviews were conducted with respondents aged 13 to 55 years. The study was aimed at identifying triggers and barriers for purchase and use of Tablets, and to understand key trends of Tablets usage and need-gaps prevalent in the market.
Cyber Media Research analyst team for the study comprised Saikat Mookherjee, Associate Vice President, Research, CMR; Sumanta Mukherjee, Lead Analyst, InfoTech and Channels Practices, CMR; Satya Sundar Mohanty, Senior Manager, Demand-side Research, CMR and Apalak Ghosh, Lead Analyst, Emerging Technologies Research, CMR.
About CyberMedia Research
A part of CyberMedia, South Asia's largest specialty media and media services group, CyberMedia Research (CMR) has been a front runner in market research, consulting and advisory services since 1986.
CMR offers research-based insights and consulting services – market intelligence, market sizing, stakeholder satisfaction, growth opportunity identification, incubation advisory, and go-to-market services – covering the Information Technology, Telecommunications, Semiconductors, Electronics & Smart Infrastructure, Government, Energy & Utilities and Lifesciences sectors, as well as the large enterprise, SMB and consumer user segments.
Cyber Media Research Ltd., an ISO 9001: 2008 company, is a member of the Market Research Society of India (www.mrsi.in) and senior CMR analysts are enrolled with ESOMAR (www.ESOMAR.org).
CMR's core value proposition encompasses a rich portfolio of syndicated reports and custom research capabilities across multiple industries, markets and geographies. CMR's forthcoming studies include stakeholder satisfaction surveys, mega spender assessments and market mapping studies for these domains.
For more details, please visit http://www.cybermediaresearch.co.in or https://www.cmrindia.com.
For media queries, please contact:
Vishaal Bhatnagar, Associate Vice President, +91-98101 91634, vbhatnagar@cmrindia.com
For industry queries, please contact: 
Sumanta Mukherjee, General Manager, CMR InfoTech Practice, +91-9999983058, smukherjee@cmrindia.com