Advanced driver-assistance system (ADAS) adoption grew around 50% YoY in Q1 2023.
The EV market grew ∼48% YoY in Q1 2023.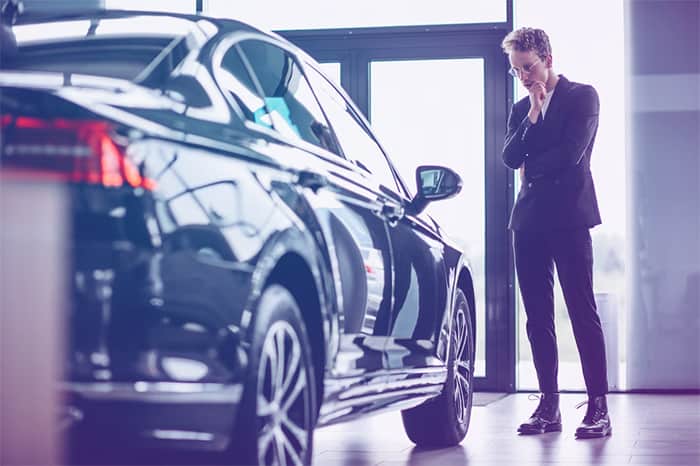 New Delhi/Gurugram, 09 May 2023: As per new insights from CMR's Auto Market Report Review for Q1 2023 released today, the connected vehicle (CV) market in India experienced growth of >60%, driven by the introduction of new Connected Vehicles (CVs) and Electric Vehicles (EVs) by various brands. Alongside, increasing consumer demand for consumers contributed to a healthy demand, and particularly alternative powertrains.
According to John Martin, Senior Analyst, Smart Mobility Practice, CMR, "At CyberMedia Research (CMR), we are tracking one of the biggest tech disruptions in the automotive industry – the rise of Autonomous, Connected, Electric and Shared Mobility (ACES), and its rapid adoption by automakers in India. There is growing consumer awareness around connected vehicle technologies. For instance, connected vehicle tech has consistently increased its footprint in the industry. With safety becoming a top consumer priority, ADAS feature tech has witnessed gradual adoption, with >70% YoY 2023 growth market share of vehicles featuring Level 2 autonomy."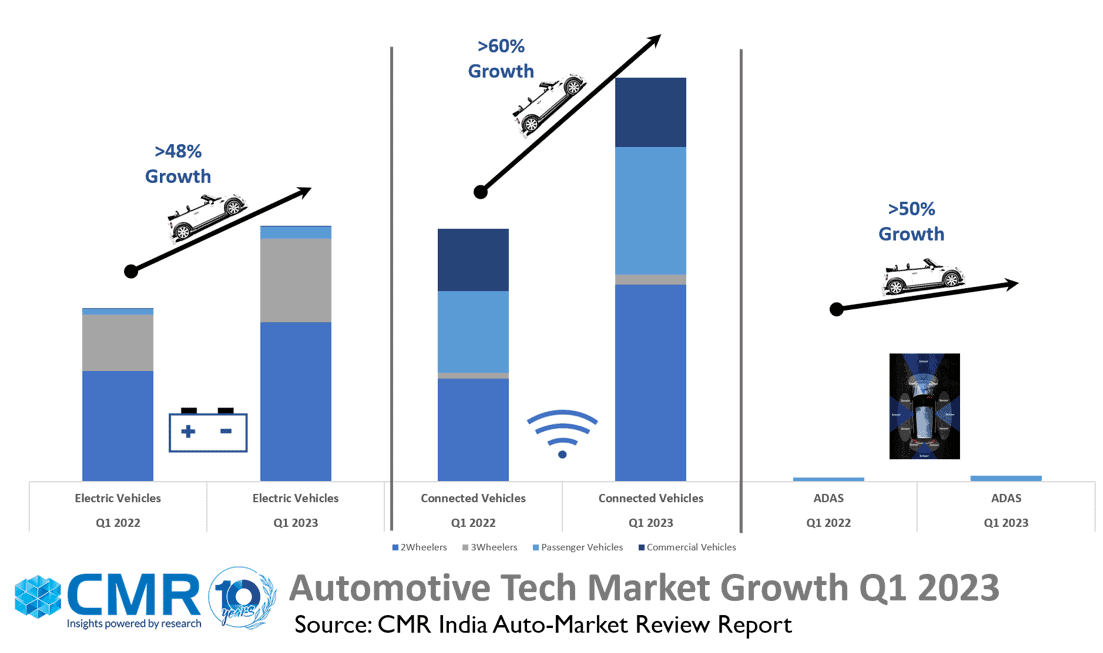 India Automobile Market: Segment Highlights
Two Wheeler Segment:
The in-demand, Connected 2 Wheeler (C2W) vehicles grew from around 92% YoY growth, with its market share increasing to nearly 60% in Q1 2023.
The Electric 2 Wheeler (E2W) market grew by >44% YoY growth in Q1 2023. Ola Electric's S1 Pro, TVS's iQube, and Ather Energy's 450X lead the E2W segment.
Three Wheeler Segment:
The Electric 3 Wheeler (E3W) market grew steadily covering around 50% share. The connected 3 Wheelers (C3W) vehicle market increased by over 71% in Q1 2023. This connected technology has been majorly featured by E3W in this segment.
Passenger Vehicle Segment:
Electric Passenger Vehicle (EPV) segment grew over 114% YoY in Q1 2023. Tata Motor's Nexon, Tigor, and Tiago and Tigor; MG Motor's ZS EV, and BYD's ATTO 3 and E6, hold the major EPV segment market share.
Connected features in Passenger Vehicle (PV) segment have been grabbing the market pretty fast with >56% growth, of which, around 58% of the Connected Passenger Vehicle (CPV) market share is driven by conventional powertrains.
ADAS market has been adopted in the PV segment where the safety tech grew over 50% YoY in Q1 2023.
In Q1 2023, many cars were launched, 23% of them were EVs, 83% have connected tech features and 58% come with ADAS safety tech features.
Commercial Vehicles Segment:
Electric Commercial Vehicles (ECV) market grew around 50% YoY in Q1 2023, while Connected Commercial Vehicles (CCV) market grew >12% YoY.
Future Market Outlook
Based on CMR's estimates, by Q1 2025, the Electric Vehicle market share in India is expected to surpass 24%, while connected vehicles are projected to account for over 30% of the market. Additionally, ADAS technology is predicted to have a market share of around 4%.
"By 2025-26, connected and software-driven vehicles will be key revenue drivers for the automotive industries. Automobile companies that do not embrace this technological change would be at risk. At CyberMedia Research (CMR), our research insights highlight that the automotive industry in India is on track, and we remain optimistic about the future growth prospects," added John.
Key definitions
Electric Vehicles (EV) are the sub-segment of vehicles, where instead of Internal Combustion Engines used in conventional vehicles, an electric motor is used which powers the wheels. The energy is stored in battery packs rather than fuel tanks. For Two Wheelers (2W), the electrically powered sub-segment – Electric 2 Wheeler (E2W), for Three Wheelers (3W) – Electric 3 Wheelers (E3W), Passenger Vehicles (PV) – Electric Passenger Vehicles (EPV), and Commercial Vehicles (CV) – Electric Connected Vehicles (ECV).
Connected Vehicles are vehicles having advanced embedded technology in them, namely, the Telematics System, that makes many advanced features such as navigation, vehicle-geo fencing, tracking, and more possible. For Two Wheelers (2W) – Connected 2 Wheelers (C2W), Three Wheelers (3W) – Connected 3 Wheelers (C3W), Passenger Vehicles (PV) – Connected Passenger Vehicles (CPV), and Connected Vehicles (CV) – Connected Commercial Vehicles (CCV).
Advanced driver-assistance systems (ADAS) are electronic systems in a vehicle that use advanced technologies to assist the driver.