Wi-Fi Tablets market records impressive 97% QoQ growth.
Tablets priced between INR 20,000 – INR 30,000 see remarkable 185% sequential increase in Q2 2023.
Apple leads with 25% market share, experiencing 6% YoY growth.
Xiaomi witnesses significant 155% YoY growth from a small base.

New Delhi/Gurugram, 18 Aug 2023: CyberMedia Research (CMR) has unveiled its latest findings in the CyberMedia Research (CMR)'s Tablet PC Market Report Review for Q2 2023. The report highlights a 29% quarter-on-quarter (QoQ) growth in India's Tablet market, with 5G Tablets showing a 7% year-on-year (YoY) growth. Wi-Fi tablet shipments surged 12% YoY, claiming a 54% shipment share. Notably, the premium tablet segment exhibited a remarkable 48% QoQ growth. However, the overall tablet market witnessed a 22% YoY decline in Q2 2023.
According to Menka Kumari, Analyst-Industry Intelligence Group (IIG), CyberMedia Research (CMR), "The tablet market's expansion was driven by the adoption of Wi-Fi-enabled tablets in education and healthcare sectors. Tablets have found utility in electronic health records (EHR) management, telemedicine, patient monitoring, and more, enhancing efficiency and patient care. The ongoing shift to 5G holds immense promise, revolutionizing work, learning, and leisure experiences."
Apple (25%), Samsung (25%) and Lenovo (23%), led the India tablet market in Q2 2023.
Shipment of Tablets with 8 inches display constituted 18% of the overall shipments in the Indian market. On the other hand, Tablets with 10-inch and above displays contributed to 73% of the shipments.
India Tablet Market Vendor Highlights in Q2 2023: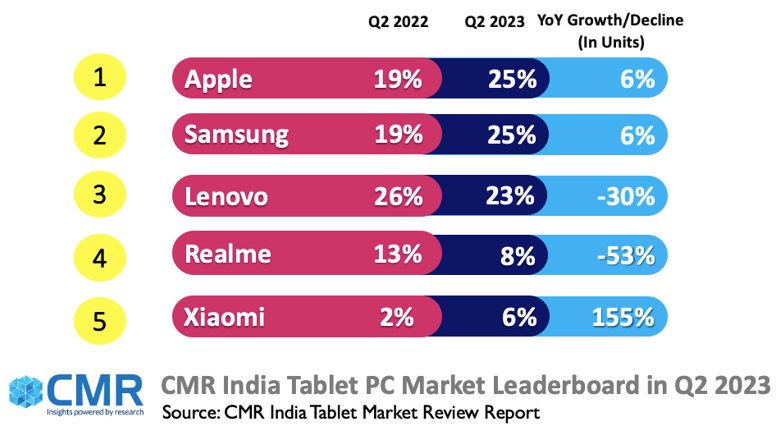 Apple retained leadership with a 25% market share, driven by its premium offerings. Apple's iPad 9 Series and iPad 10 Series captured 42% and 22% market share respectively.
Samsung secured the second spot with a 25% market share. Samsung's Tab A8 (Wi-Fi + 4G) and Tab A7 Lite (Wi-Fi + 4G) accounted for 31% and 23% market share respectively.
Lenovo held the third position with a 23% market share. Lenovo's Tab M10 (HD) 2nd Gen (Wi-Fi) and Tab M8 HD (Wi-Fi) series held 17% and 13% market share respectively, primarily in the Value for Money tablet segment (INR 7,000-INR 25,000).
Future Outlook
According to CMR's estimates, the overall tablet market are expected to experience single- digit year-over-year growth in 2023.
"As the festive season approaches, we foresee a surge in tablet acquisitions. The remarkable speed and minimal latency of 5G herald fresh prospects for tablet gaming. Enthusiasts can partake in live multiplayer and augmented reality (AR) games, along with cloud gaming services, devoid of concerns about network lag or connectivity disruptions. The advent of foldables further bridges the chasm between conventional tablets and laptops, granting a blend of portability and elevated productivity," added Menka.