Overview
The days of sifting through an overstuffed wallet is coming to an end. Also the super annoying habit of giving a candy instead of a rupee coin is doomed to rest in peace. The mobile payments era is here to stay, as the mobile payments market is potentially enormous. A mobile wallet is a virtual cash wallet for making instant payments and other transactions, through a smart phone application. Tech savvy Indians shop with cashless wallets, as using one's handset as a financial tool, or the mobile wallet is an interesting concept, which is becoming increasingly popular and integrated across consumer platforms. Not only does it allow users on the move to access financial accounts, but it also plays an integral part in the development of digital commerce and banking.
The growth in smart phone and mobile internet users, and convenience and accessibility are some of the factors, driving the growth of the mobile wallet market in India. The mobile wallet is expected to grow at a CAGR of 40% between 2016 and 2020.
Key Players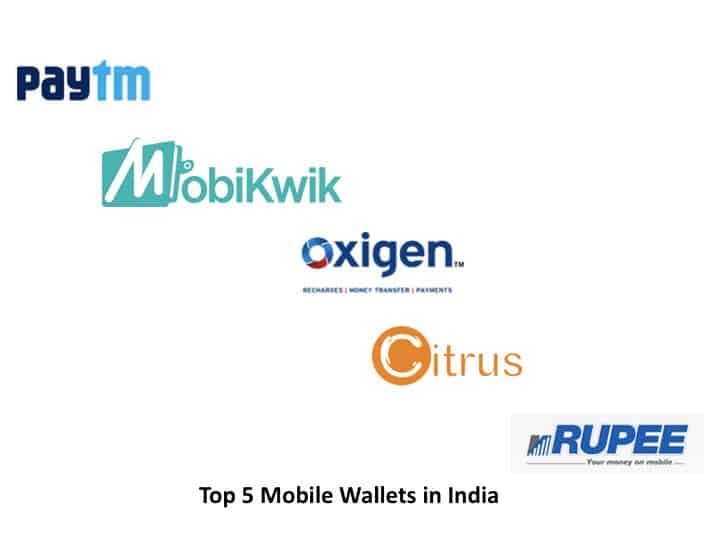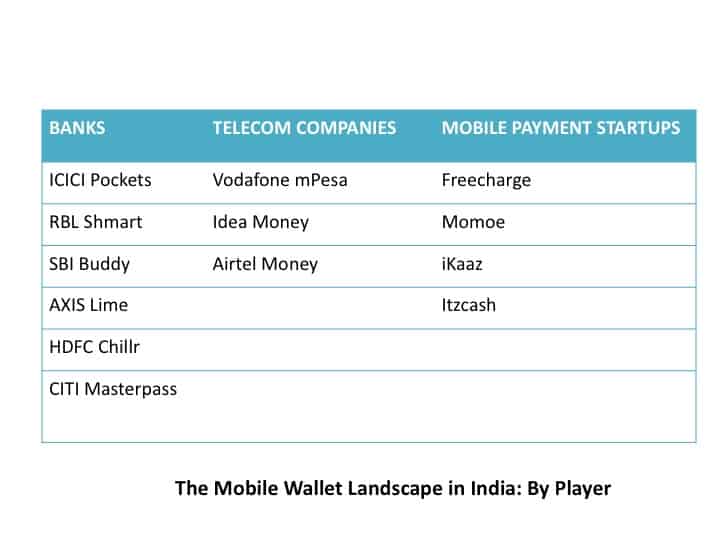 Reliance has also launched its digital wallet service, JioMoney wallet, for Indian consumers, which further takes this mobile wallet industry to yet another level. Wallet wars got hotter with Reliance entering the space. Besides the money storage & transfer features offered by other wallets, the company also aim to target offline merchants to adopt wallet technology to accept payments. The company has already on-boarded 50,000 online merchants for the service.
Flipkart launched its digital wallet – Flipkart Money, which could help it cut significant costs related to handling cash on product returns, in addition to offering users a new payment method and also could use the wallet to drive a strategy to give cashbacks rather than discounts to consumers, keeping them on the platform.
Drivers for mobile wallets
Mobile wallets allows you to pay in one-tap unlike net banking that calls for opening several browsers and are time consuming.
The payment is made in a hassle-free manner and is secure. Payment through net banking or through a debit or credit card, the sensitive bank data is being disclosed on the merchant's site or establishment; it can lead to unwanted financial happening. But with mobile wallets are used, the exposure of the confidential data is restricted, which single-handedly wins the case.
It's quite easy to use, thus its easy accessibility further adds up as a bonus cookie.
The biggest advantage of mobile wallets is the massive rewards in the form of discounts and cashbacks. The key perceived benefit of using a mobile wallet is the possibility of gaining savings via provision of discounts, points and coupons.
Barriers
Only mobile-savvy people (with dependable and speedy internet connection) can use such services.
There is a limit to the amount you can deposit in mobile wallets and daily spend, which means mobile wallets are useless for high value payments.
Trust continues to be a critical theme in the banking and IT worlds. Consumers are still reeling from the demise of Wall Street and are making note of recent security glitches with product mobile wallets.
Beyond safety issues, consumer apathy is due to two reasons: mobile wallet offers are too many and too fragmented and the other is value offering is not yet strong enough.
Advent of UPI: A Threat to Mobile Wallets?
The Unified Payments Interface (UPI) – a new open source platform developed by the National Payments Corporation of India (NPCI), is a channel that powers multiple bank accounts into a single mobile application (of any bank) of a participating bank, merging several banking features, seamless fund routing and merchant payments into one hood and also empower users to perform instant push and pull transactions easily. Built on the country's existing IMPS (Immediate Payment System), where funds can be transferred from one account to another 24×7, consumers will be able to send and receive money through smart phones without revealing their bank account details. Transactions can be undertaken with the help of details such as Aadhaar number, mobile number or a virtual payment address. Also, unlike a mobile wallet, one does not need to set aside funds upfront in an account.
Will UPI pose threat to mobile wallets?
In technological terms, UPI is a leapfrog- it is simpler than the number of hops a transaction has to go through payment gateway for a card or net banking transaction. It is an audacious innovation, as the functionality can be accessed on the mobile without the need of any external app, also as there are no restrictions with any amount of transactions being made, unlike wallets, so it will streamline and introduce a next wave in the payment industry, wherein the mobile wallets will be redundant.
On the other hand, it depends on the kind of wallet, which focuses on only providing limited liability and ease of making a transaction will be hit as the UPI will directly challenge their value proposition. The wallets which are going to be under threat are the ones which are purely digital, which load money only through cards and net banking examples, Paytm, MobiKwik and Ola Money. Payment aggregators having only a strong merchant base will have a tough time, since the merchant is going to decide on the value-added services and not only switching while payment aggregators who have a strong consumer base will do okay, since they will be driving adoption.
With all players questioning scale and adoption, it is clear that the next stage for the sector will be mergers and acquisitions (M&A), where players with an active consumer base will join hands with companies having a strong merchant base. The Free Charge (consumers) and Ezetap (merchants) partnership is one such example.
Moreover, clearly for payment gateways, only switching as a business is not the right thing to be into. But one good thing is that the launch of UPI has woken the payments industry from a slumber, putting pressure on businesses, which will further the scope of innovation in the sector. This move from NPCI seems almost similar to RBI's move of waking the banks through payment bank licences.
Flipkart has acquired Bengaluru based mobile payments company PhonePe, an app that will use an HTML 5 platform to settle payments between merchants, mobile shopping destinations and consumers with a single identity provided by the Unified Payment Interface(UPI). Phonepe is building a product where payments can be made by just using the mobile number. It allows fund transfer between banks and will make interoperability between banks and instant payments possible by using a single identifier like the Aadhaar number. PhonePe is yet to launch a product but it is the first payments company to utilize the UPI, a new process in electronic funds transfer launched by National Payments Corporation of India (NPCI).
The Road Ahead
With the addition of the value-added services that go beyond just payment, mobile wallets will become a new marketing channel. For instance, mobile wallets are gearing up to provide an instant credit facility. The micro-credit program will help the users to take small loans and pay interest along with the amount at the time of repayment.
To break the competitive logjam and allow different players to build mobile payment applications more easily, more collaboration on open technology platforms has to be done. Because when they do, things are going to move very quickly. Just look how long it took consumers to embrace online payments. They went from "I'll never buy anything online" to "I prefer shopping at Amazon" in less than 10 years. Mobile/Digital wallet apps are definitely the future of online and offline payment.