Excerpts from an interaction with Bask Iyer, CIO-VMware, on why IoT and AI/ML merit will be the next big thing, how CIOs should be empowered to drive digital transformation, and how he drives IT at VMware
Interaction by Anil Chopra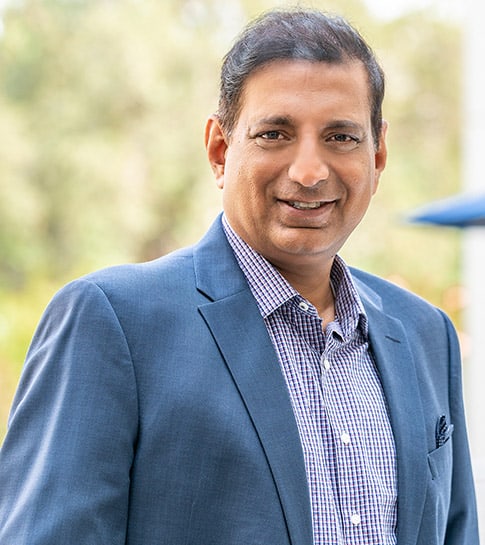 Bask Iyer, CIO-VMware has had an interesting journey ever since he joined the company 4 years ago. After successfully completing the integration of VMware, EMC, and Dell, he now drives the group's IoT initiative in addition to his role as VMware's CIO. In a free-wheeling discussion during VMware's largest event in India—The vForum, Bask explained why IoT and AI/ML merit a lot more attention in the growing digital economy, how CIOs should can be empowered to drive digital transformation, and how he drives IT @VMware.

Excerpts…
MORE COMPUTING WILL BE NEEDED AT THE EDGE TO ENHANCE IOT FUNCTIONALITY

Edge and IoT will be the next wave to watch according to Bask, thanks to sensors being put up everywhere and generating huge volumes of data. The functionality derived from these sensors will increase over time and require a lot more computing power at the edge. Today for instance, you could control a garage door remotely or configure a surveillance camera to send alerts if somebody (or thing) is at your door while you are out on vacation. In the future however, a lot of intelligence and automation will be added at the edge. This will for instance, be able to differentiate between a suspicious person or dog in front of your door. "Ignore the dog but alert the police if it's a thief trying to break-in!", Bask said. "We're moving from sensor enabled to data enabled to ultimately intelligence enabled buildings", he added.
Bask gave an extreme but successful example of this–the Mars Rover, which is intelligent enough to negotiate rocks and do other tasks on independently while it awaits instructions (which take 8 minutes) from Earth. Similarly, he added, in enterprises too, factories would be automated with IoT and retail chains will need to add more compute at the edge to continue operation even when dis-connected from the Internet. "Starbucks can't stop serving coffee if they lose connectivity to their public/private cloud. A lot of processing at the edge is required to ensure operation", he said.
"We're moving from sensor enabled

to data enabled to ultimately

intelligence enabled buildings"
Dell, EMC, or VMware would provide the essential infrastructure to store, analyze, and process all this data at the edge, along with eco-system partners like Johnson controls, Siemens, Honeywell, or system integrators like TCS, etc. The company is also setting up use cases to show how factories and buildings will work intelligently.
AI/ML Needs Serious Attention as They'll Automate a Lot of Things
AI/ML is another buzzword today and Bask feels it will bring real value only if vendors integrate it into their applications. Users don't want to deploy AI per say, but would like their applications to have AI built-in.
Second, it's now time to automate a lot of the jobs that get outsourced to India and AI is the perfect technology for it. Bask feels that India can't continue its edge of being an outsourcing destination by using traditional methods of using cheap labor for mind-numbing jobs. "With AI coming in, a lot of jobs will be replaced. It may not happen in our life time, but basic jobs that are boring, mind-numbing, will definitely be replaced", he added. Therefore, India should use this as an opportunity to automate the BPO sector. "If you don't, then you're bringing yourself into a disaster, which is very predictable as all our jobs tomorrow are going to be different. That's the reality of life.", he said.
Companies Should Put their CIOs on the Board to Drive Digital successfully

Traditional IT is undergoing massive transformation, thanks to digital technologies. Moreover, since most routine software and hardware is of much better quality now, it leads to fewer break-downs and lesser maintenance. This gives IT teams more free time to explore digital technologies. Companies can use this opportunity to let them explore how to use digital as a business differentiator. "I call it digital transformation of business and not IT transformation alone", said Bask.
For this, Bask stresses on the need to have an IT practitioner on a company's board, who understands technology and has a mix of strategic, technical, and business skills to drive the organization on its digital journey. "Many companies feel they don't need a technical person as CIO to manage IT, but the fact is in a digital world where technology is the base, this thinking won't work", said Bask.
"Many companies feel they don't

need a technical person as CIO to manage IT,

but the fact is in a digital world where technology is the base,

this thinking won't work"
Thankfully, times are changing. "Nowadays, not only CIOs or IT heads, but even CFOs, CEOs, or COOs want to understand how a company should function in the digital age, what should be its culture, how to attract the right people, what should the processes be, how are startups different, what cool technologies to look for, etc.", he said.
Hire the Right Talent in the IT Team
CIOs need to hire the right talent and keep them busy to move forward in a fast-moving digital world. Bask feels it's important to hire people with an automation mindset, as that they don't want to keep doing the same thing all the time but would rather write a short script to ease their task. This is an opportunity to give them more exciting things to do, like delivering a presentation in a mega conference like VMworld or explain desktop provisioning to a CEO, or even involve them in new initiatives (like IoT). It's important to hire the right kind of people to do all this, which is why Bask looks for people with hands-on technical skills to have more efficiency, even at a leadership level. Second, it's important to hire people with high energy levels and are not what Bask calls 'chi'-suckers (a Chinese word for the circulating life energy). Bask also puts his internal IT team in front of customers. "More than 50% of my people are spending time with my external customers, without any media training, which makes their approach more authentic, increases their credibility", he added.
Keep Searching for Innovative Ways to Enhance End-User Experience
Internally, Bask is constantly searching for innovative ways to use tech to enhance end-user experience. Apart from the traditional helpdesk, he has setup a Genius Bar where users (or colleagues as he prefers to call them to enable a congenial support environment) could just walk in with their tech problems and get them resolved. This has been extended further over email, WhatsApp, and HD video conferencing for a more immersive experience, etc.
Another innovation done is to issue functional devices to new employees so that they can be up and running in no time. Laptops for instance are shipped directly from the Dell factory to them to save time, which they can set themselves in just 20 minutes after unpacking. There's biometric authentication to reduce password reset issues, a major IT support issue in most companies and a productivity drainer (in some companies, people punch in their password 60 times a day).
Parking is a major problem for employees everywhere and more so in the US where there are thousands of employees searching for a vacant parking space and getting late for meetings as a result. In the US, local Google maps has been implemented to help users find a vacant slot, which gives immense productivity benefits.
In the future, other ideas like putting cameras with intelligence to recognize employees and allow them entry as they walk into the office are also being experimented with.
The author was hosted by VMware in Mumbai