India Tablet Market recorded 3.1M unit shipments in CY2018
4G Tablet shipments recorded 11% sequential growth.
Price band (INR 10K-20K) clocked 42% sequential increase in CY2018
New Delhi/Gurugram, 25th  Feb 2019: India's Tablet PC Market witnessed 3% decline in CY2018 compared to CY2017, according to CMR's Tablet PC Market Report Review for CY2018.  While the 4G Tablet Market continues to grow, it is also facing potential threat from the rise of new form factors, such as Foldable devices.
 "At the MWC 2019 at Barcelona, many manufacturers are launching new Foldable (Smartphone-Tablet Hybrid) devices. While the tablet PC market continues to decline, it will be interesting to see what the onset of this new technology does to the tablet market in the years to come. The evolution in form factor may potentially lead to Foldable eating into, not just tablets, but laptops as well. In the process, some new form factor could emerge," stated Prabhu Ram, Head- Industry Intelligence Group, CMR. 
The tablet market currently is being dominated by Lenovo, Samsung, and iBall.
"Lenovo's growth can be attributed to its strong B2B sales in CY2018. Lenovo continues to occupy the first position in overall tablet market, with most of its tablets being on 4G. Government Sector continues to be a major vertical for Lenovo," stated Menka Kumari, Analyst, Industry Intelligence Group, CMR.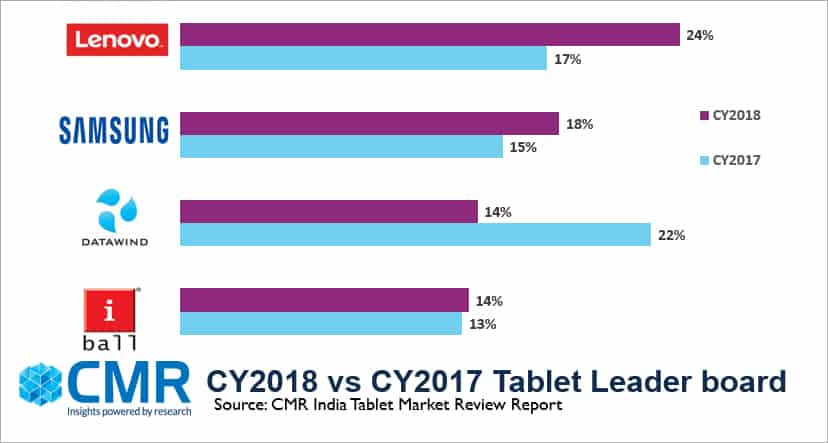 Samsung was in 2nd position and is competing with iBall in market. Samsung has more of the market in B2B and little bit of retail market. Samsung's major success was in the INR 10K-12K price segments.
The market for Datawind continued to decline because of demonetization and high rate of GST as compared with smartphone in the last couple of quarters.
On the other hand, iBall had a major growth in Government, Educational, and BFSI segment. It also had maximum growth in 4G market. 7" tablet of iBall still predominates market. On the other side in retail market, iBall holds good position for the Indian tablet market.
In Q4 2018, Apple launched the iPad Pro with specs, such as ace ID and USB-C and replaced the lighting port.
Future Outlook
"Enterprise Tablets will continue to contribute to market growth in verticals, including retail, healthcare, financial services, education, among others. Government will also continue to drive tablet adoption," added Menka Kumari.
Notes for Editors
This release is based on the CyberMedia Research (CMR) India Quarterly Tablet PC Market Review published at the conclusion of every calendar quarter.
The figures captured are of both enterprise and consumer shipments.
CyberMedia Research (CMR) uses the term 'shipments' to describe the number of Tablets leaving the factory premises for OEM sales or stocking by distributors and retailers. For the convenience of media, the term 'shipments' is sometimes replaced or used interchangeably with "sales" in the press release, but this reflects the market size in terms of units of Tablets and not their absolute value. In the case of Tablets imported into the country it represents the number leaving the first warehouse to OEMs, distributors and retailers. CyberMedia Research does not track the number of Tablets brought on their person by individual passengers landing on Indian soil from overseas destinations or 'grey' market Tablets (if any).