Since its entry in India four years ago, Xiaomi has grown tremendously competing and challenging Samsung's long-held dominance of the India Smartphone Market. In a synergistic relationship with its online partner, Flipkart, Xiaomi has been able to power its growth story.
When one looks at the installed smartphone base in 2Q 2018, Xiaomi is placed second in twelve states, and in third or fourth position in the rest of India. It has seen exceptional growth in Western India and pockets of South India, and primed for growth across Central and Eastern India.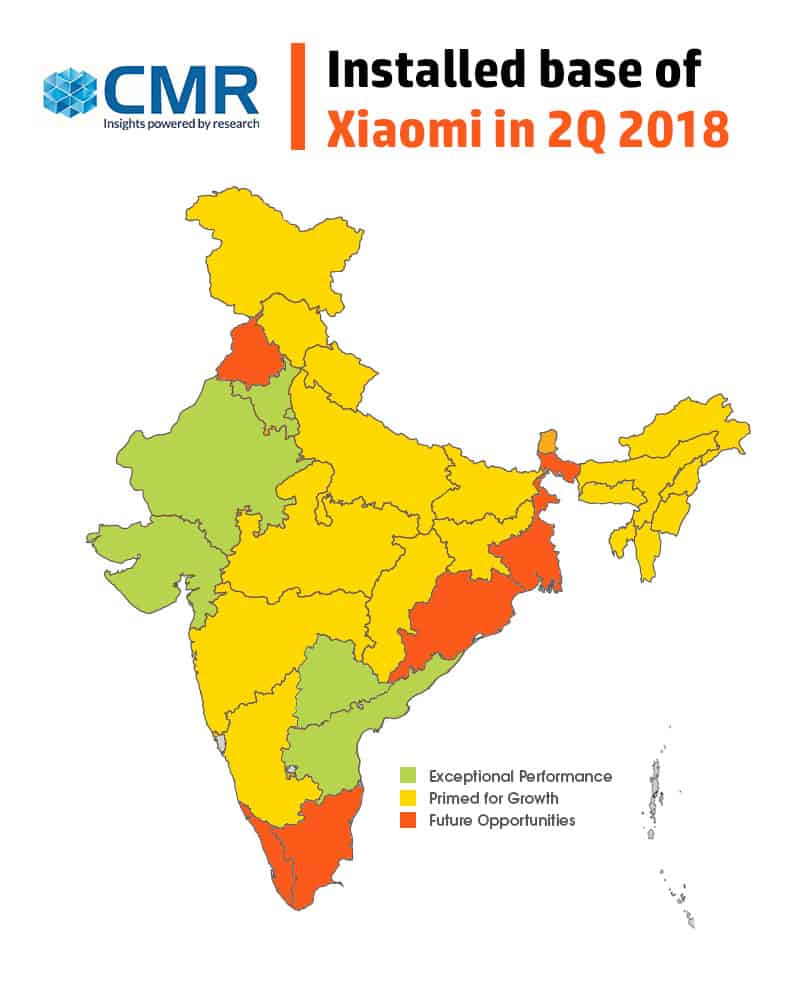 Xiaomi's focus on ramping-up its brick and mortar presence through Mi preferred partner outlets is a step in the right direction to power its next phase of growth across India. The growth over the past four years was powered by online platforms, and with the offline focus, Xiaomi would be better positioned to compete with Samsung.
The final frontier for Xiaomi is to dethrone Samsung and be the No.1 Smartphone Brand in terms of installed smartphone base. To achieve that, they would need to win in their pockets of dominance, in states such as Gujarat, Rajasthan, Haryana and Andhra Pradesh, among others, and follow it up a decisive strategy in states primed for growth, including Maharashtra, Uttar Pradesh and the rest of India.
About Mobilytiks 
Mobilytiks is the only big data driven analytics programme for devices – Smartphones, Featurephones, Data Cards and Tablets in India.
Analysing, every month data at granular levels across the states of the country, it presents different dimensions to the decision makers allowing them to craft hyperlocal strategies across various geographies in India.
Mobilytiks also gives insights based on installed base of devices in the country. These become paramount as the market hits a plateau in terms of growth and all players, especially incumbents look for their strengths from within the existing base. For the new entrants, Mobilytiks throws up insights beyond averages helping them priorities their focus by going aggressively after the growth opportunity markets due for replacements and upgrades.
Please get in touch with us on mobilytiks@cmrindia.com and we would be happy to take the conversation forward.