Gurugram/New Delhi, June 21, 2019: As per a new study by CyberMedia Research's CX Practice, while smart speaker adoption in India is  on the rise, the smart speaker usage dips post a month. The survey of 1000 adult smart speaker owners, across top four Indian metros, was conducted in April-May 2019.
The CMR Survey reports that around 56% of people use their device daily. On the other hand, there is an interesting cohort of 18% who have almost rarely used their smart speaker, if ever, and likely to have received it as gifts.
Of those who use smart speakers daily, 30% indicated using the smart speakers several times a day. More interestingly, the survey results indicate that after a month of getting a smart speaker at home, 40% used smart speakers more often, while, almost 38% lost charm, and used it less.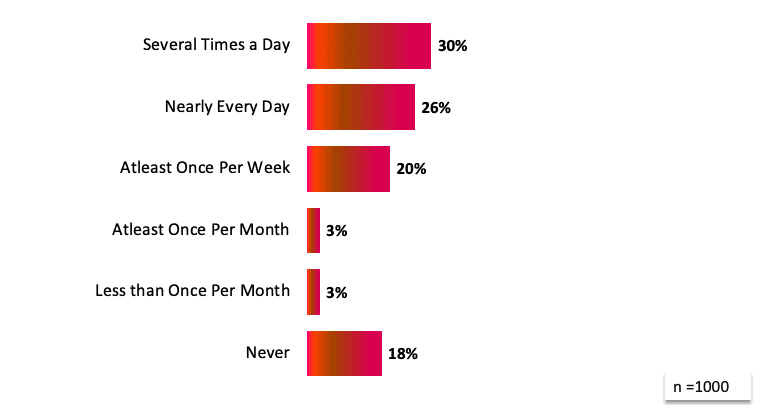 Commenting on the survey findings, Prabhu Ram, Head-Industry Intelligence Group (IIG), CMR said, "What the survey findings tells us is that there are two cohorts of users: keen adopters and some laggards. The keen tech adopters, are, by nature, curious and have embraced smart speakers as part of their daily lives. They use it across locations – from living rooms to kitchen. In sharp contrast, the laggards are yet to discover new use cases, beyond playing music and other routine tasks."
87% of those surveyed indicated using their smart speakers in their living room. 57% indicated bedroom, while a small subset of around 12% used smart speakers in their kitchen.
The top three use cases for smart speakers include playing music (94%), entertaining children (74%),  and seeking news and information (71%).
According to Satya Mohanty, Head-User Research Practice, "The survey results posit that smart speaker usage remains a fad, with adoption driven mostly by buyers who bought it out of curiosity, or got it as a gift. We are far away from leveraging smart speakers to realize the vision of a truly connected home in India."
A majority of those surveyed had not made a purchase using a smart speaker, with close to 40% indicating lack of awareness on how to make purchases on their device, and found it too complicated (18%).