Today's enterprises have attained scale and maturity in their digital transformation journey, with more awareness than ever before amongst CIOs. In SMBs and enterprises, the focus of investments have centered around improving employee productivity, personalizing the customer experience and improving decision-making. So, what's next? It is not just about being digital. Today's CIOs are facing upto uncertainties and disruptions, wherein they need to take decisions to enable their enterprises to stay on course, and prepare for the turn ahead.
The CMR Survey will aim to capture the perspectives of IT Decision Makers in a challenging and changing economy through a comprehensive primary survey.
Study

Objectives
 The study looks at mapping how enterprises are facing up to disruptions wrought by new emerging business challenges such as Coronavirus. It looks at what types of technology purchases are being made, how IT decision-makers are preparing and sensitizing themselves throughout the tech purchase process, and their expectations in interacting with tech vendors, including what prompts them to seek a new vendor, and when in the purchase process they typically contact a tech vendor.
What will this report answer?
This report provides insights on the following:
[siteorigin_widget class="SiteOrigin_Widget_Features_Widget"][/siteorigin_widget]
Why Sponsor?
As the oldest specialty media house in South Asia, Cyber Media is the preferred, go-to platform for CxOs and senior IT decision makers. Over the past three decades, CyberMedia has been the most trusted sentinel when it comes to mapping and gauging technology trends.
Cyber Media's online brand strength comprises of 10Mn unique visitors. CMR enterprise connect viewpoints reach 6000+ CxO and 1Mn+  mid-to senior  technology professionals.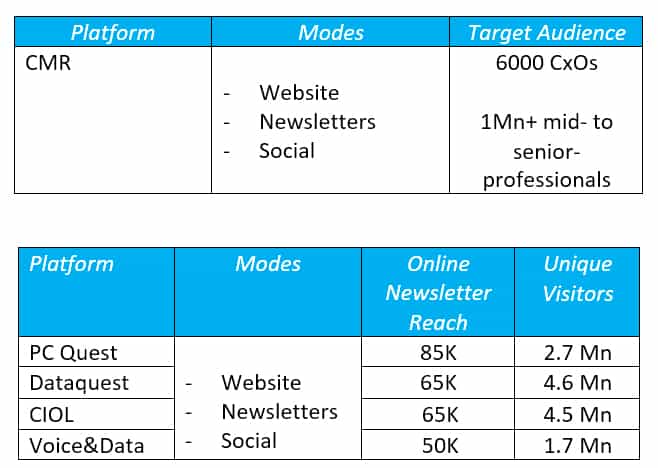 Sponsor Benefits:
This is an excellent opportunity to establish thought leadership in the technology industry. The CMR-sponsor co-branded report will be available for download from www.cmrindia.com, and will be shared across the CyberMedia Knowledge Networks.
Contact:
Amit Sharma
Manager-Research
asharma@cmrindia.com
96504 53646