Smartphones still dominate the scene; DataCards start to show increase in contribution
Samsung, Lenovo and LYF lead the market with 32%, 13.4% and 12.6% market shares, respectively.
42 brands shipped Smartphones, DataCards and Tablets with LTE support.
Micromax the only brand having presence in all the three product categories.
LeEco makes an impressive entry in first quarter with 2.4% share in 4G Smartphones.
Huawei to gain the most as LTE DataCard shipments are on the rise.
Gurugram: As per the CMR's 1Q CY report of India LTE Devices, over 15.8 million 4G devices were shipped in the first quarter of 2016.  Of these, 97.9% were Smartphones followed by DataCards at 1.5% and the remaining 0.6% were Tablet PCs.  This amounts to 63% of the cellular devices shipped through the quarter.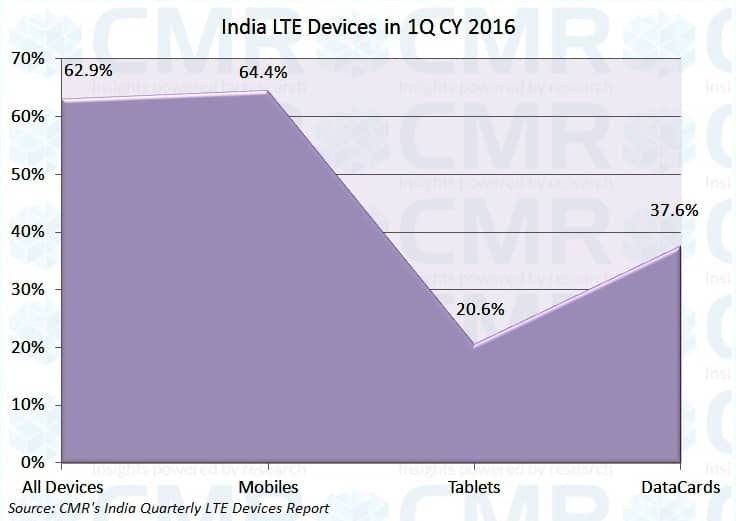 Commenting on the findings, Faisal Kawoosa, Lead Analyst for Telecoms at CMR, said, "The Smartphone industry was the first to bank upon the 4G wave.  Now as the services go live with multiple operators, it is the time for other devices to ride on the growth path."
"DataCards have already started showing this trend as in the first quarter of 2016, itself, we saw 0.5% increase in its contribution to the overall LTE devices compared to 1% of CY 2015.  We see this strengthening more as the year progresses.  However, tablets are lagging behind and they need to ramp up at the earliest," Faisal added.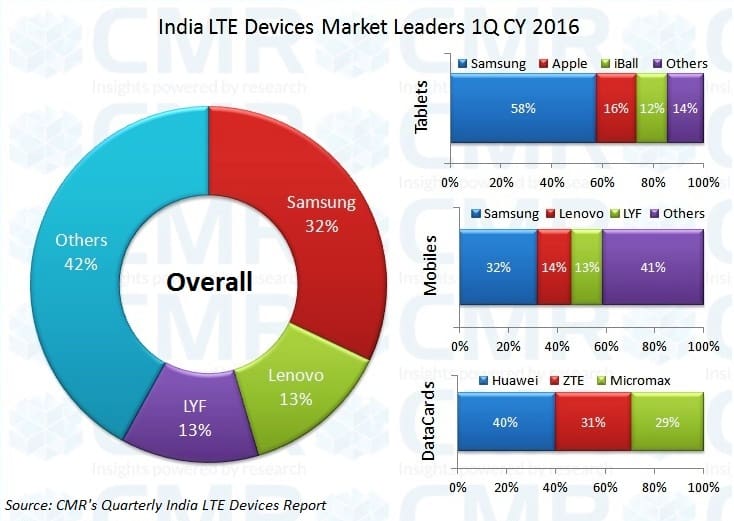 The overall devices leadership is skewed towards the leadership rankings in the 4G Smartphones as close to 98% of the LTE devices are Smartphones.  In the Mobile phones, Samsung, Lenovo and LYF are the three leaders with 32%, 14% and 13% market shares respectively.  In Tablets, Samsung, Apple and iBall are the three leading brands with 58%, 16% and 12% market shares.  However, within DataCards, Huawei, ZTE and Micromax were the only three players shipping 4G devices in the 1Q of 2016. There shares were 40%, 31% and 29%, respectively.
CMR analyst for Telecoms, Krishna Mukherjee, commenting on the 4G brands in India said, "While every emerging devices brand in India prefers Smartphones for obvious potential growth reasons, we see number of brands shipping Tablets and DataCards on the decline.  This is leading to the lesser option for consumers in Tablets and DataCards in particular."
"There's headroom for growth for other 4G devices as well and it is time for India brands to emerge strongly in these device categories too," Krishna concluded.
NOTES TO EDITORS
This release is based on CMR's Quarterly India LTE Devices Report.

CyberMedia Research (CMR) uses the term "shipments" to describe the number of devices leaving the factory premises for OEM sales or stocking by distributors and retailers. For the convenience of media, the term shipments is sometimes replaced by 'sales' in the press release, but this reflects the market size in terms of units of devices and not their absolute value. In the case of devices imported into the country it represents the number leaving the first warehouse to OEMs, distributors and retailers. CyberMedia Research does not track the number of devices brought on their person by individual passengers landing on Indian soil from overseas destinations or 'grey market' devices. These are, therefore, not part of the CyberMedia Research numbers reported here.

CyberMedia Research (CMR) tracks shipments of devices on a monthly basis. However, as per convention, the market size is reported on a calendar quarter basis where appropriate to the context; in all such cases this refers to an aggregated number for the three calendar months in the quarter to which the press release refers.
---
About CyberMedia Research
A part of CyberMedia, South Asia's largest specialty media and media services group, CyberMedia Research (CMR) has been a front runner in market research, consulting and advisory services since 1986.
CMR offers research-based insights and consulting services – market intelligence, market sizing, stakeholder satisfaction, growth opportunity identification, incubation advisory and go-to-market services – covering the Information Technology, Semiconductors, Electronics & Smart Infrastructure, Government, Energy & Utilities and LifeSciences sectors, as well as the large enterprise, SMB and consumer user segments.
Cyber Media Research & Services Ltd. is an institutional member of the Market Research Society of India (www.mrsi.in).
CMR's core value proposition encompasses a rich portfolio of syndicated reports and custom research capabilities across multiple industries, markets and geographies. CMR's forthcoming studies include stakeholder satisfaction surveys, mega spender assessments and market mapping studies for these domains.
For more details, please visit http://www.cybermediaresearch.co.in or https://www.cmrindia.com/
---
For Media Inquiries, please contact
Krishna Mukherjee
+91-9871072319
releases@cmrindia.com
For Industry Inquiries, please contact
Faisal Kawoosa
General Manager – Research & Consulting
Industry Intelligence Group
fkawoosa@cmrindia.com