CMR releases the top 5 gainers and losers of the quarter in Smartphones.
New Delhi / Gurugram: Wednesday, August 8, 2018 – As per CMR's India Smartphone Movement Report, 2Q 2018, released today, Xiaomi added the most 36.9% of new devices across India followed by Vivo, Oppo, itel and Huawei (Honor).  During the period, the fastest depleting brands in the category were Micromax, Intex, HTC, Karbonn and Gionee.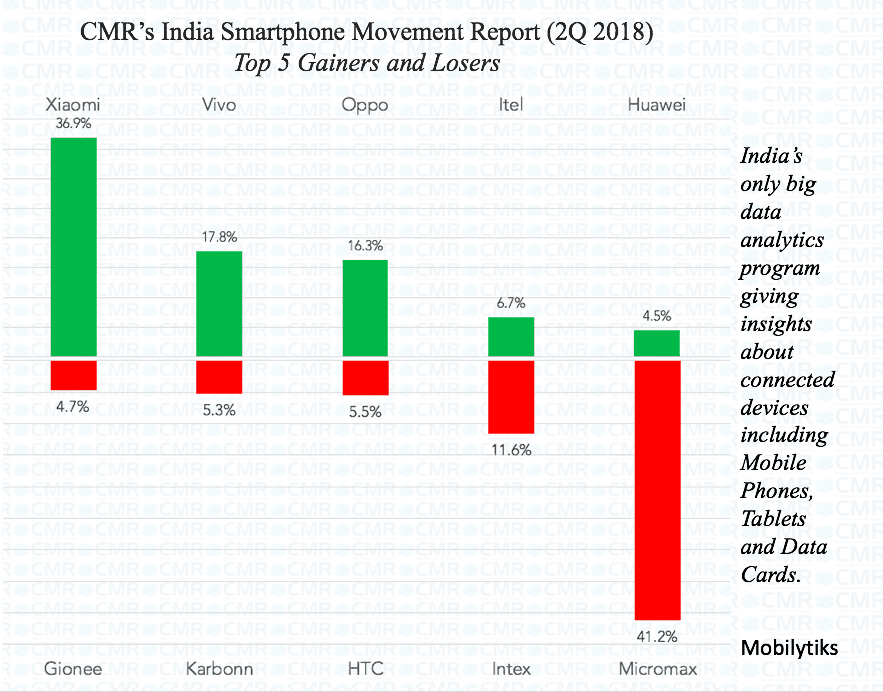 Releasing the first edition of the report, Kanika Jain, Manager, New Initiatives said, "Customer stickiness is the paramount concern that home grown brands need to address immediately.  Consumers continue to swap their existing Smartphones with the new ones offered by Chinese brands resulting in fast erosion of total installed base of the local Indian brands."
"This is a very grave situation for such brands as they cannot work on any strategy to monetise on the base as it continues to deplete every quarter," concluded Kanika.
The report further identifies that the replacement market continues to grow in the country and as of 2Q 2018, 59% of the Smartphones sold were actually upgrades/replacements to existing Smartphones. There is still 41% of new Smartphone market development occurring in the country, which could be a pie that the domestic brands should focus upon.  However, that is also witnessing competition because of the cannibalisation of Fusion Phones, especially in the Smartphone range of up to Rs 4,000.
About CMR's India Smartphone Movement Report
The report is based on the analysis of over 200 million users across the country, where the device movements of users are captured and analysed using big data analytics techniques.  Part of the Mobilytiks program of CMR, this report specifically identifies the trends regarding how Smartphones move in the hands of consumers giving insights about switching, new versus replacement and gaining and depleting brands, technologies and price segments.
About Mobilytiks
Mobilytiks is the only big data driven analytics programme for devices – Smartphones, Featurephones, Data Cards and Tablets in India.
Analysing, every month data at granular levels across the states of the country, it presents different dimensions to the decision makers allowing them to craft hyperlocal strategies across various geographies in India.
Mobilytiks also gives insights based on installed base of devices in the country. These become paramount as the market hits a plateau in terms of growth and all players, especially incumbents look for their strengths from within the existing base. For the new entrants, Mobilytiks throws up insights beyond averages helping them priorities their focus by going aggressively after the growth opportunity markets due for replacements and upgrades.
If you have any queries on Mobilytiks, please get in touch with us on mobilytiks@cmrindia.com and we would be happy to take the conversation forward.
About CMR
CMR offers industry intelligence, consulting and marketing services, including but not limited to market tracking, market sizing, stakeholder satisfaction, analytics and opportunity assessment studies.
Its bouquet of consulting services includes incubation advisory, go-to-market services, market mapping and scenario assessment services. CMR is servicing domestic as well as international clientele in India and few global destinations. The clientele serviced represents SMBs, Large Enterprises, Associations and Government. CMR's core value proposition encompasses a rich portfolio of syndicated reports and custom research capabilities across multiple industries, markets and geographies.
A part of CyberMedia, South Asia's largest specialty media and media services group, CyberMedia Research (CMR) has been a front-runner in market research, consulting and advisory services since 1986. CMR is an institutional member of Market Research Society of India (MRSI).
If you want to know more about the release, please mail to releases@cmrindia.com and we would get in touch with you shortly.