Strong consumer demand, and good supply side dynamics – both by vendors and channel ecosystem, fuels Tablet Market.
Lenovo leads the market, Samsung witnesses a resurgence.
Shipments of Tablets with WiFi capabilities grew a whopping 98% QoQ in Q2 2020.

New Delhi/Gurugram, 19Aug 2020: According to CMR's Tablet PC Market Report Review for Q2 2020, the Tablet market in India in Q2 2020 grew a stunning 23% quarter-on-quarter(QoQ). This was primarily fuelled by the COVID-related lockdown, and consumer demand for Work-from-home (WFH) and Learning-from-Home (LFH) needs.
According to Menka Kumari, Analyst-Industry Intelligence Group (IIG), CMR, "Fuelled by WFH and LFH needs, the Tablet market grew remarkably in Q2 2020, bucking historical faltering growth trends. In addition to the consumer demand, the Tablet market grew on the back of agility shown by vendors and channel partners to offer attractive discounts to capitalize on the demand."
"As Indians continue to operate in a home bound economy, the Tablet is emerging as a preferred companion device for education, remote work and for content consumption. Given their portable, and larger screen size and, more importantly, much more affordable pricing,  Tablets are democratizing access to digital content for all family members, "added Prabhu Ram, Head-Industry Intelligence Group (IIG), CMR,
Shipments of Tablets with WiFi capabilities grew a whopping 98% QoQ in Q2 2020, primarily driven by home bound conditions.
Vendor Highlights
Lenovo continued to lead the India market with a 48% market share, growing 24% QoQ, and capitalizing on opportunities in the enterprise and consumer verticals. Lenovo M10 (HD & FHD&FHD Plus) series contributed upto 14% ofLenovo's market share.
Samsung garnered 29% market share, and a whopping 143% QoQ. Samsung has recently launched new Galaxy S6 Lite Wi-Fi & 4G Variants in Q2 2020. Samsung TAB A series did really well, with the Galaxy Tab A 10.1 LTE & Wi-Fi (2019) series contributing close to 25% of Samsung's market share.
Apple was placed third in Q2 2020 with a 12% market share, growing 36%QoQ. Apple iPad 7 Series contributed close to 7% of the market share, one of its most favored model in the market. Apple launched a new iPad Pro 2020 version with keypad, which is suitable for e-learning and content creators. It would be interesting to see how the iPad Pro 2020 contributes to Apple's growth in the coming quarters.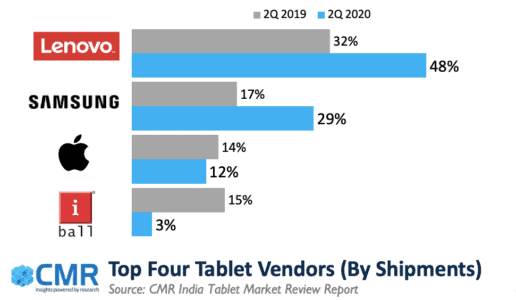 Shipments of Tablets with 7-8 inches display constituted 35% of the overall shipments in the India market. On the other hand, Tablets with 10-inch and above displays contributed to 64% of the shipments.
Future Outlook
The prospects for the Tablet Market continue to remain favorable, with the tablet market anticipated to grow 15-20% in H2 2020. The resurgence in the tablet market will be driven by continued pandemic conditions, and the need to adapt to the new normal.
"Whether vaccine is ready or not, the revival in the Tablet market will continue in the coming quarters, driven by the pandemic-related school and work closures. While the initial resurgence in the tablet shipments could be attributed to pent-up demand, the demand going forward will be based on consumer realization that this is the new normal," added Menka.
Notes for Editors
This release is based on the CyberMedia Research (CMR) India Quarterly Tablet PC Market Review published at the conclusion of every calendar quarter.
The figures captured are of both enterprise and consumer shipments.
CyberMedia Research (CMR) uses the term 'shipments' to describe the number of Tablets leaving the factory premises for OEM sales or stocking by distributors and retailers. For the convenience of media, the term 'shipments' is sometimes replaced or used interchangeably with "sales" in the press release, but this reflects the market size in terms of units of Tablets and not their absolute value. In the case of Tablets imported into the country it represents the number leaving the first warehouse to OEMs, distributors and retailers. CyberMedia Research does not track the number of Tablets brought on their person by individual passengers landing on Indian soil from overseas destinations or 'grey' market Tablets (if any).