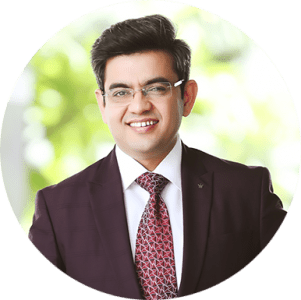 "Barriers in life make you stronger", beautifully said by Sonu Sharma, inspirational speaker, author, business consultant, and Entrepreneur, Dynamic India Group. Sonu spoke recently in a webinar organised by HP Inc. under the Be Unstoppable Web Series in association with CMR and BizAnekdotes. The Webinar focused on how SMEs can make use of the current pandemic situation by selling and marketing online. He said that we must adapt ourselves during these times and make use of what's there around us and grow as a team, since we are all in it together. In short, we have to improvise, adapt and overcome.
Sonu Sharma also talked about how SMEs have been severely affected by Covid-19, but he felt very confident that they would make a comeback in the coming 2-3 years.  He strongly believes if we concentrate on survival for the next 3-4 months, then the rate of bounce back is likely to increase. He advised SMEs to follow these four suggestions for survival:
Minimise Cashput


All business owners should have an idea of their company expenses since 80% of all the expenditure comes from 20% of your heads. He advised to sit with your accountants and keep a close track of all expenses.

Maximise Cashput


Sonu recommends to liquidate the non moving inventory first then moving forward to stop credit sales and focus on cash sales.
Take Bold Decisions
He advised on reshuffling the team to utilise the maximum employees where revenue is being generated.
Stand Together
Last but not the least is to stand together as a team by forming a core group and taking collective decisions.
On being asked about the best product to sell to customers, Sharma said that the best product to sell to customers is the one we specifically have for them. He emphasized on 10 major sales strategies to apply immediately in order to have a better and secure tomorrow. These are:
Call Meeting at 6:00 AM
Every salesperson should make proactive attempts to stay connected with customers. For this, it's important to create a routine and follow a disciplined approach of contacting them. Working from home can cause laziness, which must be overcome. Start your day at 6 AM every day and prepare a plan for the rest of the day with respect to which customers would you be calling.
19 New Number Philosophy
Bringing back the ancient and effective sales strategy i.e. Tele-Calling. He advised companies to start tele-calling daily for 3-4 hours regardless of customers reverting back because every day calling 19 people will give us at least one or two new customers in a few days.
Old Customers
Make a list of your old customers and call them on a daily basis, telling them about your new products or schemes.
Keep a Watch on your Competitors
This was a very important point. You should call one competitor every day so that we know what is happening in the market and how your competitor is going about it during the ongoing crisis.
Existing Customers
Calling 5 existing customers daily to maintain that relationship that the company already has with them.
Cross Selling
Reach out to existing customers and persuade them to procure other products offered by your company.
Digital Marketing
During these times the most convenient way of marketing is digital marketing. He strongly suggested to use digital marketing to reach out a wider audience as it is highly advantageous.
Learning Social Media
He also recommended we learn how to use social media and learn all the technical terms, as it can help your business grow by spreading awareness of your brand.
Daily Meetings
It is important for every business to have daily meetings so that people are actively communicating with each. This can avoid depression and keep individuals happy and motivated throughout.
Review
Have a review meeting after the day so that you are prepared for the next day.
Among all points, Sonu gave utmost priority to leveraging Digital Marketing and Tele-Calling. He said that these two tools can be extremely beneficial for us in the next few months to gain that competitive edge and overcome the damage that we all are going through. He said there's no need to panic, and to just keep doing the right thing. The rest shall follow. He said that Lock down is the new normal, so it's better to embrace it and move forward.
He ended the session by telling that social media can impact you negatively so "Don't let social media use you, instead you use social media".