New Delhi, February 20, 2017: Samsung, Apple and HTC have emerged as the most successful mobile brands in the first decade of smartphones in India, according to the CMR Mobile Industry Consumer Insight (MICI) Report. The report cites technological innovations, cutting-edge design, and branding as key factors that helped these premium smartphone brands achieve a leadership position. Sony, BlackBerry and Lenovo were the other top-recalled brands, according to the report. CMR conducted a comprehensive quantitative study of premium smartphone users in metro cities of New Delhi, Mumbai, Kolkata and Bengaluru in the age bracket of 26-45 years.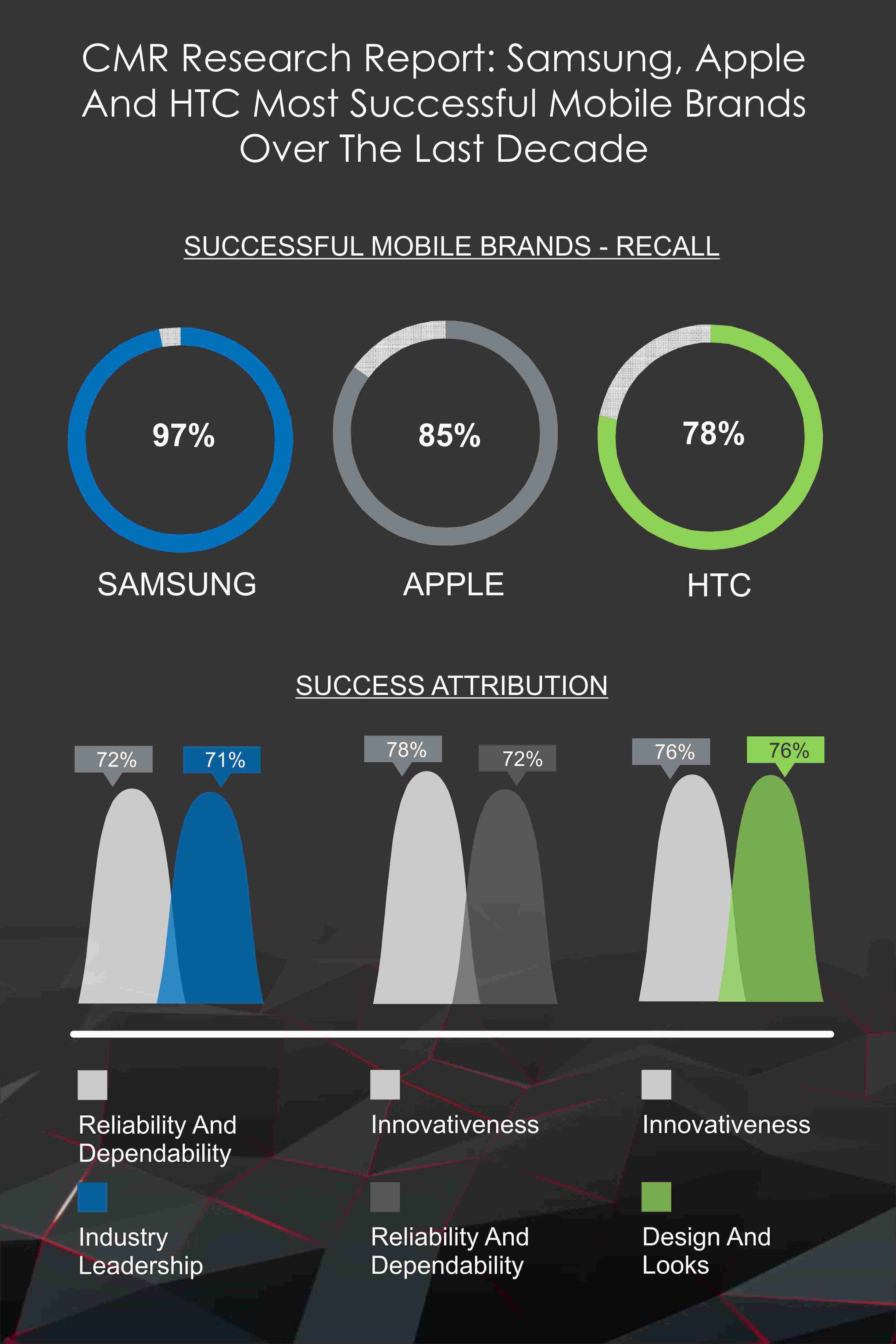 Sharing the findings with media and public for the first time, Apalak Ghosh, Principal Analyst, Industry Consulting Group, CMR said, "In the last decade, numerous mobile handset players have entered the Indian market. However, only a few of them have been able to survive in this fiercely competitive market. There has been an evolution in the mindset of the Indian consumers. When it comes to buying new mobile phones, they have become more discerning and demanding."
When probed on the names of successful premium smartphone brands in the last decade, almost all respondents (97%) recalled Samsung. Apple and HTC secured 85% and 78% recall respectively.
Market leader Samsung's success was attributed to its reliability and dependability (72%) and industry leadership (71%). Apple was ranked as highly innovative (78%), with good design and looks (76%) and a high dependability factor (72%). Similarly, the success of HTC was largely attributed to its innovativeness (76%); its design and looks (76%); and up-to-date technology (72%).
According to Faisal Kawoosa, Principal Analyst, Industry Intelligence Group, CMR, "Customers with premium smartphones use multiple applications at the same time with the expectation that the applications perform seamlessly. To support the same, consumers today are looking for premium smartphones with higher RAM and processor for faster functioning and a longer battery life. To sustain their competitive position going forward, the mobile phone players must cater to the evolving needs of the smartphone users."
"For their future smartphone, consumers are expecting a lot of new features focused on utility as well as entertainment. These include, among others, seamless voice control, virtual reality as well as in-built projectors," added Faisal.
About CMR MICI – Mobile Industry Consumer Insights
The CMR MICI Report maps changing consumer preferences, perspectives and insights in the growing Indian mobile market. CMR regularly conducts MICI studies by deploying qualitative and quantitative research techniques. To know more about upcoming CMR MICI, connect with us.
About CMR
CMR offers industry intelligence, consulting and marketing services, including but not limited to market tracking, market sizing, stakeholder satisfaction, analytics and opportunity assessment studies. Its bouquet of consulting services includes incubation advisory, go-to-market services, market mapping and scenario assessment services.
The services offered by CMR encompass industry verticals of Information Technology, Telecommunications, Electronics, Semiconductors, Life Sciences, and other emerging and overlapping technologies shaping our lives in offices as well as at homes. CMR is servicing domestic as well as international clientele in India and few global destinations. The clientele serviced represents SMBs, Large Enterprises, Associations and Government.
CMR's core value proposition encompasses a rich portfolio of syndicated reports and custom research capabilities across multiple industries, markets and geographies. CMR's forthcoming studies include stakeholder satisfaction surveys, mega spender assessments and market mapping studies for these domains.
A part of CyberMedia, South Asia's largest specialty media and media services group, CyberMedia Research (CMR) has been a front-runner in market research, consulting and advisory services since 1986. CMR is an institutional member of Market Research Society of India (MRSI).
For more details, please visit https://www.cmrindia.com or http://cybermediaresearch.co.in
RSVP:
Apalak Ghosh
Head – Industry Consulting Group (ICG)
CyberMedia Research
+91 9971548392