16 GB was the major contributor in the overall market.
OTG Pen drives contributed 12% to the overall pen drives market.
SanDisk's SDCZ50 was the most popular pen drive model.
USB 3.0 pen drives contributed 28% of the market.
Gurugram/New Delhi, Aug 30, 2019: The India Consumer Storage Flash Memory Market shipments witnessed 4% sequential decline in 2Q CY2019. On comparing with 2Q CY2018 the market dropped by 7%,according to CMR's India Consumer Storage Flash Memory Market Review for August 2019.
"Micro SD category holds the major chunk of the consumer storage market; it has been drastically affected by the premium smartphones available at jaw dropping prices. Need to buy a Micro SD card has been minimized due to huge inbuilt storage capacity in such smartphones.Both Flash cards and Flash Drives witnessed 7% and 2% decline respectively despite being the start of a new financial year when compared to 1Q CY2019," observed Shipra Sinha, Lead Analyst, CyberMedia Research. 
"General elections during the period also contributed to the downfall creating uncertainty around the policies by the elected government.Pen drive shipments didn't face significant decline due to HP and Kingston notable contribution along with the market leader SanDisk.However, with the confusion created around Sony moving out of its flash business, pen drive market was affected.On the Go pen drive data sharing feature was one of the major attractions for the consumers," added Shipra Sinha.
Market Leadership
In the overall India Consumer Storage Flash Memory market, SanDisk maintained its leadership and contributed 65% market share in terms of units shipped.Sony was replaced by Kingston to be at the second position. Kingston pen drive shipments recorded remarkable growth due to its vision and robust marketing strategy to develop a strong foothold in this market.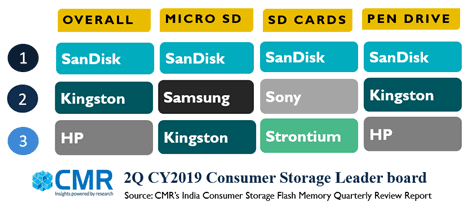 Capacity Trends:
16 GB remained the major contributor in the overall market and recorded 2% sequential growth when compared to 1Q CY2019 in terms of unit shipments. 32 GB capacity segment was the major contributor in the SD cards category.
Future Trends
According to Shipra, "Consecutive launch of high-end smartphones with exceptional specifications will continue to affect the Micro SD and SD card sales soon.Use of high-end cameras being confined to a very small population will also weaken the SD card sales. However, growing adoption of flash technology and cloud storage, live streaming and storage of internet content has created the need for advanced storage devices and will drive the growth of consumer storage market.,"
"We anticipate CY2019 to witness a single digit decline.On the other hand, 3Q CY2019 will grow due to start of the major festivals and big sale days introduced by the e-commerce websites during the period. Overall market will continue its shift towards higher capacities due to miniscule price gap"added Shipra.