Around 1125 Petabytes (PB) were added to the Consumer Storage Flash Memory market in CY2018 by Micro SD, SD card and Pen Drive category.
SanDisk sustained its grip on the top position in all the three categories.
32GB capacity segment witnessed 48% growth in terms of unit shipments.
Gurugram/New Delhi, March 13, 2019: The India Consumer Storage Flash Memory Market registered 6% growth in CY2018 when compared to CY2017 in terms of unit shipments, according to CMR's India Consumer Storage Flash Memory Market Review for December 2018. "SanDisk reigns Supreme in India Consumer Storage Market in CY2018."
"Clearing of the confusion around GST marked the revival of the flash storage market in CY2018.1Q CY2018 started with a fresh note, albeit a bit slow. It later recovered in March on account of financial year-end and stock clearance. Despite of the significant 61% growth in SD cards shipments due to wedding season, 4Q CY2018 witnessed 14% decline when compared to 3Q CY2018 due to end of the year and major festivals," observed Shipra Sinha, Analyst -IIG, CyberMedia Research (CMR). 
Market Leadership
In the overall India Consumer Storage Flash Memory market, SanDisk continued its dominance and contributed 55% market share in terms of units shipped. Sony maintained its second position. Sony has evolved as one of the major contributors in pen drives category due to its extremely powerful strategy of manufacturing in India with robust line of products.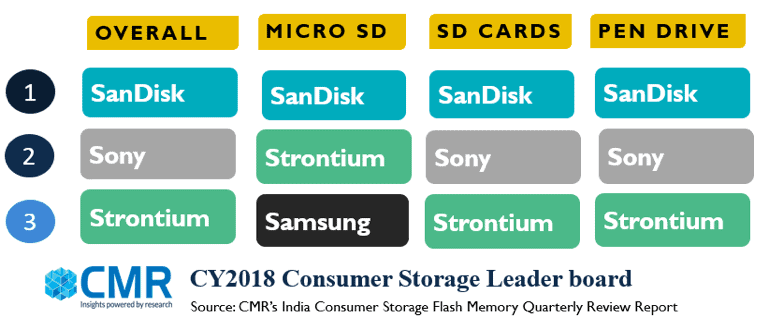 Capacity Trends:
16GB segment continued to be the most favored capacity in the overall consumer storage market in terms of unit shipments. Overall market saw a significant shift towards the larger capacities like 32 GB,64 GB and 128GB due to implementation of NAND in manufacturing process by all the major vendors. 32 GB and 64 GB contributed 24% and 5% market share respectively to the overall market when compared to CY2017 in terms of unit shipments.
Future Trends
According to Shipra, "It is difficult for the flash storage market to grow steadily in this current competitive environment due to launch of smartphones with enhanced capacities. However, growing dependency on on-line cloud services and applications using mobile devices, for almost everything from pictures to social networking, from internet banking to entertainment, among others, will create a need to maximize the storage space. We anticipate CY2019 to end at a positive note with 57.4 Mn units estimated to be sold including all the three categories. Overall market will continue its shift towards higher capacities due to marginal price gap," added Shipra.