1TB and 2TB capacities collectively contributed 65% market share.
Surveillance Internal HDD declined by 85% YoY.
Seagate and WDC together captured 85% of the overall market.
 Gurugram/New Delhi,August 25, 2020: According to CMR's India External Hard Drive Market Review for Q2 CY2020, the India External HDD(2.5"&3.5") market witnessed 66% QoQ decline.On YoY basis the market dropped down by 71%.
"National lockdown during the major part of Q2 obstructed the logistics causing extensive supply and demand disruption. External HDD market is partially dependent on China, still the complete lockdown hindered the imports from other neighboring countries.Scrutiny of imports at the customs further delayed the product supply. Increased adoption of SSDs over HDDs is another factor responsible for this overall decline,"observed Shipra Sinha, Lead Analyst, CyberMedia Research.
"With all the government spending diverted towards healthcare due to COVID-19,the surveillance market declined significantly by 88% QoQ. The pandemic has pushed all the big budget government projects focused on security and surveillance to the back burner,"added Shipra Sinha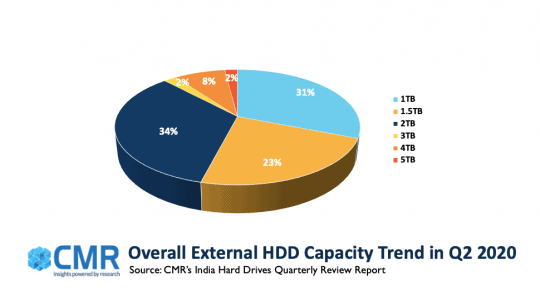 Market Leadership
Seagate topped the leaderboard with 43% market share followed by WDC at 42% in the overall external HDD(2.5" and 3.5")category.
In the 3.5" HDD category,Seagate was the leader capturing 66% market share followed by WD at 33%.
NAS
The NAS market declined by 46% QoQ owing to the supply scarcity. 4Bay diskless NAS was most favored among consumers in this quarter. Netgear continued to be the leader with 38% market share in the diskless NAS market followed by QNAP at 25%. WD was the only contributor in the single bay NAS category.
Future Trends
CMR anticipates External HDD(2.5" and 3.5")shipments to decline by 10-15% in H2 2020 when compared to H1 2020 as Q4 will have nominal growth due to year end.While 1TB and 2TB will be the most favored capacity segments,the market will shift towards higher capacities leading to increase in the overall revenue. 2BAY and 4BAY disk less NAS will lead the market.
According to Shipra,"With the arrival of festive season,external HDD market is expected to grow by more than 50% QoQ in Q3. Resuming of industry operations, rebounding of supply,pent up demand along with the early eCommerce sales will drive this growth.Online sales contribution will be around 60%.Surveillance Internal HDD market will also increase but marginally as government spending is still low in priority for this segment,"
Notes for Editors
CyberMedia Research (CMR) is a pioneering market intelligence and consulting firm that runs a comprehensive quarterly market update on the India Consumer Storage market. CMR's India Quarterly Hard Drives Market Review covers External HDD,NAS, Surveillance HDD sold via distributors and retail outlets. The report accounts for 'legal' shipments, but does not include bundled or 'grey' market shipments or units brought from abroad by individuals as a part of personal baggage.
CMR uses the term "shipments" to describe the number of hard drive devices leaving the factory premises for OEM sales or stocking by distributors and retailers. For the convenience of media, the term 'shipment' is sometimes replaced by "sales" in the press release, but this reflects the market size in terms of units of hard drive devices and not their absolute value.
Notes to Editors:
About CMR
Notes to Editors:
CyberMedia Research conducts the Budget Smartphones Channel Audit to capture the perspectives, preferences, challenges and dislikes of retailers around 'value for money' (INR <10,000) smartphone brands, capturing a compelling picture of smartphone brands in the market.
About CMR