Seagate and WDC together contributed 84% to the overall market.
5" External HDD market grew by 30%.
1TB and 2TB capacities collectively contributed 77% market share.
Gurugram/New Delhi,Mar 27, 2020: According to CMR's India External Hard Drive Market Review for CY2019 released today, the India External HDD(2.5"&3.5") market stood at 1.7 Mn Units at the end of CY2019, with a 11% year-on-year (YoY )decline.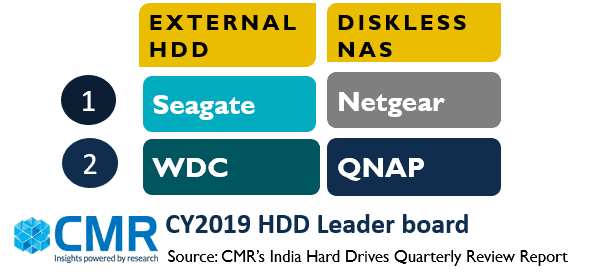 "The primary cause for the market decline remain the 2.5" HDDs that been struggling to maintain their foothold in the consumer market. The market shift to SSD sat more affordable points has also contributed to this trend. The demand for HDDs continues to be high in the enterprise data center. Slowdown of laptop and desktop market has also affected the hard drive sales,"observed Shipra Sinha, Lead Analyst, CyberMedia Research.
"The shipments of 3.5" hard drives grew 30% YoY. Seagate and WD were the top two leaders in this category. There has been significant contribution by LaCie (owned by Seagate) as well. Due to their large form factor and high capacity at affordable price points, the market opportunity has been significantly less for substitutes. Low maintenance and hassle-free data storage experience led to this growth,"added Shipra Sinha.
NAS and Wireless
Overall, the NAS market also witnessed a 40% YoY decline. NAS consumer market has always been small as they are the high-end network drives required by a category called "Prosumers". They can be professionals, gamers, consumers working on large data sets etc. In addition, they are costly when compared to other traditional HDDs. Net gear continued to dominate the disk less NAS market. Dual Bay disk less NAS was most favored capturing 48% market share.
WD was the only contributor in the wireless market.Its shipments declined by 80% when compared to CY2018.
 Future Trends
According to Shipra,"We anticipate shipments in CY2020 to top 1.6 Mn units. Consumer HDD market will almost remain flat in terms of shipments.However, as the market shifts towards higher capacities, there will be an upward trend in revenues. Shipments of 1TB capacity HDDs are expected to reduce and 2TB and 4TB shipments will grow in H2 2020."
"Owing to the COVID-19 pandemic, we foresee supply as well as demand constraints in H1 2020. Consumer sentiment will remain muted during this time, and will spike in H2 2020,"added Shipra.
Notes for Editors
CyberMedia Research (CMR) is a pioneering market intelligence and consulting firm that runs a comprehensive quarterly market update on the India Consumer Storage market. CMR's India Quarterly Hard Drives Market Review covers External HDD,NAS, Internal SSD and External SSD sold via distributors and retail outlets. The report accounts for 'legal' shipments, but does not include bundled or 'grey' market shipments or units brought from abroad by individuals as a part of personal baggage.
CMR uses the term "shipments" to describe the number of hard drive devices leaving the factory premises for OEM sales or stocking by distributors and retailers. For the convenience of media, the term 'shipment' is sometimes replaced by "sales" in the press release, but this reflects the market size in terms of units of hard drive devices and not their absolute value.
CMR has taken into account the potential impact of ongoing COVID-19 pandemic on the market segment, and has addressed the same in our CY2020 forecast.