Data bundling to be an exciting factor for tablets market in CY 2017
Market shrinks from 66 players in 2015 to 22 in 2016.
4G tablet shipments rise 6% in CY 2016, 2G and 3G decline 92% and 71%, respectively, over CY 2015.
Market falls 16% in Q4 over the same quarter a year ago.
Datawind tops the chart with 34% market share in CY 2016, beats Samsung.
Samsung grabs second position with 18% market share, followed by Pantel (12%), Micromax (10%) and iBall (9%).
Gurugram – Friday March 3, 2017: According to CMR's India annual Tablet PC Market Review, CY 2016, 3.5 million Tablet PCs were sold (shipped) in India, registering a decline of about 18% over CY2015.
In the fourth quarter, the shipments recorded a 16% fall over the same period of CY 2015 on account of lukewarm sales. The total sales stood at 0.81 million in Q4 of 2016, compared to 0.97 million in the year-ago period.
Datawind retained the top position with 34% market share, followed by Samsung (18%), Pantel (12%) and Micromax (10%) in CY 2016. In terms of technology, 2G shipments showed a sharp fall of 92% in CY 2016 over CY 2015, 3G declined 71% and 4G rose by 6%.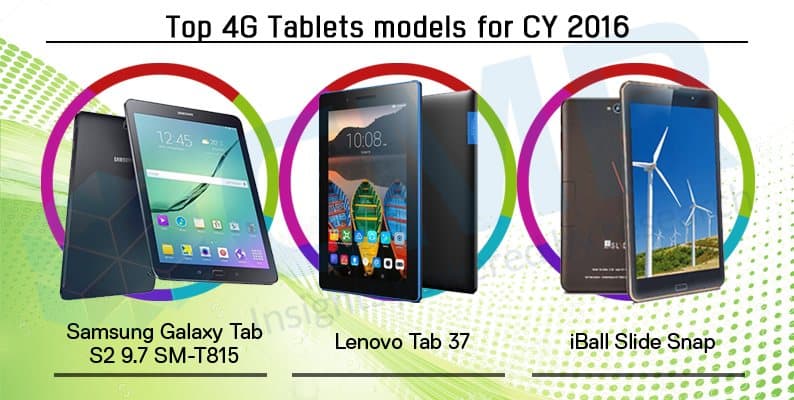 Commenting on the tablet market, Menka Kumari, Analyst at CMR, said, "Iris-enabled and biometric tablets will see a bigger uptake in CY 2017. Datawind will continue to enjoy number one position on the back of its expansion spree. The company is entering into strategic tie-ups with mom-and-pop stores to expand its reach. Overall, the market will see traction towards institutional and government sales."
"The tablet market will emulate the strategy of mobile market, with data bundling turning out be aggressive this year. This will be an exciting factor for the overall tablets market, leading to improved sales," she adds.
Future Outlook
As the price band shifts from INR 5-INR 10K to sub INR 5K levels, the Indian tablet manufacturers will see this as an opportunity with a line of sub 5K products. The market is moving towards a consolidation phase and 2017 will see further shrinkage with only 6-7 serious players remaining in the list. We have seen about 40 players exiting the market in the past 3-4 years.
Unless the tablet industry comes out as a gateway for a particular solution, the turnaround would be difficult for the market. While smartphones are taking care of the masses, the tablets industry should cater to particular segments and customized their specs accordingly. For example, applied usage of tablets holds massive potential in retail, QSR, healthcare and for cab aggregators and, therefore, the vendors should come out with specified specs such as heavy batteries, to cater to the demand of that particular segment. In the absence of any such initiatives, the market would remain stagnant in CY 2017 too.
Notes for Editors
This release is based on the CyberMedia Research (CMR) India Quarterly Tablet PC Market Review published at the conclusion of every calendar quarter.
The figures captured are of both enterprise and consumer shipments.
CyberMedia Research (CMR) uses the term 'shipments' to describe the number of Tablets leaving the factory premises for OEM sales or stocking by distributors and retailers. For the convenience of media, the term 'shipments' is sometimes replaced or used interchangeably with "sales" in the press release, but this reflects the market size in terms of units of Tablets and not their absolute value. In the case of Tablets imported into the country it represents the number leaving the first warehouse to OEMs, distributors and retailers. CyberMedia Research does not track the number of Tablets brought on their person by individual passengers landing on Indian soil from overseas destinations or 'grey' market Tablets (if any).
About CMR
CMR offers industry intelligence, consulting and marketing services, including but not limited to market tracking, market sizing, stakeholder satisfaction, analytics and opportunity assessment studies. Its bouquet of consulting services includes incubation advisory, go-to-market services, market mapping and scenario assessment services.
The services offered by CMR encompass industry verticals of Information Technology, Telecommunications, Electronics, Semiconductors, Life Sciences, and other emerging and overlapping technologies shaping our lives in offices as well as at homes. CMR is servicing domestic as well as international clientele in India and few global destinations. The clientele serviced represents SMBs, Large Enterprises, Associations and Government.
CMR's core value proposition encompasses a rich portfolio of syndicated reports and custom research capabilities across multiple industries, markets and geographies. CMR's forthcoming studies include stakeholder satisfaction surveys, mega spender assessments and market mapping studies for these domains.
A part of CyberMedia, South Asia's largest specialty media and media services group, CyberMedia Research (CMR) has been a front-runner in market research, consulting and advisory services since 1986. CMR is an institutional member of Market Research Society of India (MRSI).
For more details, please visit https://www.cmrindia.com or http://cybermediaresearch.co.in
For more details, please contact
Krishna Mukherjee
+91-9871072319
releases@cmrindia.com