Som Mittal conferred Dataquest Lifetime Achievement Award, Sunil Vachani Dataquest AatmaNirbhar Bharat Champion Award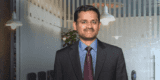 New Delhi, August 4, 2021: India's leading IT industry magazine Dataquest presented the Dataquest IT Person of the Year Award for 2020 to Mr Rajesh Gopinathan, MD and CEO, TCS in recognition of his contribution towards strengthening the Indian IT industry and its footprint globally during the pandemic-driven difficult year. His efforts enabled TCS become a USD22.1-billion global company by end of March 2021 with over 488,000 consultants, while the company's brand value touched USD14.9 billion.
The 28th Dataquest Annual awards were presented at the virtual conclave attended by over 1,000 IT industry participants. The Dataquest Lifetime Achievement Award for 2020 was presented to Mr Som Mittal, former President and Chairman NASSCOM for his stellar contribution to the ICT sector in India during his long and illustrious career in the IT industry. The lifetime achievement award also recognises Mr Mittal's commitment, pragmatism and personal contribution to policymaking in the IT-BPM sector.
Dataquest also presented the AatmaNirbhar Bharat Champion Award for 2020 to Mr Sunil Vachani, CMD, Dixon Technologies for leading the company to scale its operation to be counted among global manufacturing majors. Mr Vachani is credited with showcasing a Made in India success story making him the poster boy of electronic manufacturing services (EMS) in the country.
Running into 28 years, the annual Dataquest Leadership Awardsare the most coveted IT industry awards The award follows a stringent three-tier evaluation process, including open nomination, research by the Dataquest editorial research team, and an award jury process.
The year 2020 awards jury was chaired by Mr Rajendra S Pawar, Chairman and Co-founder, NIIT Ltd, and co-chaired by Mr Prakash Kumar, CEO, Wadhwani Institute for Technology and Policy, and Mr Pradeep Gupta, Chairman, CyberMedia Group.
The virtual awards ceremony followed a day long Digital Leadership Conclave focussing on 'New World Order', including the role of digital technologies on society, enterprises and the economy, and how India should prepare to better manage the 3rd wave of COVID.
Delivering the keynote address on 'Digital Imprint of the Vaccination Program', Dr RS Sharma, CEO, National Health Authority shared his experiences of developing and driving the massive vaccination programme for COVID-19 using the AarogyaSetu platform and the role of digital technologies in improving healthcare in India.
A highlight of the panel discussion sessions included a Leader's Talk between Dr Devi Prasad Shetty, Chairman, Narayana Health and Mr Arun Seth, Trustee, NASSCOM Foundation on the how technology was shaping the healthcare sector in the post-pandemic new normal.
The other key speakers included Ajai Chowdhry, Member, Consultation Group on Science, Technology and Innovation Sector, NITI Aayog; Rajendra S Pawar, Chairman and Co-Founder, NIIT Ltd; Debjani Ghosh, President, NASSCOM; Arun Karna, MD and CEO, AT&T Global Network Services India; Rajen Vagadia, VP and President, Qualcomm India and SAARC; Samar Mittal, Head of Cloud and Network Services, India Market, Nokia; Anil Jain, CEO, NIXI; Palash Nandy, CEO, Numeric; Amit Sinha Roy, Global Head of Marketing and Communications, Tata Communications; UB Desai, Founding Director, IIT Hyderabad; Dr. Neeta Verma, Director General, NIC; Meena Ganesh, CEO, Portea Medical; Kapil Mahajan, Group CIO, Safexpress; Harnath Babu, CIO, KPMG; Umesh Mehta, EVP and Global-CIO, Jubiliant Lifesciences; and Bimal Khandelwal, CFO, STT GDC India, among others.
Some of the previous Dataquest IT Lifetime Achievement Award Winners include:
For more details, please visit: www.dqindia.com
Editorial Contact
Shubhendu Parth
Editor – Dataquest
9811402655 / shubhendup@cybermedia.co.in
DQ Hall of Fame: IT Person of the Year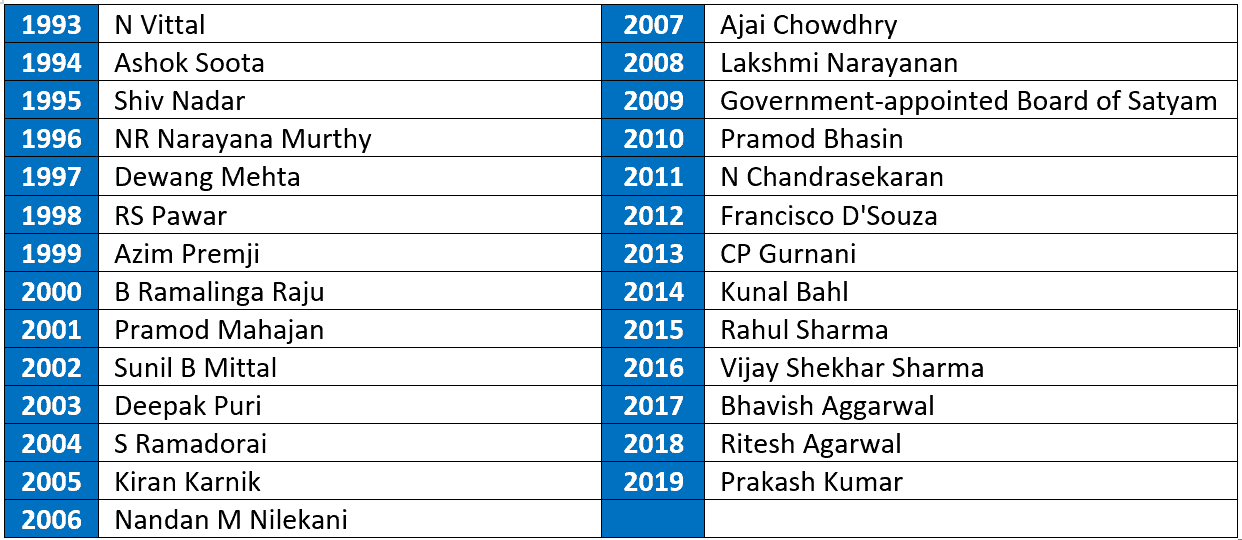 DQ Hall of Fame: Lifetime Achievement