2.5" External HDD continued to dominate at 91% market share.
3.5" External HDD shipments grew 23% YoY.
NAS market shipments witnessed 2% YoY decline.
Gurugram/New Delhi, May 24, 2023: According to CMR's India External Hard Drive Market Review for Q1 CY2023, the India External HDD (2.5" and 3.5") market shipments declined 10%. However, on a QoQ basis, the market shipments showed a notable increase of 26% during the same period.
"The increasing popularity and versatile applications of SSDs in recent years have posed significant challenges to the External HDD market. With a limited number of brands and a lack of new entrants in recent times, the appeal of External HDDs has been waning. Additionally, the expanding base of External SSDs has further impacted the growth of the External HDD market." observed Shipra Sinha, Senior Analyst – Industry Intelligence Group, CyberMedia Research.
In Q1 2023, the overall NAS shipments experienced a slight decline of 2% YoY, on a relatively smaller base. The 4Bay NAS emerged as the most preferred choice, closely followed by the 2Bay NAS.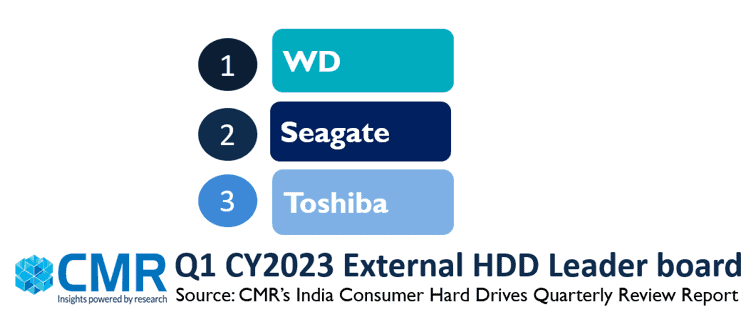 Q1 CY2023 Highlights
Market Leadership
In the overall India External HDD market, WD replaced Seagate to secure the top spot in the market, commanding a substantial 40% market share. Seagate closely trailed behind with a 39% market share. Toshiba claimed the third position with a respectable 17% market share.
Future Trends
By the end of CY2023, shipments of External HDDs (2.5″ and 3.5″) are anticipated to experience single-digit growth. This growth can be attributed to the continued demand for External HDDs due to their advantageous features, such as large storage capacity and cost-effectiveness compared to SSDs.
As per Shipra, "As we enter the new financial year, CMR estimates that the demand for reliable mass storage solutions in data centers, cloud services, and consumer electronics will spur the growth of HDDs. However, it is important to note that the ongoing shift in demand and consumer preference towards SSDs will continue to impact the growth rate of HDDs. On the other hand, the ability of NAS devices to store large volumes of data on personal clouds is anticipated to drive the future growth."
For queries, please contact: releases@cmrindia.com