5" external HDD captured 94% market share with 27% YoY growth
5" external HDD shipments increased significantly by 90% YoY
1TB capacity was the most popular capacity with 40% market share.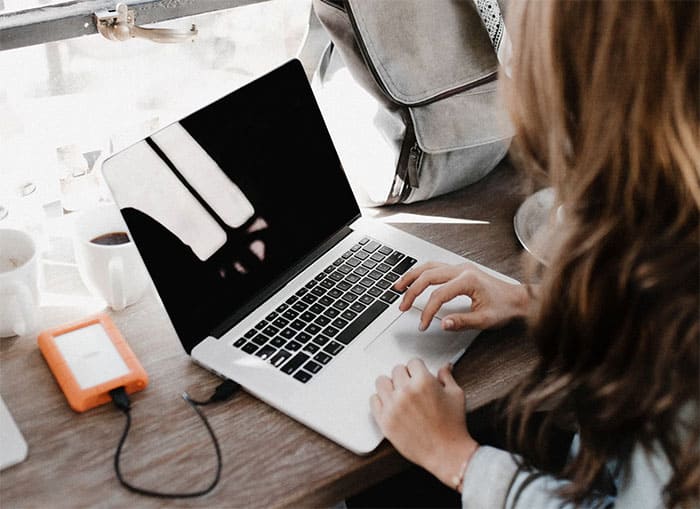 Gurugram/New Delhi, February 28, 2022: According to CMR's India External Hard Drive Market Review for CY2021, the India External HDD (2.5" & 3.5") market shipments went up by 29% YoY. However, on a QoQ basis, the market shipments declined by 43% in Q4 CY2021.
"While the External SSD market is undoubtedly expanding, it will still need time to reach the affordability offered by an External HDD. Also, External HDD has been the popular choice when it comes to large storage at a reasonable cost. Huge content creation and data generation requires a reliable device and External HDD is one well accepted device available for quite some time. Moreover, increase in 3.5" category shipments clearly indicates that despite the large form factor, consumers are willing to spend more for a safe and secure large capacity storage device," observed Shipra Sinha, Lead Analyst, CyberMedia Research.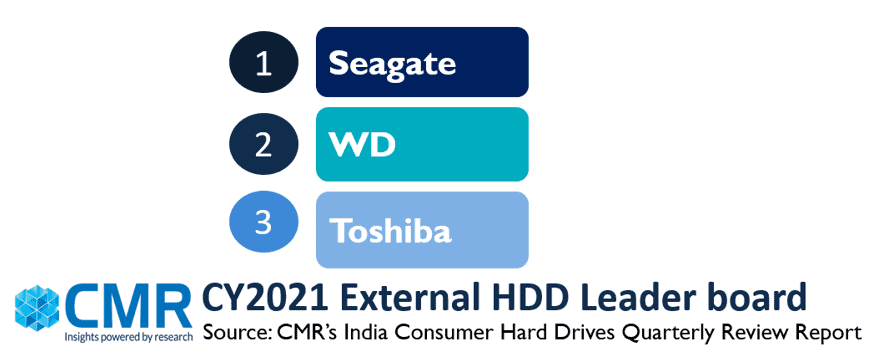 CY2021 Highlights
Seagate continued to be the leader with 48% market share and WD was at the second position with 41% share in the overall external HDD category. Toshiba stood at the third position with 9% market share with its shipments growing 40% YoY.
1TB captured 40% market share followed by 2TB at 33%.2TB capacity shipments increased by 32% YoY. 4TB was the next preferred capacity with 10% market share and its shipments growing 51% YoY..
NAS
Dual Bay NAS was the top contributor with 43% market share, with its shipments up by 29% YoY. 4 Bay NAS also captured ~43% market share. QNAP (33%) was the leader followed by Netgear (26%).
Future Trends
CMR anticipates external HDD (2.5" and 3.5") shipments to record 10-15% YoY growth by the end of CY2022 on back of rising digital transformation and need for a dependable device.
According to Shipra, "Utilization of large storage drives has increased with rise in the connected devices. This will fuel the shipments of External HDD devices further. Brands must focus on introducing slim, attractive and reliable devices to gain consumers attention. Going forward, ease of storing large documents, and files of utmost importance on a secure network at home will drive the NAS devices market. All said, growing awareness and increased affordability of External SSD will pose threat to the External HDD market."
Notes for Editors
CyberMedia Research (CMR) is a pioneering market intelligence and consulting firm that runs a comprehensive quarterly market update on the India Consumer Storage market. CMR's India Quarterly Hard Drives Market Review covers External HDD, NAS, Surveillance HDD sold via distributors and retail outlets. The report accounts for 'legal' shipments but does not include bundled or 'grey' market shipments or units brought from abroad by individuals as a part of personal baggage.
CMR uses the term "shipments" to describe the number of hard drive devices leaving the factory premises for OEM sales or stocking by distributors and retailers. For the convenience of media, the term 'shipment' is sometimes replaced by "sales" in the press release, but this reflects the market size in terms of units of hard drive devices and not their absolute value.
– ENDS –
About CyberMedia Research and Services Ltd
A part of CyberMedia (www.cybermedia.co.in), South Asia's largest specialty media and media services group, CyberMedia Research (CMR) has been a front runner in market research, consulting and advisory services since 1986.
CMR offers research-based insights and marketing consultancy services – market intelligence, market sizing, stakeholder satisfaction, growth opportunity identification, incubation advisory, and go-to-market services – covering the Information Technology, Telecommunications, Semiconductors, Electronics & Smart Infrastructure, Government, Energy & Utilities and Lifesciences sectors, as well as the large enterprise, SMB and consumer user segments.
CMR's core value proposition encompasses a rich portfolio of syndicated reports and custom research capabilities across multiple industries, markets and geographies. CMR's forthcoming studies include stakeholder satisfaction surveys, mega spender assessments and market mapping studies for these domains.
CyberMedia Research, a division of Cyber Media Research and Services Ltd., is a member of the Market Research Society of India (www.mrsi.in).