5" external HDD captured 93% market share
5" external HDD captured 7% market share
1TB capacity was the most popular capacity with 50% market share.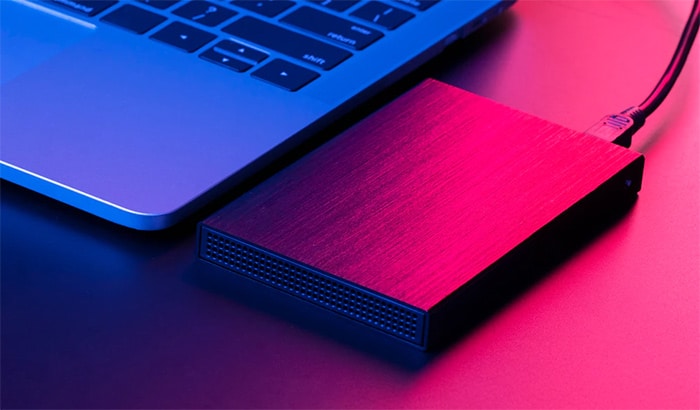 Gurugram/New Delhi, June 20, 2022: According to CMR's India External Hard Drive Market Review for CY2022, the India External HDD (2.5" & 3.5") market shipments declined by 11% YoY. However, on a QoQ basis, the market shipments grow by 15% in Q1 CY2022.
"External HDDs have been the customer demand when it comes to price segment. External SSD market slowly but trying to outperform their traditional rival. This is because these external SSDs are faster, more durable, and efficient and have higher portability. They even manufacture external SSD for gaming now observed Swati Kalia, Analyst, CyberMedia Research.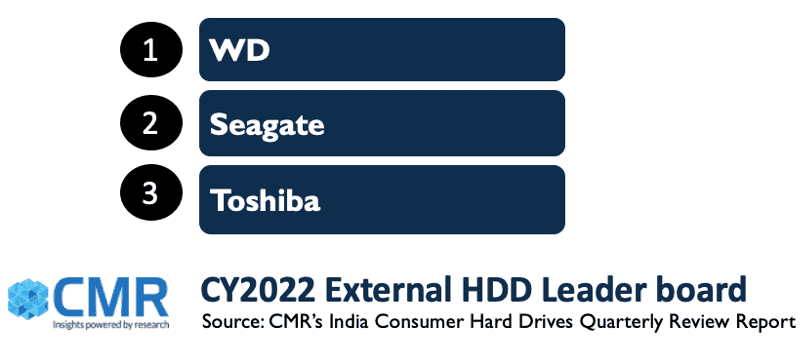 CY2022 Highlights
WD continues to lead the market with 43% market share and Seagate was at the second position with 40% share in the overall external HDD category. Toshiba stood at the third position with 15% market share with its shipments growing 15% QoQ.
1TB captured 50% market share followed by 2TB at 34%.2TB capacity shipments increased by 4% QoQ.4TB was the next preferred capacity with 12% market share and its shipments growing 35% QoQ.
NAS
4 Bay NAS was the top contributor with 63% market share, with its shipments up by 65% YoY. Dual Bay NAS also captured ~26% market share. QNAP (47%) was the leader followed by Netgear (26%).
Future Trends
CMR anticipates external HDD (2.5" and 3.5") shipments to record 10-12% YoY growth by the end of CY2022 on back of rising digital transformation and need for a dependable device.
As per Swati, "Q2'2022 shipments for HDDs are expected to decline owing to persistent supply side crunches. On the demand side, consumers are looking for faster more reliable and portable drives, and this, in turn, will lead to an increased preference towards SSDs and will pose threat to the External HDD market. The introduction of sleek and secure external HDDs will drive the market growth for HDDs."
Notes for Editors
Cyber Media Research (CMR) is a pioneering market intelligence and consulting firm that runs a comprehensive quarterly market update on the India Consumer Storage market. CMR's India Quarterly Hard Drives Market Review covers External HDD, NAS, Surveillance HDD sold via distributors and retail outlets. The report accounts for 'legal' shipments, but does not include bundled or 'grey' market shipments or units brought from abroad by individuals as a part of personal baggage.
CMR uses the term "shipments" to describe the number of hard drive devices leaving the factory premises for OEM sales or stocking by distributors and retailers. For the convenience of media, the term 'shipment' is sometimes replaced by "sales" in the press release, but this reflects the market size in terms of units of hard drive devices and not their absolute value.
– ENDS –
About CyberMedia Research and Services Ltd
A part of CyberMedia (www.cybermedia.co.in), South Asia's largest specialty media and media services group, CyberMedia Research (CMR) has been a front runner in market research, consulting and advisory services since 1986.
CMR offers research-based insights and marketing consultancy services – market intelligence, market sizing, stakeholder satisfaction, growth opportunity identification, incubation advisory, and go-to-market services – covering the Information Technology, Telecommunications, Semiconductors, Electronics & Smart Infrastructure, Government, Energy & Utilities and Lifesciences sectors, as well as the large enterprise, SMB and consumer user segments.
CMR's core value proposition encompasses a rich portfolio of syndicated reports and custom research capabilities across multiple industries, markets and geographies. CMR's forthcoming studies include stakeholder satisfaction surveys, mega spender assessments and market mapping studies for these domains.
CyberMedia Research, a division of Cyber Media Research and Services Ltd., is a member of the Market Research Society of India (www.mrsi.in).