5" Portable HDD registered 19% YoY growth.
1TB and 2TB capacities collectively contributed 80% share.
4 BAY Diskless NAS shipments grew 52% YoY.
Gurugram/New Delhi, March 2 2021: According to CMR's India External Hard Drive Market Review for Q4 CY2020, the India External HDD (2.5" & 3.5") market recorded 17% YoY growth in Q4 2020. However, the market dropped down by 24% QoQ.
"Portable HDD's compact, robust and extensive storage feature at a reasonable price supported its YoY growth amidst the pandemic. Brands succeeded in overcoming the supply shortage and fulfilled the pent-up demand in the second half during the festive season and beyond. Increased PC usage and large data generated during the Extended Work from Home (WFH) and Learning from Home (LFH) catalyzed the portable HDD sales," observed Shipra Sinha, Lead Analyst, CyberMedia Research.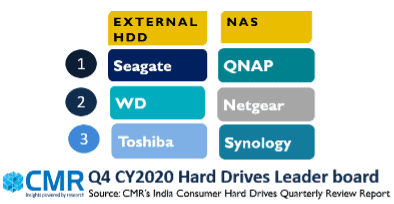 Q4 2020 Highlights
Seagate topped the leaderboard with 50% market share followed by WDC at 37% in the overall external HDD category.
While,1TB remained the most favoured capacity at 46% market share in the overall market, 2TB was the next preferred option capturing 34% market share. Both 1TB and 2TB capacities shipment recorded 29% and 17% YoY growth respectively.
Diskless NAS
The overall NAS market witnessed 7% YoY decline. 4 Bay NAS continued to be the consumers favourite.
Future Trends
CMR anticipates External HDD (2.5" and 3.5") shipments to grow by 5-6% YoY by the end of CY2021 and recover from the pandemic impact observed last year.
According to Shipra, "Among all the portable storage options available, portable HDDs have a strong hold and loyal consumer base. Whether it is creating enough space in the PC or backing up the precious data, portable HDDs are the preferred go to option. Furthermore, the less price gap between capacities will assist its future growth. With portable SSD market still at its nascent stage, HDDs have ample growth opportunity. When it comes to personal cloud storage, NAS devices will gain traction as they act as the centralized storage for security systems and internet of things (IoT) connected devices in a smart home."
Notes for Editors
CyberMedia Research (CMR) is a pioneering market intelligence and consulting firm that runs a comprehensive quarterly market update on the India Consumer Storage market. CMR's India Quarterly Hard Drives Market Review covers External HDD, NAS, Surveillance HDD sold via distributors and retail outlets. The report accounts for 'legal' shipments, but does not include bundled or 'grey' market shipments or units brought from abroad by individuals as a part of personal baggage.
CMR uses the term "shipments" to describe the number of hard drive devices leaving the factory premises for OEM sales or stocking by distributors and retailers. For the convenience of media, the term 'shipment' is sometimes replaced by "sales" in the press release, but this reflects the market size in terms of units of hard drive devices and not their absolute value.