The past two years have seen a sluggish growth in the Indian telecommunications industry from an infrastructure development viewpoint. The factors responsible for sluggish growth include the after-effects of the 2G spectrum allocation scam, which shook investor confidence in the regulatory measures and overall governance of the sector. By the same token, Telecom Service Providers (TSPs) who spent huge sums in acquiring 3G and 4G / LTE broadband wireless access spectrum are now cautious in making any further investments. These developments have had a trickle-down effect on ancillary industries like structured cabling solutions (SCS). Due to the slowdown in overall investments in Telecoms infrastructure, the demand for SCS remained largely sluggish in FY 2011-12.
However, this seems to have been a temporary phenomenon. As witnessed in the first half of FY 2012-13 (please refer Figure 1), the India SCS industry is already gaining momentum. Organisations across verticals are facing the common problem of data explosion, mainly consumer / customer data in the form of digitized records, emails, feedback gathered via social media, video services and so on. This has resulted in demand for higher bandwidth and high-end technology. These organisations are also voluntarily adopting internet-based applications, IP applications and virtualisation to address the higher levels of computing needs for expanding business operations.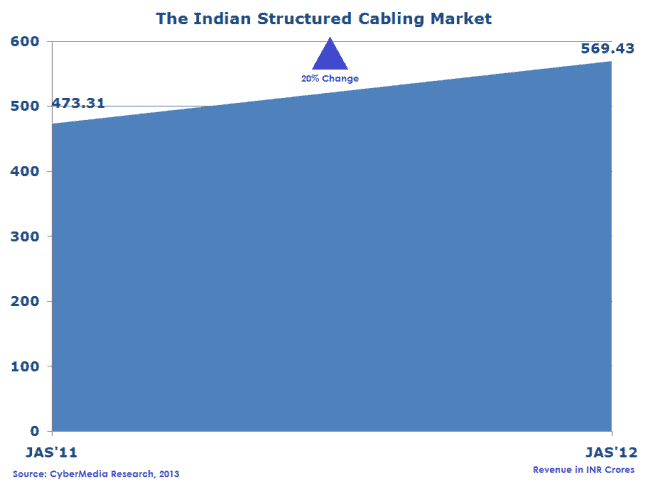 The India SCS market recorded a year-on-year growth of 20% in 3Q (July-September) 2012 in revenue terms, though the quarter-on-quarter growth was only 5.6%. In 3Q 2012 the copper cables and components market grew at a rate of 5.8%, whereas the fibre cables and components market grew at a rate of 5.2% compared to 2Q (April-June) 2012.
Copper is the dominant form factor in the India market as installation of copper cables is much easier as compared to fibre. In copper cables Cat 6a (the 'a' stands for augmented) is the favourite pick of Indian customers. There has been a lot of debate about Cat 7, but this latter form factor is yet to pick up, while the Cat 6a segment continues to display healthy traction. The growing need for faster data transmission and stable performance across a wider frequency range has given rise to Cat 6a and Cat 7. Both can support speeds of up to 10 Gigabits per second on copper. Advanced copper cables are being demanded in India across verticals and Cat 6a cables particularly have high acceptance levels in Data Centre segment. Some concerns for the copper cabling market are the increasing prices of copper in international commodity markets, and limitation of maximum of a span of 100 metres without any deterioration in the data and service quality.
In the Fibre segment, vendors have a focus on FTTH where upcoming residential complexes in urban areas across the country are likely to drive demand, as this form factor allows a single service provider to deliver voice, data and video content. This trend is likely to see a further increase as FTTH and FTTP both find increasing acceptance and deployment in India. The rapid spread of broadband (NOFN, 4G / LTE roll-outs etc.) and technology innovation will both drive the adoption of fibre optic cabling. One of the key advantages of installing fibre optic cables is that they can be laid out for long distances and are not affected by electro-magnetic interference, thus ensuring faster and smoother flow of data.
Major wireless operators in India have chosen to replace corrugated copper cables in their networks with coaxial cables in order to keep their Capex spends low. More than 100,000 sites in India are now deployed with such cables. Industry verticals such as IT & BPO-ITeS, Government, Manufacturing, Telecommunications and BFSI are major customer segments for SCS vendors. Though, IT & BPO-ITeS and Government have been major contributors, but the last few quarters have seen a slump in business from these verticals. The slowdown in the US and the European economies had impacted demand from the IT & BPO-ITeS sector in the last few quarters and the investments made were mainly to service domestic demand. On the other hand, investments by the Government sector, made with a long term focus, saw a slowing down in the last few quarters due to delays in decision making.
Smaller vendors like Belden, Legrand, Leviton also joined the race with a focus projects like Smart Grids, Oil & Gas, Transportation Systems, Infrastructure, automation and machine building.
Outlook for 2013
The year 2013 looks more promising for the India SCS market. Infrastructure development projects, increased demand due to changes in Government policy, growing demand for higher bandwidth and adoption of high-end technology by consumers and businesses alike, would be the growth drivers for the India SCS market.
The Fibre-optic cabling market is expected to see higher than average growth. The need for future-proofing of networks would drive the market. Data Centre consolidation would further drive demand for fibre based solutions.
The increasing demand from Infrastructure, Hospitality and Education sectors would see deployment of structured cabling solutions to create new revenue streams for vendors.
HD video, high-quality voice and data services, remote access of applications would gain momentum in 2013 and consequently drive the demand for fibre-optic cabling solutions.
Vendors would see new investments coming in from Tier-2 and Tier-3 cities on account of Government spending, real estate expansion and infrastructure development.
Thus, despite the trickle-down effect caused by the impact of policy and governance issues plaguing the India Telecom Services story, the country's structured cabling solutions (SCS) market is gaining momentum on account of a broad-basing of demand from newly emergent segments. While copper is still dominant in the India SCS market, fibre has a long way to go to support the future growth in wireless broadband and back-haul infrastructure.