The inaugural AWS Public Sector Summit at New Delhi on September 6th, 2019, provided a good ringside view, and deep-dive into AWS initiatives in India, focused on citizen services.
Over the past year, there has been a radical shift in the Government to embrace disruptive technologies, such as Artificial Intelligence, and more discipline than before to get things done, delivered and measured against set milestones.  Whether it be impacting the rural economy, or delivering on improving outcomes in education, health and agriculture, there is more impetus now to embrace disruptive capabilities offered by Cloud. Across Central and State governments, there is a clear focus on moving forward with new technologies, and creating large-scale impact.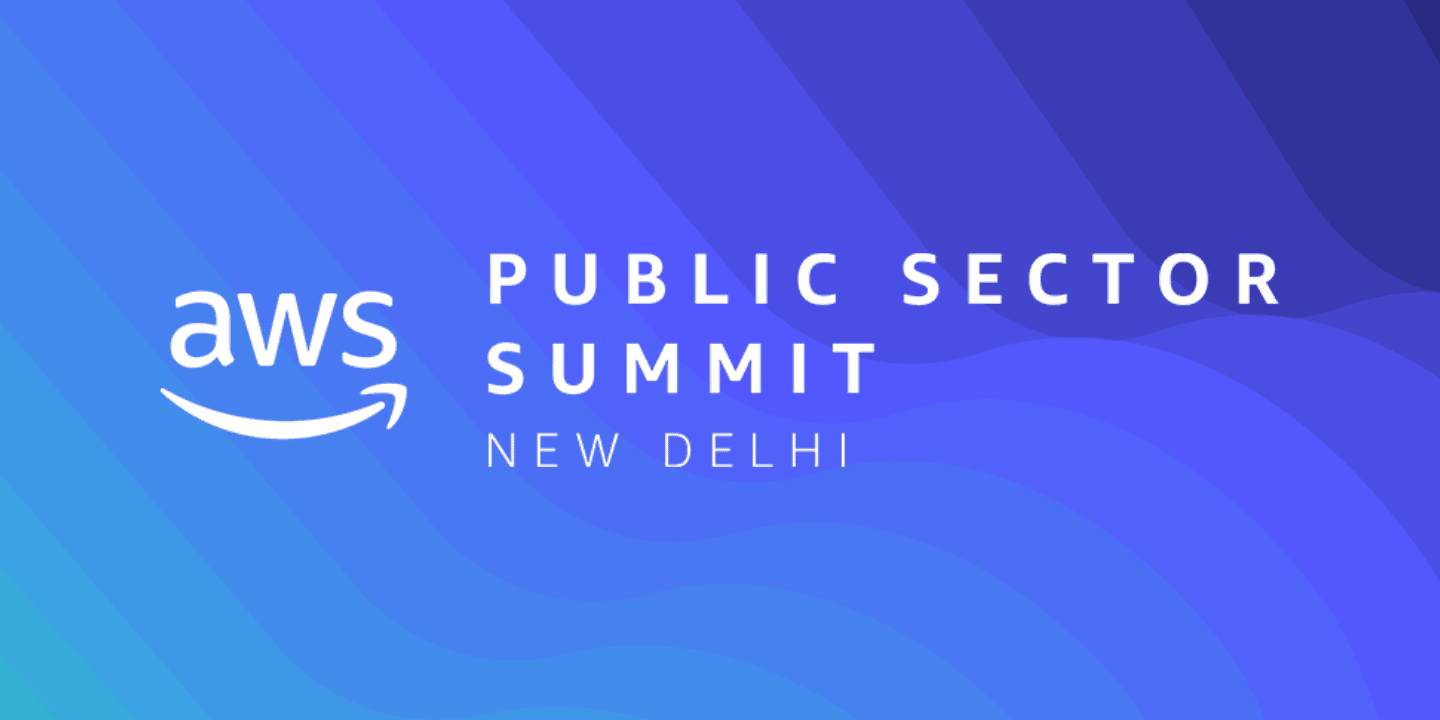 The strategic thinking at AWS is to look at Government as not just another opportunity to align with the strategic initiatives of Government, but while doing so, delivering on Government's outcome-based approach, and disrupt the way technology is delivered.
Enabling Citizen Services at Scale
AWS has been working with Common Service Centres (CSC) to simplify the delivery of citizen services in rural India. CSC required a scalable, cost-effective solution to provide mission-critical  e-governance services to users, while also reducing response time and enhancing reliability. CSC has been able to simplify the delivery of citizen-centric services by using AWS and the breadth of advanced cloud services like Amazon CloudFront, Amazon S3, and more. CSC uses Amazon EC2 and Amazon RDS along with other content delivery, storage, management, and high-availability services from AWS. CSC has benefitted from AWS's massive economies of scale, pace of innovation, global security certifications, and agility in a pay-as-you-go model without requiring complex licenses. CSC delivers citizen-centric services faster to a large amount of users, reduces response time with elastic AWS services and drives innovation with newer technologies to benefit citizens.
The National Skill Development Corporation (NSDC) wanted a scalable and agile infrastructure platform to roll out flagship government programs, sector-wide initiatives and internal ERP systems in a cost-effective manner. NSDC leveraged AWS cloud services for running Skill India Portal and other platforms, with capacity to expand as per need. NSDC chose to work with AWS for multiple reasons including scalability, agility, availability, security and cost effectiveness. The Cloud platform allows for easy and quick accommodation of Skill India Portal's growing bandwidth demand.
AWS has enabled the Department of Information Technology (DIT), Government of Manipur, to migrate its critical IT services to the AWS Cloud through its partner, Minfy Tech. The Manipur State Government realized maintaining its on-premises data center was an expensive proposition, and more importantly, could not meet the demands of new apps, services, and websites that the State Government needed to support.
With a focus on agility and innovation, Minfy Tech enabled the planned migrations from on-premises data centers to the cloud. Manipur is the first State Government in India to transition to the Cloud. As a result of the strategic initiatives, the DIT's capital and operating expenses have been drastically reduced when compared to the on-premises data center costs.
AWS, for instance, is working with the State Government of Maharashtra on its strategic citizen-centric initiatives. MahaOnline, the nodal agency of Maharashtra state, leverages AWS to host mission critical Applications and Databases in a scalable, secure and flexible infrastructure necessary to make a difference for the citizens through the Government of Maharashtra. This APN partner leverages AWS to host 'Aaple Sarkar' – 'The Right to Service' under which 110 million citizens of Maharashtra can access government services and benefits based on their eligibility.
Ensuring Skilling and Reskilling for New India
AWS is actively engaged in preparing the workforce of the future, as there is a clear realization that there are still not enough people coming out of tertiary education with the right skills to get a job that takes advantage of cloud computing. In addition, AWS also has a strong focus on reskilling civil servants and preparing them for the future.
AWS supports NSDC with a scalable and agile Cloud platform that caters to the skilling and reskilling needs of  >400M people in India. AWS has enabled NSDC in handling high transaction volumes on their applications and managing internal systems in a cost-effective manner. For instance, running applications for NSDC's Skill India Portal Learning Management System (LMS), Skill Management and Accreditation of Training Centers (SMART), Takshashila Portal for Training of Trainers/Assessors as well as its enterprise resource planning (ERP) systems.
AWS is working with various State Governments on fostering skill development. For instance, in Andhra Pradesh, AWS works with the Andhra Pradesh State Skill Development Corporation (APSSDC) to enable 60,000 students through the AWS Educate program. In addition to students, even educators got trained through the skilling initiative.
AWS is also actively engaged with various educational institutions. For instance, AWS is setting-up an AI/ML Lab for experiential learning at IIT-BHU. IIT-Kharagpur is another institution where AWS has partnered.
Fostering New Smart Cities
By leveraging the power of technology, India is forging ahead with re-envisioning how data is leveraged to build new cities. Take, for instance, the Ministry of Housing and Urban Affairs (MoHUA launched the Smart Cities Mission (SCM) for development of 100 smart cities for driving economic growth and improving the quality of lives through local area development and harnessing technology. A lot of the data was generated in smart cities,  however it remained in silos within local government organizations. In order to solve the myriad complex issues faced by cities, it was vital that data locked in such silos be unlocked and shared amongst these entities. Not to forget, Right data, to the right people, at the right time. The Smart Cities Mission wanted to build a platform for getting reliable, up-to-date information on a meaningful set of indicators over various domains such as transport, health, environment, water, and finance, which will assist in developing best practices, future strategies, and policy interventions. The Smart Cities Mission worked to set up a state-of-the-art India Urban Observatory to plug into the myriad sources of data from cities, both from real-time and archival sources. The organization chose to host the solution on AWS Cloud. The platform enabled seamless integration of data coming from a variety of solutions and different environments including solutions hosted on-premise. The time taken from idea to execution was five weeks delivering a scalable platform moving from 500 data sets to 500,000 data sets.
What AWS needs to focus on?
As the speed of technology adoption increases in India, and digital transformation gains impetus, it is important for AWS to focus on the human-side of cloud adoption in public sector organizations, and how they gain to benefit from increased speed and efficiency that cloud solutions such as the ones from AWS promise. Alongside the efficiency gains, AWS needs to address the security theme, and how public sector stands to gain from embracing Cloud.
In addition, the AWS focus on education and skilling and reskilling gains more import in India, to prepare a future skills ready workforce. This is especially true, not just from perspective of students, but also from those working in the Government. The role of AWS Educate and other AWS skilling initiatives gains focus here.
Going forward, the technology curve for public sector organization in India, whether it be the Centre or the States, will continue to see an upward trend, and we believe increased focus on new emerging technologies, such as Artificial Intelligence and Machine Learning.
As Head – Industry Intelligence Group at CMR, Prabhu Ram advises industry participants on the dynamic technology market in India and other Asian geographies through proprietary and custom technology research, cutting across technology domains. Prabhu oversees an analyst team that tracks smartphones, data cards, tablets, storage, display, wearables and smart homes.