From biometric authentication based ATMs to NFC based omni-purpose cards, SBI is taking numerous initiatives to promote rural banking. Excerpts of an interaction with The DMD and CIO of SBI, Mrutyunjay Mahapatra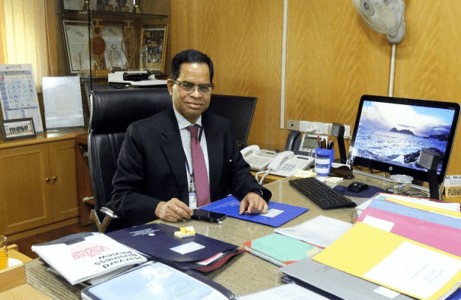 Mr. Mrutyunjay Mahapatra, Deputy Managing Director & Chief Information Officer, SBI, has been with SBI for more than 25 years, serving in various capacities. He is currently heralding the digital transformation of SBI. Mr Mahapatra's vision is to leverage technologies that enable transformational changes into the traditional banking model. Towards this end, Mr Mahapatra aims to create significant business value by harnessing the right technologies, and streamlining processes.
In the past, rural banking has mostly failed due to the high costs of developing traditional banking infrastructure in rural hinterland. SBI is leveraging digital transformation to completely transform rural banking. Towards this end, the SBI is undertaking different experiments to enable swifter banking in Rural India, wherein reliable connectivity is missing.
Cashless-transactions and connectivity-less transactions: SBI is currently undertaking a PoC with a startup in Uttarakhand wherein based on a distributed ledger, some amount of record is maintained for a post-facto settlement, whereas the services and products are disbursed immediately, based on a SBI guarantee. This deferred settlement basis is different from the current model of online transactions. Under this settlement basis, the device stores a particular value, and later, when connectivity is available, the transaction is consummated.
Majority of Rural India uses feature phones. In order to further push rural banking, SBI is looking at Feature phone applications, involving a basic interface and leveraging BHIM and Aadhar.
Rural India has transformed with the overwhelming adoption of Cable TV. For instance, the introduction of Doordarshan Free Dish, a free-to- air digital direct-broadcast satellite television service having a bouquet of 80 FTA (free-to-air) channels has positively impacted the rural entertainment market reaching >22M aspirational rural consumers. SBI is leveraging WideFi technology, which harnesses free television airwaves on Cable TV networks to access internet and enable cashless transactions in rural areas.
To circumvent the challenge of rural illiteracy, SBI is looking at adopting voice assistants in two or three languages wherein the tool can recognize and read simple instructions for debit or transfer and fulfill the same.
Where reliable connectivity is available, SBI is exploring assisted mode for assisted banking wherein authentication of banking assistant and beneficiary is done for fulfilling transactions. SBI will leverage the Aadhaar infrastructure to on-board customers and provide them services online.
From a transaction authentication perspective, biometrics is available, but it has a challenge in that it requires end-point devices. The cost of the end-point device has to be brought down, as the cost of fingerprint device talking to Aadhaar beyond connectivity itself translates to INR 1500. If the manufacturing cost come downs to about INR 200 or so, authentication will become easier. From a security point of view, one of the thought streams in SBI is to explore if devices can reside within a 5km radius serving a population of 10,000. By leveraging Aadhaar, the devices could support secure local storage and enable local authentication, by importing 10,000 records.
SBI has 60,000 banking correspondents and 60,000 ATMs. Of the 60,000 ATMs, SBI is working to enable biometric authentications in 5,000-10,000 ATMs. Based on an Aadhar authentication, people can withdraw money without going to bank. The Banking correspondents enroll customers and enable the bank transactions at the Customer Service Points (CSPs).
SBI is also experimenting with Omnipurpose card leveraging NFC, wherein the SBI debit card can also be leveraged for getting fertilizers, availing government services through seamless transactions.
As Head – Industry Intelligence Group at CMR, Prabhu Ram advises industry participants on the dynamic technology market in India and other Asian geographies through proprietary and custom technology research, cutting across technology domains. Prabhu oversees an analyst team that tracks smartphones, data cards, tablets, storage, display, wearables and smart homes.