e-Governance and IT-ESDM industry poised to take a big leap in the state with establishment of Agra and Lucknow as IT hubs under IT Policy 2012 and IT Manufacturing Policy 2014
e-District programme being expanded to cover all 75 districts; Key IT 'Pain Points' and preferred solutions identified
CMR and Dell to co-host 'Government Connect' programme for key stakeholders on the theme "Future-ready IT, for future-ready government"
Lucknow session to be inaugurated by Shri Om Prakash Singh, Hon. Minister for Tourism, Uttar Pradesh and Dr. Manoj Kumar Pandey, Hon. Minister for Science & Technology, Uttar Pradesh
New Delhi/Lucknow: Uttar Pradesh, home to nearly 200 million citizens of India and a leading state in setting up core e-Governance infrastructure projects such as State Wide Area Network (SWAN), State Data Centre (SDC), Common Service Centres (CSCs), State Portal as well as other projects such as e-District, e-Setu, e-Village etc. aims to provide smart governance to all its citizens. The state is taking various initiatives to digitally empower every citizen in line with the 'Digital India' programme. The state government's vision is to transform Uttar Pradesh, into a digitally empowered society and a thriving knowledge economy.
The goal of the state administration is to create a system where there is no physical interface between citizens and government staff, and all services are delivered at the doorstep and/or electronically via the computer, mobile phone or Tablet to the applicant. Twenty-six (26) citizen-centric services of eight (8) departments were already being offered via the state portal as of end-2014. By December 31, 2014, Uttar Pradesh had achieved the distinction of conducting over 3.70 crore e-transactions through the e-District/State Portal, 14,500 Common Service Centres and 300 Lokvani centres.
Going forward, the state government has fixed a target to add 90 more services to be provided through Common Service Centres and Lokvani centres.
The e-District project had been implemented as pilot in six districts in 2008 and is now being rolled out in the remaining 69 districts. Under the state-wide rollout, e-Governance cells/ computer labs are being established in each district headquarters with 14 computers, each Tehsil with four computers, each Block with three computers and laptops are being provided to each SDM and Tehsildar for improving efficiency through an end-to-end automated system. District e-Governance Societies (DeGS) have been constituted in each district. Also, e-District Managers are being hired in all the districts. The project had already gone live in 21 more districts by January 2015.
In a significant measure that emerged out of Government Process Reengineering, the Uttar Pradesh state administration has decided to accept Self Declaration Forms instead of sworn affidavits, along with application forms for availing services of various government departments.
The IT Policy of Uttar Pradesh released in 2012 and the Electronics Manufacturing Policy 2014 aim at reinforcing the position of the state as an attractive destination for IT and Electronics sectors. These policies have led to creation of a more conducive business environment.
Uttar Pradesh is currently focused on developing necessary infrastructure, develop human capital, proactively engage with investors and ensure effective policy implementation. The IT Policy 2012 is helping to develop Agra and Lucknow as IT hubs under PPP (Public-Private Partnership) arrangements with leading organisations. As per the policy, all IT companies establishing their units in the state are eligible for 100 per cent exemption from Stamp Duty and 5 per cent interest subsidy (not exceeding Rs. 1 crore) for a period of five years. Availability of centres of technological and scientific excellence such as the Central Drug Research Institute (CDRI) Lucknow, IIT Kanpur, IIM Lucknow and others, makes Uttar Pradesh an ideal destination for setting up IT/ESDM R&D and manufacturing facilities. The state is well connected to the large northern India domestic market for components, white goods, PCs, mobile phones, Tablets and other consumer durables.
IT 'Pain Points' and Preferred Solutions
IT 'Pain Points'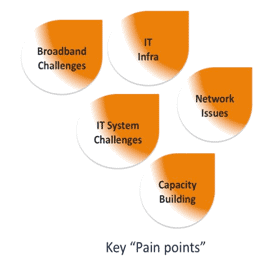 CMR's research based on engagement with stakeholders across Government Departments and PSUs in Uttar Pradesh, highlights some 'pain points' encountered by stakeholders. These range from capacity building to infrastructure and networking issues, from IT system challenges to issues of broadband connectivity and legacy IT systems.
Solutions to address IT Challenges
CMR's research in Uttar Pradesh indicates a strong stakeholder interest in Data Centers, Virtualisation, Cloud and Storage. Stakeholders perceive these solutions as key to addressing their IT challenges. Data Centre was the most cited solution of interest (29%), followed by Virtualisation (26%), and Cloud (24%).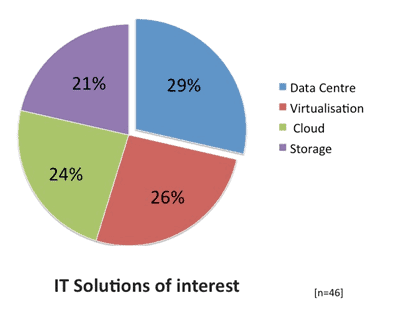 'Government Connect' Lucknow
In the above-mentioned backdrop, CyberMedia Research (CMR), South Asia's leading ICT, ESDM and Lifesciences market research and go-to-market advisory firm, and Dell, the world's fastest-growing integrated IT company, have teamed up to co-host the 'Government Connect' roundtable on Friday, 5th June 2015 at the Taj Vivanta, Lucknow. The theme for this year-long series of roundtables, panel discussions, presentations to policymakers and decision makers, newsletters, public relations and advertising is "Future-ready IT, for future-ready Government". The programme will span the length and breadth of India, to educate government and PSU stakeholders about the transformational role of technology in nation building, achieving critical governance goals and wealth creation.


The Lucknow roundtable will be jointly inaugurated by Shri Om Prakash Singh, Hon. Minister for Tourism, Uttar Pradesh and Dr. Manoj Kumar Pandey, Hon. Minister for Science & Technology, Uttar Pradesh. Mr. Rajendra Kumar Tiwari, IAS, Principal Secretary, IT & Electronics, Uttar Pradesh is expected to deliver the keynote address at the event. These and other eminent speakers will dwell on e-Governance and ICT initiatives of Uttar Pradesh, the need to create a climate for scientific and technological research, innovation and entrepreneurship, the power of tourism and culture to transform and improve age-old processes, and the many benefits that are expected to accrue to common citizens, women and youth.
 Speaking on the occasion, Raman Bountra, Business Leader – Government, Dell India stated, "Dell believes that technology is a prerequisite to transform the country, its businesses, the quality of life of its citizens, and enable better governance and government services. Our objective is to create awareness among decision makers, IT departments and their workforce on the need to build robust, flexible and secure solutions to serve the emerging needs of central and state government organisations, as well as public sector enterprises."
Commenting on the developments, Pradeep Gupta, Chairman, CyberMedia Group said, "We are happy to receive the whole-hearted support of Govt. of Uttar Pradesh and our technology partner, Dell. We are committed to encourage debate on and adoption of scalable ICT infrastructure and solutions, to deliver ease and convenience to citizens, customers and stakeholders. We believe the coming months and years will see many transformative models emerge, as a result of successful collaboration between government organisations, India's vast and vibrant public sector and technology vendors."
The roundtable is expected to see participation of more than 50 senior delegates from the state government, public sector enterprises based out of the Kanpur-Lucknow region and the media. The event will conclude with a panel discussion with special emphasis on using Information and Communication Technologies (ICTs) to improve functioning of e-Governance projects and develop a robust knowledge economy ecosystem in the Uttar Pradesh.
About CyberMedia Research
CyberMedia Research (www.CMRindia.com) has been offering market intelligence, market sizing, stakeholder satisfaction, growth opportunity identification, incubation advisory, and go-to-market services since 1986 – covering the Information Technology, Telecommunications, Semiconductors, Electronics & Smart Infrastructure, e-Governance and Lifesciences sectors.
About 'Government Connect'
CMR is hosting the 'Government Connect' series of roundtables across India. The aim is to bring together decision-makers, influencers and domain experts from IT, e-Gov and user departments under the same roof as solution providers like Dell, Microsoft, Intel et al and leading management consultants, to develop effective platforms for government service delivery, and encourage growth of the knowledge economy, to transform less developed states such as Uttar Pradesh, Jharkhand, Telangana etc.
Contact Information – CyberMedia Research (CMR)
Sanjiv Kataria    
Strategic Communications and PR Counsel
+91-9810048095
sanjiv.kataria@gmail.com
Vishaal Bhatnagar
Associate Vice President, Public Sector Practice, CMR
+91-9810191634
vbhatnagar@cmrindia.com