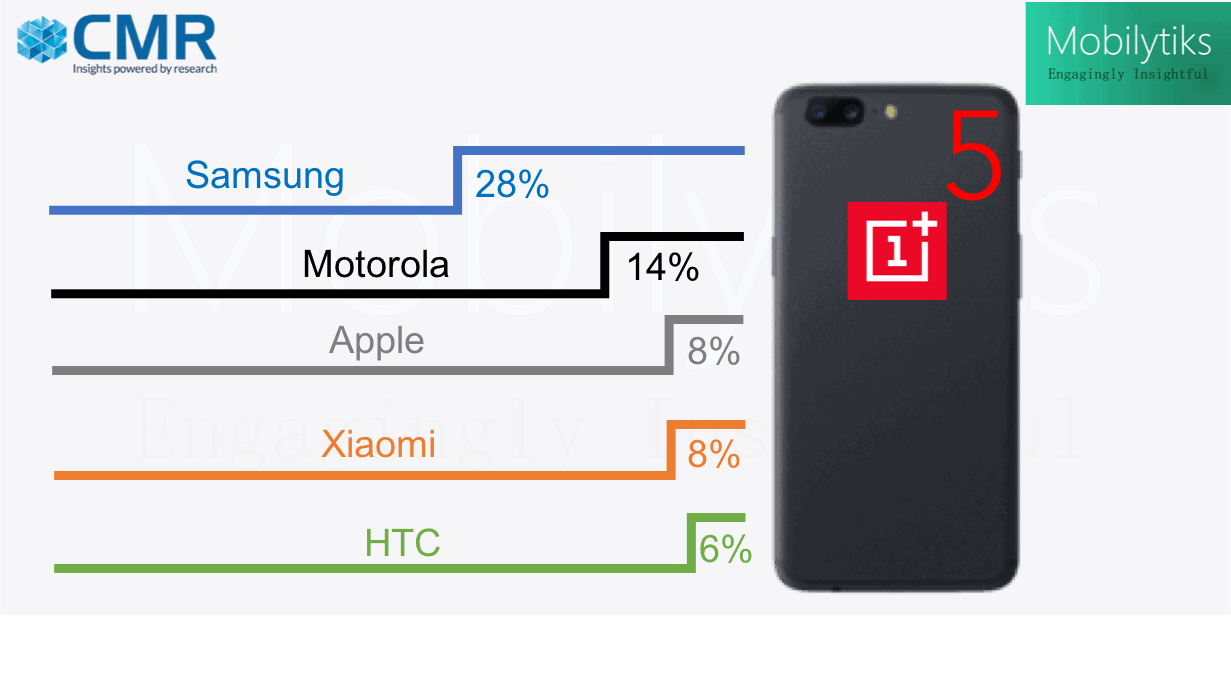 In its 5th year, OnePlus has become among strong premium Android Smartphone contender brands.  Not only has it carved out its space, it has also started eating up established brands' shares.  At the same time, its launch has become one of the major activities in the industry that is closely watched at by the industry.
As the brand gears up for its next launch – OnePlus 6, about which a lot is already established by so called 'leaks', let's examine how its predecessor OnePlus 5 earned users.  Here, we are not comparing 3T or 5T as these were extensions in the series.  For benchmarking the next in line OnePlus 6, it would be appropriate to equate it with the predecessor OnePlus 5.
Here is an analysis based on the Mobilytiks insights fetched from Aug-Sep 2017 data, as these were the initial months after its launch in India towards the end of June 2017.
As OnePlus had changed product launch strategy a bit, with two models being launched in 2016, OnePlus 3 in June and then OnePlus 3T in Dec, at the time of OnePlus 5, there weren't enough users ready within OnePlus user base to upgrade for OnePlus 5.  This led to just 5% of OnePlus 5 sales coming from existing OnePlus users who were essentially using OnePlus 3.
However, this was not a bad thing to happen for OnePlus. Its remaining sales of OnePlus 5 came from almost all other major brands, Global Tier 1 as well as Chinese brands.  The only Indian brand within Top 10 from where the users switched to OnePlus 5 was Micromax.
Users bought OnePlus 5 as an upgrade as well as replacement option in terms of price range.  83% of the OnePlus 5 buyers were using a Smartphone priced between Rs 10,000 – 50,000.  Of these 46% were using a Smartphone in the range of Rs 10,000 – 20,000 who actually upgraded by moving to OnePlus 5.
Other than 28% of its buyers coming from Samsung, what is worth noticing is that 14% came from Motorola, which is perceived as a brand for evolved users.  This indicates that the OnePlus users are already exposed to stock Android experience, however, to further better it, they go with OnePlus.  The philosophy of OnePlus to provide enhanced stock Android experience through Oxygen OS seems to be working as users do find value in moving up the experience chain by upgrading from pure stock Android to Oxygen enhanced Android.
Even from Apple iPhone, users switched to OnePlus 5, besides Xiaomi and HTC being the other two in top 5 brands from where OnePlus 5 users came.  64% of the users of OnePlus 5 from non OnePlus base came from these major 5 brands.
The OnePlus 5 buyers' analysis identifies 4 major user segments of OnePlus Smartphones.  The trend is likely to remain same as there is still a gap in the premium Smartphone portfolio that only OnePlus is addressing.
The first segment is of the Smartphone users who are already using stock Android and want an enhanced experience.  This is why a lot of OnePlus users came from Motorola devices.  The second segment is of entry level Smartphone users looking for a reliable experience and willing to spend an extra bit to skip the mid-value Smartphones. Users from Xiaomi and other such brands categorise in this segment.  What is interesting to note is very few Oppo and Vivo users switched to OnePlus 5. This indicates that not a very large user base comes actually from mid-value Smartphones to OnePlus.  The third segment is the replacement market. In this stream, users were already on a OnePlus 5 equivalent Smartphone.  They replaced the Smartphone either for their existing brand is 'fading' for instance Sony and HTC or else they find the proposition better than their existing one coming from Samsung, etc. The fourth interesting category is of users who want to switch the environment completely.  Hence, coming from iOS environment by replacing their existing iPhones for OnePlus.  However, the instances of replacing latest models of iPhones with OnePlus are lesser than those of relatively older models.
Users coming from iPhone to OnePlus could also be of the fact that as iPhones go on to an extremely high price segment, the iPhone users due for replacement who cannot afford to go for the latest iPhones switch to Android and OnePlus is a brand they try out.  Even this is a good indicator for OnePlus that somebody already experiencing iPhone has OnePlus in zone of consideration while deciding to replace.
OnePlus has to align its upcoming launch from every aspect – marketing, messaging, pricing as well as experience, with these four major user streams.  However, the competition is not same.  There is Nokia 8 Sirocco which is already there in the vicinity and based on stock Android.  This is definitely a potential competition to OnePlus 6 and has not to be ignored.  At least this could be an option for users coming to OnePlus for experience, which is one of their unique strong holds.